Erdogan is not the prince of Europe
Bashing Turkey distracts us from the crisis of European values.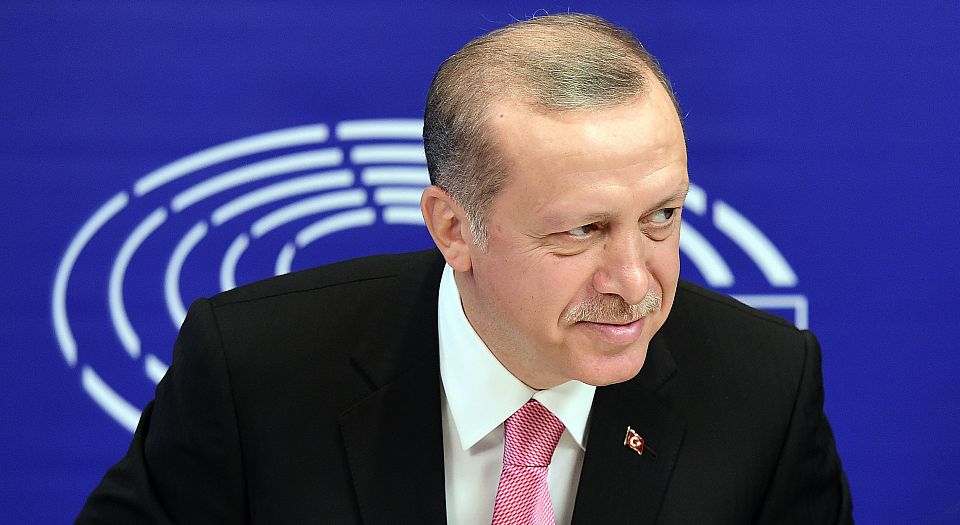 News of Turkish prime minister Ahmet Davutoglu's resignation has renewed concerns that Turkey is edging ever closer to outright dictatorship. President Recep Tayyip Erdogan, whose ruling AKP Party reclaimed its majority last year, has for years been trying to give the largely ceremonial Turkish presidency binding executive power. Davutoglu, while paying lip service to Erdogan's plan, was thought to be reluctant to push for the new system. And, in what has been called a 'palace coup', Davutoglu's now been ousted, with Erdogan's son-in-law, Berat Albayrak, a likely successor.
What Davutoglu's departure means for Turkey is unclear. The AKP Party, which has been clamping down on civil liberties, locking up journalists by the riot-van-load, and fighting a brutal war against the Kurds in the south-east, was, under the prime minister's tenure, continuing to backslide into authoritarianism. But, considering the increasing vanity of Erdogan, the prospect of a toady PM doesn't bode well. The justice system has brought more than 1,800 people to trial for 'insulting the president' over the past few years. And Erdogan's regime has taken to seizing opposition newspapers and shutting down social media to quash dissent from the ruling party and even just ridicule of Erdogan himself.
But, in Europe, Davutoglu's 'resignation' has also been keenly felt, fueling speculation that an unleashed Erdogan will continue to tighten his grip not just on his own country, but on the EU, too. With so much riding on the EU's grubby migrant deal with Turkey, Erdogan seems to hold all the cards. Alongside huge funds being pumped into the refugee camps, the Turkish government is pushing for Europe to grant visa-free travel for its citizens in the borderless Schengen Area. Though the European Parliament is holding out on a vote until Turkey makes efforts to reform its draconian anti-terror laws, Erdogan has become increasingly indignant.
Minutes leaked from the November meeting in which the migrant deal was struck confirm just how little leverage the EU elite has. The €6 billion deal, it turns out, was originally set at €3 billion – Erdogan insisted the EU double it, or else he'd 'open the doors to Greece and Bulgaria' and 'put the refugees on buses'. At points, he openly taunts the Eurocrats, asking what they would do if they didn't cut a deal – 'Kill the refugees?'. Most embarrassingly of all, European Commission president Jean-Claude Juncker is claimed to have appealed to Erdogan by saying Brussels had treated Erdogan 'like a prince'. This doesn't bode well for the EU holding its ground over visa-free travel.
The image of Erdogan as a monarchical despot, insisting that gutless Eurocrats bend the knee, has proved irresistible to commentators across Europe. 'Prince of Europe' has caught on. He's said to be 'holding Europe hostage'. One journalist has even dubbed him 'the most powerful man in Europe'. And the ongoing trial of German satirist Jan Böhmermann for reciting an obscene poem about Erdogan on German TV – which chancellor Angela Merkel has washed her hands of – has fueled the idea that the brutish, thin-skinned Turkish leader is a threat not only to the integrity of Europe's borders, but to European values themselves.
But the desire to paint Erdogan as a threat to the European way of life not only further inflates his ego, it ignores the profound internal crisis blighting Europe today. Doom-laden talk of the European commitment to freedom and liberty being quashed under the fist of an 'Islamist thug' is simply not true. Merkel's refusal to pipe up about Böhmermann's trial was no doubt influenced by her desire to keep Erdogan onside. But the fact remains that it is under German-made law that Böhmermann is being prosecuted. And this is just one of many such laws that continue to temper dissent and restrict 'hate speech' not just in Germany, but across the continent.
Even claims that Erdogan's cut-and-dry authoritarianism makes modern Turkey particularly 'incompatible' with EU membership rings hollow. The European Convention on Human Rights, so cherished by Eurocrats, offers such a flimsy protection for free speech and press freedom it's allowed scandals like Leveson to be carried out without incident. Indeed, Erdogan's liberal use of the word 'terrorism' to demonise and censor his opponents could be deemed entirely justified under Article 10 of the convention, which allows speech to be restricted for reasons including 'national security' and the 'protection of health or morals'.
As for the migrant deal, it was EU incompetence that ceded Erdogan all of his leverage in the first place. Having chosen to ignore the fact that it had long lost control of its southern borders – not least because of some of its members' cack-handed crusades in the Middle East and North Africa – the EU's response to the refugee crisis was chaotic and can-kicking. The EU elite's attempt to enforce migrant quotas on member states was a typically anti-democratic move. But it couldn't even pull that off. The EU is as inept as it is tyrannical, meaning cutting a deal with Turkey became the only option.
The ground-shaking power of Turkey is the fantasy of a continent that doesn't know what it is anymore. The more Europe drifts from its founding values, the more EU elites struggle to execute anything other than a photo-op, the more Erdogan, the 'tall man' of Ankara, grows in stature. Bashing Turkey can only distract us from this profound crisis. What's more, it clouds our understanding of Turkey's own specific problems, from its clampdowns on dissent to its treatment of the Kurds – one issue which many European elites remain deafeningly silent on.
Tom Slater is deputy editor of spiked.
To enquire about republishing spiked's content, a right to reply or to request a correction, please contact the managing editor, Viv Regan.