BHS: the pensions 'black hole' is not all it seems
The outcry over Sir Philip Green's handling of staff pensions is overblown.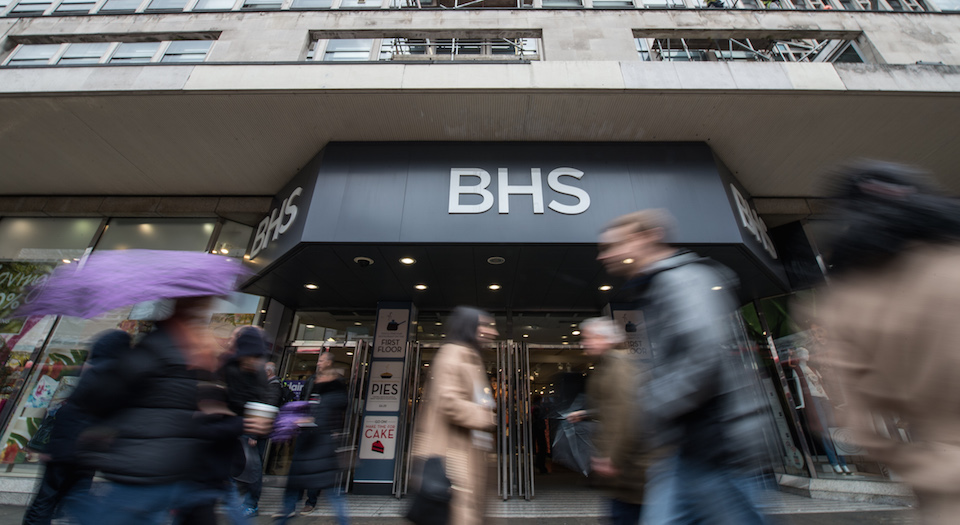 The demise of British department-store chain BHS has produced angry headlines about the estimated '£571million pensions black hole' it has created, with blame being laid at the door of the previous owner, Sir Philip Green.
There may well be room to argue that the pension-scheme trustees could have negotiated for the scheme to receive more cash than it did. At the last valuation in 2012, the trustees agreed a 23-year recovery plan, with deficit contributions of around £1million a year. If they'd managed to get £2million a year, there would now be around an extra £5million in the scheme. But that still would have done little to reduce the £571million deficit that is currently being reported. It's also clear that the trustees lost the opportunity for a payment to be made to the pension scheme when the business was sold by Green last year to a group of City investors. But even with an extra £100million in the scheme, there would still have been a big deficit to make up.
So, where does this 'black hole' come from? There are two ways to fund a defined-benefit (DB) pension scheme. Firstly, you could assume the scheme will continue for the long-term future, paying out benefits when they are due and investing in a diversified pool of assets, which are expected to produce long-term, positive, real rates of return. Secondly, you could fund the scheme so it has enough at any one time to wind up and buy out all of its benefits with an insurance company. This is because insurance companies are required by law to invest most of their assets in gilts (which currently provide negative real rates of return). A valuation done on this 'buy-out basis' would be based on gilt rates of return, and, therefore, it would place a much higher value on the liabilities.
Funding on an ongoing basis is the most efficient way to provide pensions – it allows schemes to invest part of their assets in equities, which support long-term growth in the economy. Funding on a buy-out basis currently means assuming you will receive a negative real rate of return – so it is more inefficient. This means each pound of pension costs much more. If we insist that all DB schemes are funded on a buy-out basis, it's likely that the last remaining DB schemes will close.
In addition, some employers would be driven into insolvency, and those that remain would have to direct more resources into their pension schemes, rather than investing in their businesses. In these risk-averse times, employers whose schemes reach full funding on a buy-out basis are unlikely to want to take the risk of not being fully funded in the future, and so are likely to invest in a way that matches their buy-out costs (that is, in gilt investments). For society as a whole, this is a double loss, as both an employer's own capital and the assets of its pension scheme are directed away from productive investments into gilts.
The price we pay for allowing pension schemes to be funded on the most efficient basis is the acceptance that there will be occasions when an employer goes under, and the scheme is unable to buy out the benefits it has promised in full. In these circumstances, members need to be protected, and they are protected by the Pension Protection Fund (PPF), which pays pensions in full to those over pension age, and 90 per cent of benefits to those under pension age. However, members do lose some of the pension increases they might otherwise have received from the scheme in the future.
The unfolding situation at BHS is largely the playing out of this planned approach to how we fund pension schemes efficiently. The BHS scheme was funded on an ongoing basis, but it did not have enough to buy out all the benefits on a buy-out basis, and so members will be compensated through the PPF.
Of course, we can argue that the PPF should work differently: it could provide higher compensation; it could be funded by the taxpayer, rather than by a levy on other DB schemes; or it could operate a more sensible long-term investment strategy, with more investment in growth assets. But these are arguments about the PPF and are conspicuous by their absence from the popular castigation of the wicked business owner, Green.
Leaving aside hyperbolic headlines, the BHS incident actually shows the system working as it should – allowing pension schemes in general to fund and invest in an efficient and rational way, while providing protection for those members whose employers do go bust. It is fair enough to speculate about BHS's handling of pensions – and the Pensions Regulator will no doubt continue to extract further value from the business and its past owner. But the outcry over pension 'black holes' is overblown – the BHS case shows that the Pension Protection Fund is working as it should.
Hilary Salt is a pensions actuary who runs her own consultancy in Manchester.
Picture by: Chris Ratcliffe / Getty Images.
To enquire about republishing spiked's content, a right to reply or to request a correction, please contact the managing editor, Viv Regan.