Let's fill London with cars
We need more roads, cheaper fuel and greater freedom for everyone.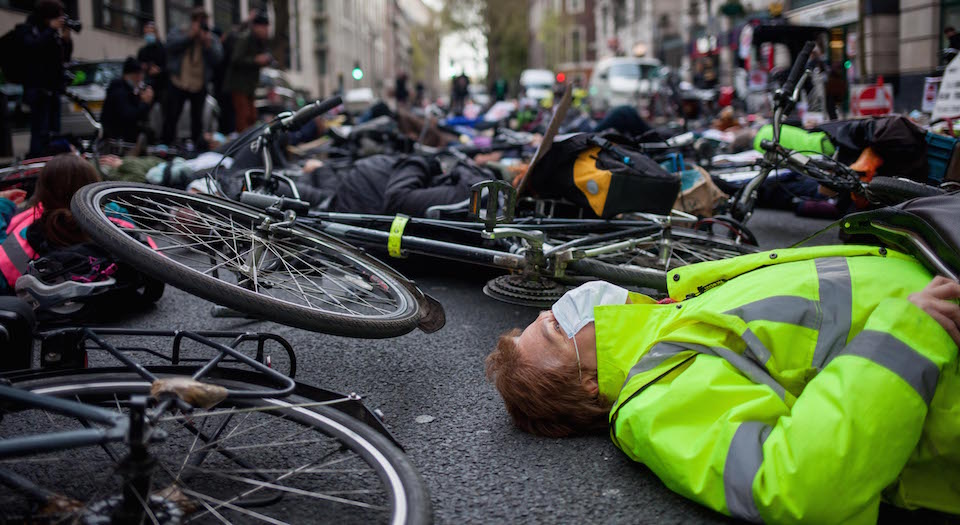 What would London be without cars? Well, imagine James Bond on a doubledecker instead of driving an Aston Martin; London, like most capital cities, is full of drivers. And we need more.
But it seems that jumping in the car and going for a spin doesn't appeal to everyone. Last week, around 100 green activists staged a die-in outside the Department of Transport in central London. The protesters, all cyclists, were calling for cleaner air and demanding that the new mayor do something about it.
As protesters brandishing 'stop killing cyclists' placards wandered around in their high-vis jackets and panniers, it was hard not to be a little sceptical. The new green fanaticism, which hates everything mechanised and embraces all things natural, is intolerant. Rather than putting forward better ideas for how London could expand and accommodate both cyclists and drivers, these greens demand that London drivers be curtailed. 'The drivers should stay indoors' one MAMIL (middle-aged man in lycra) told spiked. '240,000 people have died since this government came to power', said another.
No one makes wild claims like green activists. We don't live in the pea-souper days of the Fifties, and yet the greens are still hellbent on scaremongering about poisonous air. Debra, a 'mother with an asthmatic child', gave a speech to the crowd about her son's cough, while the child nodded along with a concerned look. Despite the fact that many children grow out of asthma, she bemoaned her son's dire situation. She didn't want to live in a place with cars and buses. 'We want a city fit for humans and children', she said.
A Green Party member for Islington Council told us that it was imperative for the safety of our children that we ban diesel engines from London immediately and impose an 'ultra-low emissions zone'. This would mean implementing 'a road-pricing system that charges drivers based on how much pollution their car produces, how big the engine is, the distance they're travelling, and how much public transport there is available in the area'.
Now, if, like me, even the prospect of a flight of stairs makes you feel tired, the idea of having to cycle across London instead of driving is awful. But not only is it bad news for the exercise-phobes among us, it would be completely impractical for the majority of London's population. The same greens that go on about the blight of smog-bound families clearly don't care about the sheer misery that poor parents would have to endure to cart their kids around on public transport. A further charge on drivers, especially for those who don't have expensive, super-green hybrid models, would penalise poorer Londoners.
Despite the fact that so many people need cars, driving in London is a nightmare. After adding up the cost of insurance, parking, congestion charges and fuel, you'd almost have to take out a bank loan to get a car. London is full of people who can't drive and are reliant on slow and complicated public transport in order to get them from A to B. Everyone should have all options open to them, rather than having to pick between sweating it out on the Tube or freezing on a bike.
The car is one of modern society's greatest inventions. Cars have allowed people to travel to places they'd never be able to visit previously. And we're supposed to give all that up to be saddle-sore instead? Though I don't buy the protesters' claim that Londoners are dropping like flies from air pollution, or that every person diagnosed with asthma is a victim of an exhaust pipe, it would be very easy to improve our streets in London: we should produce cars that run on cleaner fuel with the same power and at the same price; expand our roads so we can fit in more cars, buses, vans, lorries and bikes; and we should plant more trees.
Above all, we must demand that the new mayor makes life in London freer for everyone, not pander to the scaremongering of eco-activism. London is a busy, sometimes dirty, capital city. Reactionary eco-warriors who argue for less have got it wrong. London needs more cars, more drivers, bigger roads and cheaper fuel. London can't run on two wheels.
Ella Whelan is assistant editor at spiked. Follow her on Twitter: @Ella_M_Whelan
Visions for London is a series of mini manifestos aimed at raising the stakes in the upcoming London mayoral election.
Pictures and interviews by Henry Kenyon.
To enquire about republishing spiked's content, a right to reply or to request a correction, please contact the managing editor, Viv Regan.