Let London be spontaneous
We must roll back regulations on public life.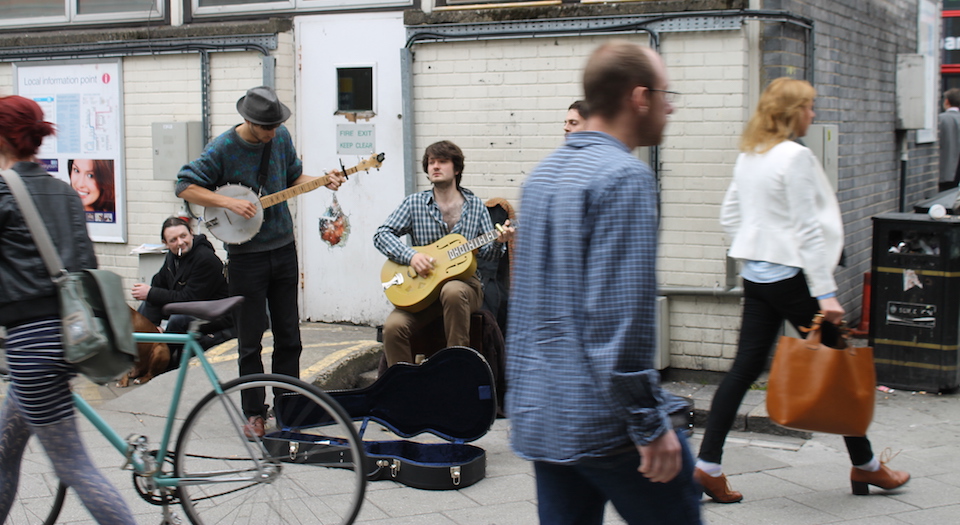 Public social life in London is boisterous, often ingenious and always surprising. Yet, for the past decade or more, it has come up against a force entirely hostile to its very existence: a swathe of sanitising and officious regulation springing up from local authorities and industry bodies.
A few months ago, a pair of bebop champions were prosecuted for practising their art on a Camden crossroads. Their offence was busking without a licence, which, in the borough of Camden, is a crime. The beboppers had not applied for a licence because one of the licence conditions was a de facto prohibition on amplification, which precludes not only bebopping but also the music of quiet instruments, such as the flute.
Here we see the jarring between street culture and official culture. Camden, a borough renowned for street music and origin of artists like Amy Winehouse, is run by officials who are entirely hostile to the hubbub of their own urban streets and snooty about the culture of people pitching up and playing their thing.
A similar trend affects so many parts of urban life, where it always seems that the authorities are trying to squeeze out the best bits. Two years ago, the band King's Parade (winners of the London Mayor's busking competition) were arrested for busking in Leicester Square as part of a Met Police initiative funded by the private business association, the Heart of London.
A few years ago our Manifesto Club website Banned in London highlighted the 435 zones within the capital where otherwise legal activities were banned, including handing out leaflets, drinking, walking dogs and even protesting. These measures go against longstanding and traditional practices that defined London's public life. Nineteenth-century streets were bustling with pamphleteers and sandwich-board men, the walls plastered with posters and the floors with pavement art. It was in these streets that trades were plied and events and causes won their audiences. The character of public places came from the spontaneous meeting and hawking of members of the public.
Now you have to buy a council licence to hand out leaflets in many areas, posters are banned, and pavement art is frowned upon. Things have got worse since our Banned in London map. New powers (public spaces protection orders, or PSPOs) allow local authorities to ban any activity they judge to have a 'detrimental effect on the quality of life' of Londoners. This has meant a series of crackdowns on the everyday life of boroughs.
Hillingdon criminalised people standing in pairs in certain areas (unless they are waiting at a bus-stop); it also restricted noisy remote-control cars and feeding the pigeons. Brent has criminalised offering casual work or running casual-work minibuses. Here, the spontaneous self-organisation of urban life – from hanging out to looking for work, which is far better than the job centre – is short-circuited by council officials who think that groups of waiting people look messy.
We need to roll back this swathe of official rules and regulations.
That would mean: no booze bans; no leafleting zones; no dispersal zones; no busking licences; and no public spaces protection orders. The police should enforce the criminal law, but aside from responding to the commission of genuine crimes, London's public spaces should be left to find their groove and to find out how people want to use them. The result would produce the most interesting and startling public spaces in the world.
Right now, London's public life is having to fight regulation to breathe, and it often loses the battle or gets squeezed out. If public life was allowed to be itself, then walking these streets would be a marvel indeed.
Josie Appleton is convenor of the Manifesto Club.
Picture by: Fred Langridge.
To enquire about republishing spiked's content, a right to reply or to request a correction, please contact the managing editor, Viv Regan.