For a London a hundred miles wide
Let's build on the Green Belt and let the city breathe.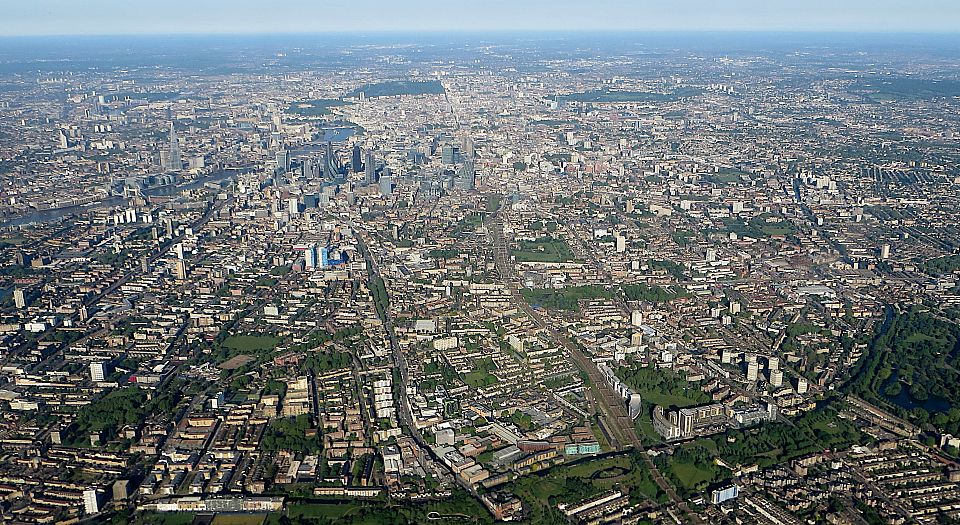 Imagine a city that stretched from Oxford in the west to Canterbury in the east. Imagine if its southern tip was Brighton and it stretched up to Bedford and Cambridge in the north. This is not a vision of the future, it is already here, if only we would let it breathe.
The London mayoral candidates have woken up to the need to build more flats and houses. For decades, London has been strangled by the Green Belt of protected land that starts in Romford in the east, Enfield in the north, Hounslow in the west, and Sutton in the south. Because of that stranglehold over new growth, too few homes are built. And, as a result, the existing stock costs too much.
If we got rid of the Green Belt, and built outwards, it would be easy to build more than enough new homes for people in London. By making London bigger, prices would fall back to a more realistic £200,000 per home (the UK average). Or less, if there were a corresponding housebuilding programme countrywide.
So far, the mayoral candidates have promised, at most, an additional 50,000 homes (apart from the rogue Polish aristocrat candidate Prince John Zylinski, who says he will build a million if he is elected). Fifty-thousand is a start, but it is not enough. More to the point, there is nowhere to put those new homes, unless you build outwards, on to the Green Belt.
Better still, if we build out, we can reduce the densification of London. Too many people are being crammed into too small a space. The city has to be able to breathe. Instead of squeezing more and more flats into every space that becomes available – or just seized – London needs more green space in its centre, and wider streets.
Already we can see the advantage of more space. The creation of the new financial district in Canary Wharf has meant the old City of London is turning back into a residential district.
Just imagine if we knocked down more of the overcrowded dwellings in the centre to make way for a properly functioning transport system, which connected the inner hub to the outer reaches. That feeling you get when you escape the North Circular, and get on to the Westway, where you can actually drive, ought to have been expanded with a Northway, an Eastway and a Southway, but those developments were blocked by the NIMBY brigade.
In truth, London is a vast, south-east conurbation. Eight-and-a-half-million people live in the official Greater London area, but another five million live in the commuter belt around it. If the Green Belt was built on, and the city was allowed to grow into those suburbs, all of us could live grander, freer lives, with green parks around us, and trains and motorways to carry us into town and out again.
Instead of freeing up more flats by hounding hapless social-housing tenants out of their estates, or cramming yet another flat on top of a takeaway in Hackney, or squeezing in yet one more attic bedroom into a bad extension, we should create a grand new vista of garden suburbs on the city's exurbs.
Our mayoral candidates are too preoccupied with technical issues. Should there be more council houses, or some special kind of mortgage deal to give anxious first-time buyers a tenuous foothold on the housing ladder? All of these proposals miss the point. They are fixed on single cases, not the bigger picture.
To break the deadlock we need to build many, many more houses. So many, in fact, that there would be too many, so that people can buy them cheap. If London is roughly a circle, each 100 metres it grows outwards increases the overall area by 100 square metres x π, or 3.14, so 314m2. Just a modest increase in the city's area, of 1,000km2, just an eighth of the metropolitan area, would house another five million people at the level of existing densities. We could always expand further, say 2,000km2, and house these people at much lower densities.
I wish I could say that this proposal was a revolutionary vision for tomorrow. But it is not. It was first set out more than a century ago. In 1909, Ford Madox Ford dreamed of a city not of seven million, but 70million. Ford hated the word 'suburb', which he thought was demeaning. Instead he thought that the suburbs were the vanguard, and that they should be called 'fore towns'. He wrote that 'the fore town of my Great London would be on the one hand, say, Oxford, and on the other, say, Dover'. Ford continued:
'It takes in, this circle, Winchester, the delightful country around Petersfield, Chichester, all the coast to Brighton, Hastings, Dover, all Essex, and round again by way of Cambridge and Oxford.'
Distance would be no barrier, he said, since 'Oxford is 60 miles from London, and in my non-stop monorail express, this should be a matter of half-an-hour'. This is an ambition that we have not kept pace with, seeing as it still takes an hour to get to Oxford by train.
'Yet there is nothing Utopian about the idea', wrote Ford, 'it is coming about every day. The residential portion of the population is more and more abandoning the clayey bottoms of the Thames Valley.' Anticipating the actual trajectory of the south-east, Ford continued: 'It is on the road, this change, it has to come. All south-eastern England is just London.' (1)
James Heartfield is the author of Let's Build! Why We Need Five Million New Homes in the Next 10 Years, published 10 years ago. (Buy this book from Amazon(UK).)
Visions for London is a series of mini manifestos aimed at raising the stakes in the upcoming London mayoral election. To submit your ideas, email Tom Slater.
Picture by: Cheesyfeet
(1) 'The Future of London', by Ford Madox Ford, writing as Madox Hueffer, London Town: Past and Present, Volume II, Cassell, 1909, p1102, p1105 and p1099
To enquire about republishing spiked's content, a right to reply or to request a correction, please contact the managing editor, Viv Regan.