What we lose when Baby Boomers die
Bowie, Prince, Victoria Wood… they remind us of a more liberated era.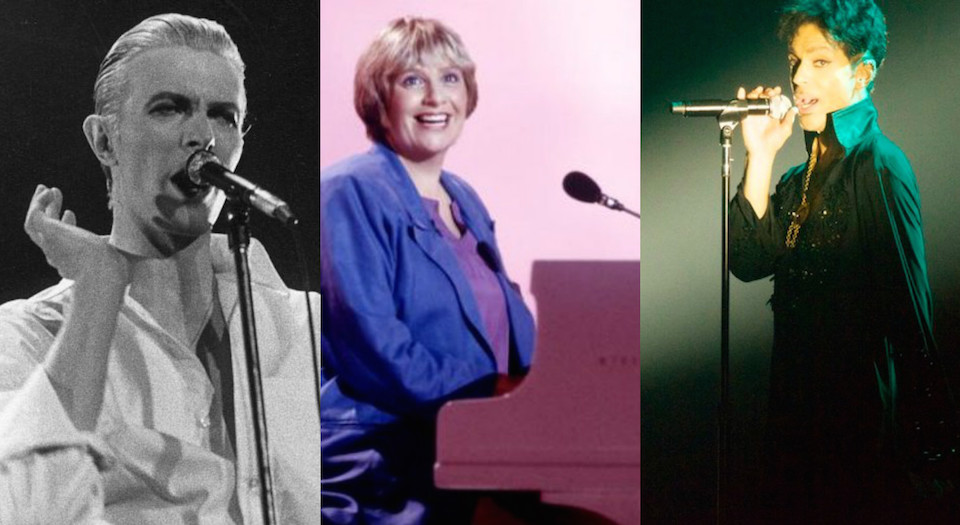 This has been a terrible year for celebrity Baby Boomers. David Bowie, Alan Rickman, then Victoria Wood and Prince in the space of two days… From Newsnight to Facebook, the media are awash with tears and tributes. As the BBC noted on 22 April, 'It now seems rare for a week to pass without a significant celebrity death being reported… "Enough, 2016" and a more vulgar alternative are phrases people are uttering more and more regularly'.
It is hardly surprising that this wave of sudden deaths has thrown everyone into a tizzy. These were real talents, quite different performers, and, for many, formative influences. If Prince wasn't your cup of tea, you may have rather enjoyed being beaten on the bottom by Wood's Woman's Weekly.
And these celebrity Boomers were also, by today's standards, quite young. In a society that has become preoccupied by the problem of longevity, and worries continually about the impact of having increasing numbers of people in their seventies and eighties, it is a genuine shock when people do not make it past 69. It reminds us (as it should) that when policymakers bleat about the 'burden' of pensions and elder care, they are assuming that the final alternative is somehow preferable. It really isn't. Increased longevity, with all the challenges it might bring, is a good thing – and it shouldn't take premature death to remind us of that.
But there is something else about the recent Boomer deaths that seems to be giving us pause. As the once-new faces of the 1960s and 1970s begin to shuffle off this mortal coil, the spirit of the Sixties seems to be retiring as well. This leaves us with a fear that we will never see another Bowie, Prince or even Wood – not because of any dearth of new talent, but because the moment that gave rise to the Sixties generation, and which nurtured the experimental non-conformity of Bowie and Prince, or Wood's affectionate piss-taking of British life and its conventions, has passed.
The culture we have now is in many ways more brash and shrill, but it generally promotes an ersatz experimentation – one which demands that everyone swears a lot and does weird things with their bodies and clothes, and not much more besides. That is not to say (as middle-aged people are wont to do) that everything is rubbish now and things were much better back when they were young; in any generation, there are creative people and new opportunities. But the wider social and cultural context shapes this talent, and gives it meaning and import.
The Sixties generation was a product of a zeitgeist where boundaries were pushed, freedom was embraced and conventions were challenged. And it is precisely that liberatory spirit that has come under attack in recent years. The mantra that the Baby Boomer generation is to blame for everything from the crisis of the economy and the welfare state to the perceived absence of rules and boundaries governing social and personal life has gained a foothold in policy and commentary from across the political spectrum.
The idea that we need more rules and laws, that we need more 'realistic' expectations of life, love and liberty, and that the legacy of the Sixties is a problem to be managed rather than an opportunity that still needs to be properly developed, is widespread among younger and older generations alike now. In this context, no wonder today's culture is, beneath the surface, pretty conformist and dull.
Yet the narrative bemoaning the irresponsible Sixties runs alongside a more wistful narrative of loss, for the sense of possibility captured by that era. The journalist Sarah Vine, writing in 2010, summed this up in her contrast of the Ab Fab generation, whose lifestyles, politics and attitudes she placed squarely in the frame for having 'busted us', with her own, boring 'Generation Square':
'All fortysomething, all hard grafters, all Doing the Right Thing. Eco-friendly cars, complicated recycling routines, carbon offsetting, responsible alcohol consumption, organic homegrown vegetables, restrained sartorial taste, nothing flash, brash or showy. All apologetically aware of their good fortune in life, all with highly developed social consciences, all dutiful taxpayers.
'Such a contrast to the generation that came before, with their big ideas, their insatiable appetites and their blithe disregard for the rest of the world. That brilliant, golden Baby Boomer generation: heroically hedonistic and with the dial forever stuck at 11.'
As individuals – celebrities, family members, friends – the Baby Boomers will die, and we will mourn them for themselves. But we should also reflect on the legacy of that 'brilliant, golden' generation, and ask whether we really want to bury the spirit of the Sixties as well. It wasn't all about sex, drugs and rock'n'roll – much of that moment was underpinned by a commitment to freedom, risk-taking, thinking new ideas and speaking out of line.
We can't bring the Sixties back, and nor should we want to. That was then and this is now. But we could build on that legacy with a serious attempt to be less square.
Jennie Bristow is senior lecturer in sociology at Canterbury Christ Church University and an associate of the Centre for Parenting Culture Studies. She is author of Baby Boomers and Generational Conflict and Standing Up to Supernanny, and co-author of Parenting Culture Studies and Licensed to Hug. Her new book, The Sociology of Generations: New Directions and Challenges, will be published by Palgrave Macmillan in June.
To enquire about republishing spiked's content, a right to reply or to request a correction, please contact the managing editor, Viv Regan.