The problem with Sweden's state-approved press
Swedish newspapers must cut the umbilical cord to the authorities.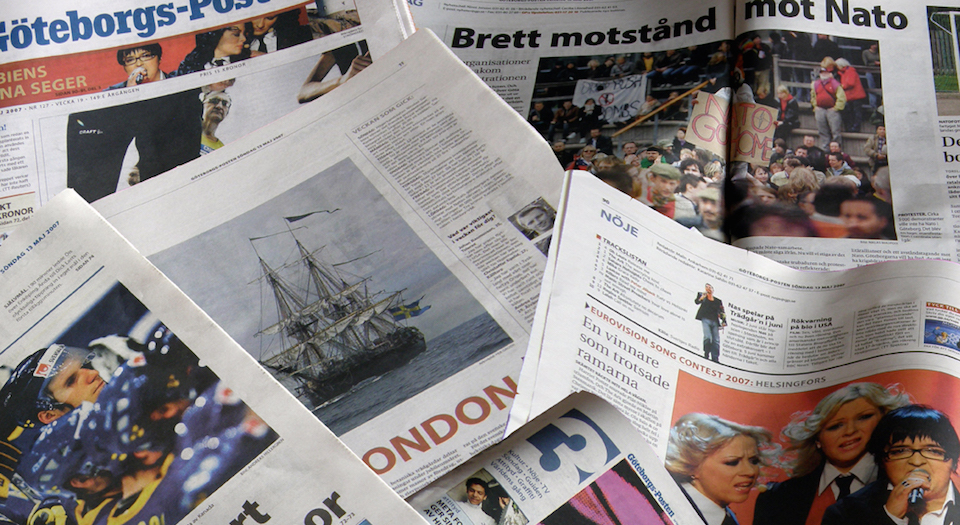 Sweden's newspaper industry has been facing financial challenges for more than a decade. Many local newspapers have long since cut down on editorial staff, merged with competitors or simply given up. At the same time, alternative online media channels have flourished. Yet while in many other countries traditional, mainstream newspapers have been forced to adapt to the new environment or go under, in Sweden some have found another way forward: an ever-closer relationship with the state.
This was made possible over 50 years ago, when Swedish politicians decided that the state was to finance political parties' opinion-forming. At the time, the money was directly transferred to the parties, which distributed it to loyal or self-owned newspapers. This system was changed in the early 1970s so that funding no longer passed through political parties. Still, since 1971, Swedish taxpayers have spent 26 billion krona (£2.2 billion) keeping Sweden's traditional newspapers going, and over 85 per cent of this funding has gone to newspapers with an official political designation.
Newspapers tied to the Social Democrats have received almost half of all subsidies. Those tied to the Centre Party have received four billion krona. In 2005, the Centre Party sold its media companies for 1.7 billion krona (£146million) and became one of the richest political parties in Europe.
Political parties haven't been the only beneficiaries of state largesse. Crony capitalists have also maximised their subsidies by creating multiple small newspapers perfectly matching the state's requirements. Elsewhere, the Communist Party's newspaper has received over 90million krona (£7.7million) since 1975, and liberal Svenska Dagbladet obtains more than 10 per cent of the annual press support.
It could be seen as a good thing that the government funds platforms for a diversity of political views. But, in truth, state funding has created an inflexible and uncritical media. Too many newspapers show an unwillingness to bite the hand that feeds; they tone down critical views towards the state, especially state subsidies to all sorts of other industries.
This has not gone unnoticed by the public, who routinely mistrust traditional and state-owned media. And with good reason, as a recent incident illustrated. In January, the libertarian-leaning alternative news site Nyheter Idag (NI) revealed how one of Sweden's biggest newspapers Dagens Nyheter (DN) received information about a spate of sexual assaults in August 2015 similar to that which occurred in Cologne on New Year's Eve. A source contacted DN, which was interested in the story until the backgrounds of the arrested were discovered — 'so-called refugee youths primarily from Afghanistan'.
DN denied NI's accusations. A couple of days later, the news site KIT, owned by the same company as DN, questioned the NI journalist's integrity, even exposing his financial problems. DN then published an article describing NI as a 'hate site', citing the NI journalist's previous involvement with the right-wing Sweden Democrats as proof.
Across the political spectrum, many feel mainstream media fail to cover some of the hottest topics of public debate. For example, the website Inte rasist, men, run by left-leaning activists investigating the Sweden Democrats and anti-migration media coverage, was born of frustration with traditional state-funded media. It felt that Sweden's mainstream media failed to cover too many topics that people wanted to discuss. And it was right: Inte rasist, men now has 180,000 followers on Facebook, more than the state-owned TV channel SVT, which has an annual budget of over four billion krona.
The media project I am involved in, bubb.la, is a news aggregator linking to a large variety of sources. Yet when we've shared news only reported by anti-migration media channels, we've been accused by mainstream media of having a hidden racist agenda. Or if we've shared an article about a political decision not reported in the mainstream media, we've been accused of having dubious sources.
Mainstream media will continue to struggle for as long as their eyes are fixed on state subsidies and they continue to slander media covering areas they ignore. There is clearly an audience out there for alternative, non-state-funded media, as the plethora of successful podcasts, blogs and other media projects show. The media environment has been changing for a long time and if Swedish newspapers are to survive they need to cut the umbilical cord to the state and look for a truly independent funding strategy.
Daniel Thilén is volunteer editor at Corax.
Picture by: John Nixon.
To enquire about republishing spiked's content, a right to reply or to request a correction, please contact the managing editor, Viv Regan.