Now snowflake students are covering up paintings
At the University of Cape Town 'offensive' art is being hidden.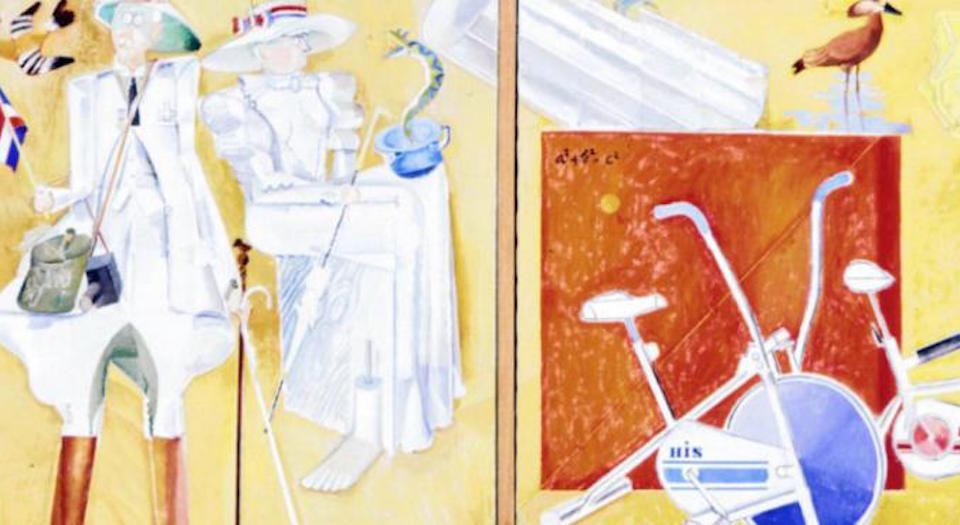 In another victory for snowflake students, the University of Cape Town (UCT) has removed art that could be deemed offensive.
UCT's actions follow the burning of paintings by Rhodes Must Fall protesters in February. In a pathetic move to appease the students, rather than challenging them, supposedly offensive works have been quietly removed by UCT's Orwellian-sounding Artworks Task Team, set up shortly after the removal of the Cecil Rhodes statue last year.
The task team's remit is to conduct 'an audit, an assessment and an analysis of statues, plaques and artworks on campus that may be seen to recognise or celebrate colonial oppressors and/or which may be offensive or controversial'. Over 75 artworks have now been removed from display partly on the grounds that 'members of the university community are not able to choose which works they wish to encounter'. So, the university takes it upon itself to protect its poor, vulnerable students from such images lest they stumble on a dangerous painting and burst into tears.
The paintings themselves aren't even anything to kick up a fuss about. While UCT has sheepishly declined to release names of the works removed, several have been revealed. Stanley Pinker's Decline and Fall uses ironic imagery to satirise colonialism; and Diane Victor's Pasiphaë depicts black farmers with allusions to Greek mythology. Victor called the removal 'slightly comical', and rightly insisted that art is often 'made to be provocative' and that emotional reactions should not be discouraged. The reaction from many artists has shown up UCT's spinelessness.
Noted anti-Apartheid campaigner and artist Breyten Breytenbach, who was imprisoned for high treason by the government in the 1970s, sarcastically congratulated his alma mater for 'the sterling bravery of their intellectual steadfastness' after his painting Hovering Dog was removed.
Using words no doubt carefully sewn together not to cause offence, the task team has said that it aims to create 'an environment where a diversity of staff and students feel comfortable'. UCT is clearly losing the plot. Universities are not places to feel safe and comfortable – they're primarily places for students to be challenged, to be discomfited by new and difficult ideas. Universities should actively facilitate offence, not protect their students from it. How can today's students be expected to deal with the adult world, 'offensive' paintings and all, when universities coddle them and kowtow to their every self-righteous cry?
The rise of student hypersensitivity has crossed borders and oceans. Last month, the president of Emory University in Georgia embarrassingly leapt to the aid of students after they were left traumatised when someone wrote 'Trump 2016' in chalk around campus. At Yale, lecturer Erika Christakis resigned in December after student outrage at her email which defended the right to wear offensive Halloween costumes. And at Oberlin College in Ohio, students demanded swift action after their cafeteria's 'disrespectful cultural appropriation' of sushi. It seems that students are all too eager to find something to whine about, and their universities more often than not obligingly give in.
UCT, whose resources for useless task teams seem endless, is also deliberating on the renaming of certain buildings, rooms and even roads. Dr Max Price, the vice chancellor, has praised the 'change that will not just linger in the name boards on the side of buildings but should be a definitive break with a past that we are not all part of'. It is worrying that he has such a lack of confidence in the values of his institution that he has resorted to renaming things in order to magically transform the attitudes of students and staff. It is as if each individual's thin skin is irreparably affected in some voodoo way by the names of the rooms in which they work, the roads along which they walk, or indeed the paintings they walk past.
But these thin-skinned students haven't emerged from nowhere. Rather, they are responding to universities' increased intellectual caution and insecurity, their retreat from Enlightenment principles. That's why students calling for paintings to be covered up and statues removed aren't having to kick down the doors of the university establishment – the university establishment has happily left the doors open for them and their demands.
Of course, there is nothing inherently wrong with change – stalwart conservatives, unable to envision a brighter future, should be criticised just as much as anyone else. But the problem at UCT lies in the reasons for change. It is not being driven by a forward-thinking ideology. It is being driven by the regressive and patronising willingness to see students as weak and offence as inherently bad – an idea far more dangerous than any painting.
Joe Arthur is a former spiked intern.
Picture: Stanley Pinker's His and hers and Decline and Fall, from the Hans Porer collection on loan to UCT.
To enquire about republishing spiked's content, a right to reply or to request a correction, please contact the managing editor, Viv Regan.