'Trump supporters are uneducated'
Tom Slater finds a fair bit of prejudice among anti-Trump activists in Long Island.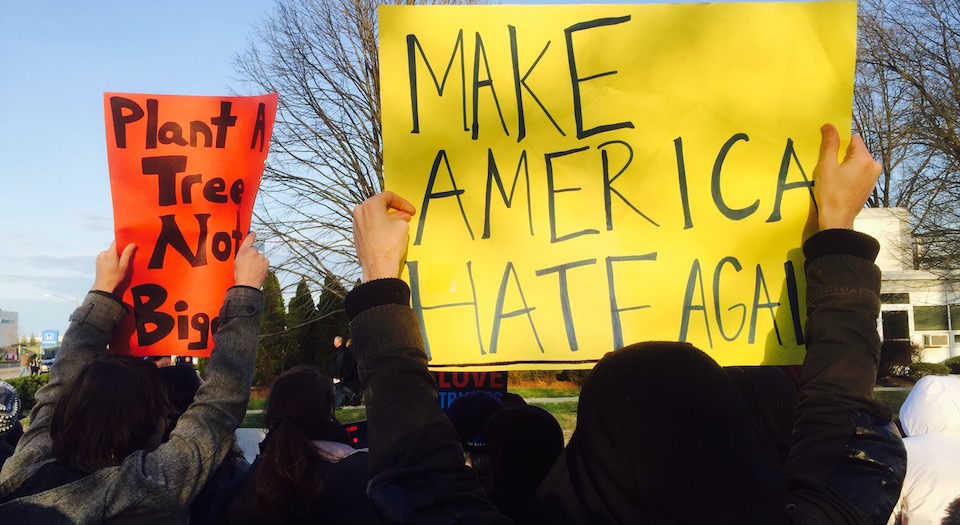 The word among the pollsters is that Donald Trump's campaign for the Republican nomination is in trouble. Hairforce One, we're told, is running out of fuel. But while the underdog billionaire's defeat to Ted Cruz in Wisconsin has cast doubt over his chances, and talk of a contested convention abounds, the political chasm his shock success has revealed remains stark.
On Wednesday, ahead of the New York primary on 19 April, The Donald held a rally in Bethpage, Long Island. Fifteen-thousand Trump fans turned out to see their (sort of) hometown hero – Trump was born and braised in Manhattan – as he rehearsed the un-PC policies that have supercharged his candidacy. He was on fine form, even turning his plan to build a wall on the border with Mexico, and make Mexico pay for it, into a nifty call-and-response number.
But things were not so jovial outside, where around 50 protesters gathered to greet the man they claim wants to 'make America hate again'. After a string of rallies marred by chuck-outs and minor punch-ups, the police were out in force. Roads were blocked off. Trump fans were being bussed in from far and wide. And the protesters were kept about a quarter-mile from the venue, in what one cop told me was the 'designated free-speech area'.
As you can imagine, passions rose regardless. Trump supporters filed along the road, stopping to pick up merchandise from street-sellers, before exchanging jeers with the protest pen. Each side seemed to relish it. Chants of 'five, six, seven, eight, get your hate out of our state' rung out as Trump supporters struck poses to the crowd. At one point, a fiftysomething, Trump-supporting couple walked up to the barrier to try to argue the toss, only to be drowned out by a chorus of 'Bernie, Bernie, Bernie…'.
All in all, it was a bit of panto. But, talking to people on either side of the barrier, it became clear the animus ran deep. 'I, unlike most of these people, work and pay taxes', said construction-worker and Trump fan Anthony, gesturing to the twentysomething Bernie fans. 'We let too many immigrants in, we're not being fiscally responsible. We're $21 trillion in debt. And where do these people think the money's going to come from? We're way too far in debt to be listening to people who want to keep giving handouts.'
So why were Long Islanders plumping for Trump? Their answers focused on a mix of Washington corruption and government feebleness. 'He's a doer', said limo-driver Rick. 'When he says he's going to get something done, no matter how ridiculous, he fights through the crap and gets it done. I love the guy.' For Anthony, Trump is 'the only person who ain't bought and paid for. Washington is corrupt. There's not a politician in this race who isn't affected by that – besides Donald Trump.'
Of course, for those on the other side of the barrier, Trump's appeal was all about the '-isms'. 'The whole campaign is out of the fascism playbook', said David, who was holding a placard depicting Trump standing next to Adolf Hitler. Pointing to Trump's nasty calls to deport Mexicans and ban Muslims' migration, he said Trump is 'catering to the disenfranchised' and 'scapegoating Muslims and Mexicans for the ills of the country'.
Edward, an unemployed Trump supporter, was having none of this. Political correctness, he said, has meant anyone who dares speak up about immigration is instantly smeared and shut down. 'The silent majority has been labelled racist', he said. 'That's what's holding the country back, that political correctness. People should be able to speak their mind. In a lot of places, you can't even say you support Trump because you might get fired. That's why they call it the silent majority, but we ain't silent no more.'
On this point, animal-shelter worker Joe was unconvinced: 'Trump is tapping into the people that are prone to hate, fearmongering and people who are just angry.' As I move around the pen, 'I get why they're angry' is said time and again. But it's little more than a throat-clearing exercise. When it comes down to it, the anti-Trump protesters think his supporters are either racist, or plain stupid. 'People who support Trump are uneducated', said postgrad student Sally. 'They don't have broad minds about what's going on. I think it's intelligence.'
For all the talk of 'making America hate again', the people who were really being smeared or scapegoated at this rally were Trump supporters – working-class voters who dare to support someone who strays from the PC-politico script. Indeed, the only harsh words thrown at immigrants emanated from the designated free-speech area: as a group of Latin-American men walked past, heading to the rally, a gaggle of college students screamed 'You're on the wrong side!'.
There are plenty of reasons to dislike Donald Trump. He's a crass opportunist, who, for all his talk of sticking it to the freedom-squishing status quo, has more than his fair share of authoritarian tendencies. But this protest in a sleepy New York suburb, and the wretching that Trump has sparked among the cosmopolitan classes nationwide, isn't really about him. It's about his supporters: the dumb rednecks who, Sally and Co tell us, know not what they do.
Trump may not go the distance at the Republican convention in July, but this fear and loathing of the masses is here to stay.
Tom Slater is deputy editor at spiked.
Pictures by: Tom Slater
To enquire about republishing spiked's content, a right to reply or to request a correction, please contact the managing editor, Viv Regan.