No, Charlie Hebdo's editorial is not racist
Turns out the Charlie haters are even dimmer than we thought.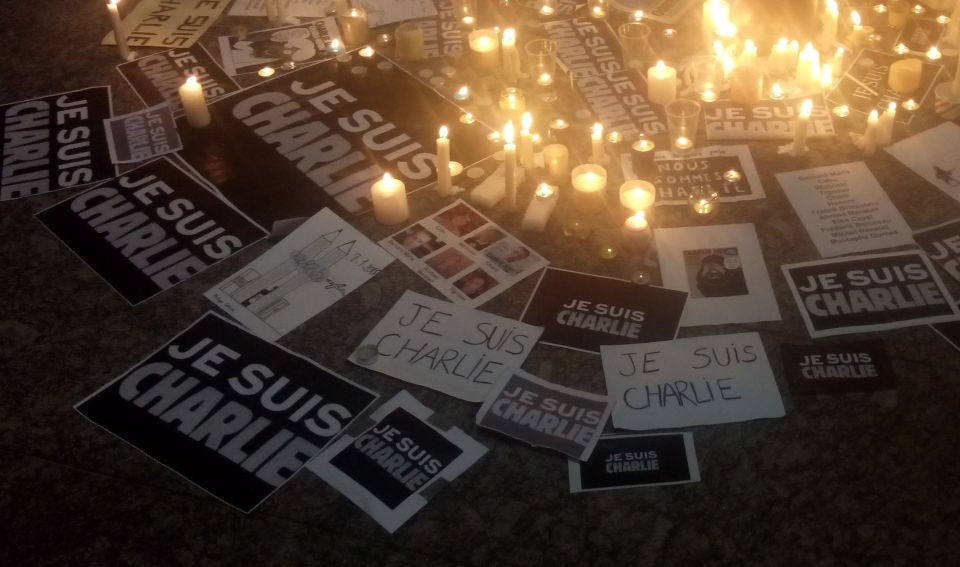 Everyone is going berserk over Charlie Hebdo's latest editorial, describing it as a racist attack on all Muslims. Actually it's a critique of European self-censorship, especially in relation to Islam.
It's about how the fear of appearing Islamophobic has led people to stifle their discomfort with Islamic practices, like the wearing of the 'total, all-encompassing veil' (which I have a problem with) or the spread of ham-free restaurants (which I'm more chilled out about). And it's about how this chilling of discussion around Islam encourages a climate of mutual apprehension and tension in European communities, where non-Muslims are implicitly told to keep their concerns to themselves while Muslims increasingly come to live in a kind of protective bubble of non-criticism or just non-discussion. It says this is bad for community life. I think that's a good point.
Where the editorial says that something like the bombings in Brussels could not happen 'without everyone's contribution', it is not, as the anti-Charlie crowd claims, saying that all Muslims are to blame for that attack. Indeed, the editorial castigates 'xenophobes [who] blame immigration' for terrorism. On the contrary, it is explicitly arguing that European society itself, our culture, not Muslims, has helped to nurture such terrorism by encouraging 'the fear of contradiction or objection' and an 'aversion to causing controversy'.
It says the bombers' taxi-ride to the airport in Brussels was 'but a last step in a journey of rising anxiety', a bloody, violent expression of a 'preceding atmosphere of mute and general apprehension'. The bombers' role, it says, is to provide 'the end of a philosophical line already begun', a line which says 'Hold your tongues… Give up discussing, debating, contradicting or contesting.' In other words, Islamist terrorism in Europe is a violent expression of the culture of self-censorship and community fragmentation, which encourages some people to see themselves as victimised and their critics as pure evil. Again, I think this is a good point. If anything, the editorial is blaming 21st-century European moral sheepishness and cowardice for terrorism, not Muslims, the majority of whom 'do nothing wrong'.
And now the Charlie-haters, those who could never bring themselves to say 'Je Suis Charlie' and who spat blood when the magazine was decorated by PEN America, are witlessly proving the very point of the editorial by saying: 'How dare you say that?' The editorial says it is bad that we cannot speak freely about certain cultural practices without being accused of racism, and Charlie's critics say that is racist. Can they hear themselves? Do they not recognise that they're part of the very 'philosophical line' Charlie Hebdo is criticising? That they are playing their part in what the editorial describes as 'a process of cowing and silencing'?
They are effectively saying to Charlie Hebdo, 'How dare you criticise Islam?'. Which not only proves the point of the editorial — it also echoes precisely what those two gunmen were thinking when they stormed Charlie Hebdo's offices last year: 'How dare you criticise Islam?' In Europe in the 21st century, the PC culture of 'cowing and silencing', of 'aversion to controversy', is enforced both by the chattering classes and by Islamist gunmen, by informal codes that say 'You can't say that' and by terrorists who say 'We'll kill you for saying that'. The 'philosophical line' — 'give up discussing, debating, contradicting or contesting' — is everywhere maintained by menace. And Charlie Hebdo must be either cast out or killed for questioning it.
This originally appeared as a post on Brendan O'Neill's Facebook page.
Brendan O'Neill is editor of spiked.
To enquire about republishing spiked's content, a right to reply or to request a correction, please contact the managing editor, Viv Regan.