Why both Zac and Sadiq are playing the race card
In the London mayoral contest, it's time we replaced identity with ideas.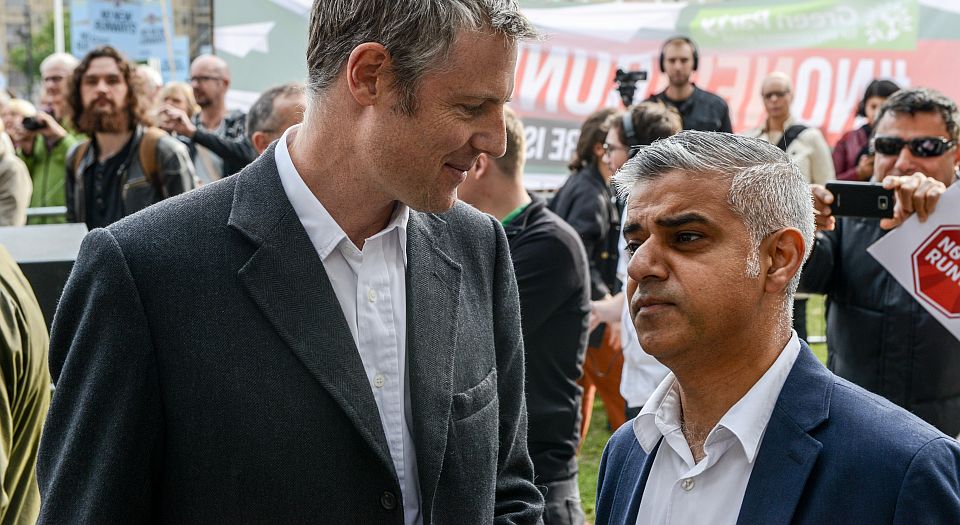 Tory MP Zac Goldsmith's half-baked campaign to become London mayor has been marred from the outset by a willingness to racialise the contest, both by drawing attention to the ethnicity of his main rival, Labour's Sadiq 'the Muslim' Khan, and by playing upon what he and his team of shallow researchers think supposed ethnic voting blocs fear and loathe.
It's been truly wretched from Goldsmith's side. First there were the endless tales of Khan's six degrees of separation from mad Islamists, assiduously fed to the Goldsmith-championing sections of the press by Goldsmith's team. Who can forget, for instance, the 'revelation' that Khan, following in the jihadist footsteps of Boris Johnson and Nick Clegg, once spoke at the Global Peace and Unity festival in 2008 while a few members of the audience waved black flags adorned with Arabic script (fully three years before ISIS was a glint in its leaders' eyes)? Or the 'shocking' tale of Khan's sister who was once married to someone who once spoke at events organised by the now-banned Al-Muhajiroun, which, the Goldsmith-backing Evening Standard assured us, was proof of 'Khan's family links to extremist organisations'? This may have been desperately damp material from Team Goldsmith, but it was also tediously racialising, a constant play on Khan's ethnicity rather than an attack on his politics.
And now it has emerged that Goldsmith has been targeting voting blocs, constructed along religious, racial lines, with ethnically adjusted messages. Which might have been a masterstroke if people really did vote according to their creed, skin colour and, most of all, ethnic stereotype. Sadly for Zac and chums, however, it turns out that letters sent to people with Indian-sounding names, warning that Khan and Labour will introduce 'a wealth tax on family jewellery', which is clearly meant to terrify these acquisitive Indian types, were considered just a little bit condescending by their recipients. As one Sikh commentator wrote, 'For some bizarre reason, Goldsmith assumed all the 120,000 [Sikh recipients] were middle-class Hindus, running family businesses, concerned about burglaries and possessions.'
Not to be outdone, prime minister David Cameron has clearly decided to help Goldsmith with the hole he's been digging, and has put his name to some dubious letters sent to Hindu and Sikh voters. The letters call on 'them' to back Goldsmith because he is the only sensible choice as mayor for London's south Asian communities, compared to Khan, who, as a Muslim, so the subtext runs, will struggle to 'keep… our streets safe from terrorist attacks'. You tell 'them', Zac.
So, having determinedly played up Khan's Muslim-ness and, therefore, his difference from the non-Muslim electorate, Goldsmith's team is now mailshotting that electorate with ethnically tailored fearmongering. Once a racialising plonker, always a racialising plonker. As one Guardian columnist put it, 'this is profiling, not politics, voters wooed en bloc by faith, creed or race. Persuasion, coherence, consistency are all unnecessary in this terrain, since the people in it vote not with their minds but with their tribes.'
Yet there is an irony to the constant negative publicity coming the way of Goldsmith's constantly negative campaign. And it's that those now savaging Goldsmith's racialising tactics are often the self-same pundits and politicos who have been celebrating Khan's background, especially the uninteresting fact he's a Muslim. And none more so than Khan himself.
Last summer, when still campaigning for the Labour mayoral candidacy, he couldn't stop mentioning his ethnicity. 'The idea that the mayor of London could be son of an immigrant, son of a bus driver, ethnic minority – and by the way, of Islamic faith – would speak volumes', he announced. And he's not stopped background-dropping since. Indeed, there can be few people alive who don't now know that Khan is the son of an immigrant bus driver. But as Brendan O'Neill has pointed out, his Labourite supporters have lapped up all this Muslim-mentioning, blathering on about the 'Muslim factor' and the 'symbolic potency' of a Muslim mayor. As one pundit eulogised, 'To have a Muslim elected mayor of London, with a bigger personal democratic mandate than any other politician in Europe bar the presidents of France and Portugal, would strike a significant blow against the simplistic narratives of Islamophobes and Islamists alike'.
So the very critics now punching the sickly Goldsmith with one fist for suggesting Khan being a Muslim is a reason not to vote for him, have been championing Khan with the other, suggesting that him being a Muslim is precisely a reason to vote for him. They want it both ways. Khan's ethnicity is significant when it's being used to hail him, but not when it's being used to hang him. It matters that Khan is a Muslim and it doesn't matter that Khan is a Muslim.
What we're witnessing here is not, as one commentator contends, the Tory folly of allowing faith to mingle with politics. No, what this thoroughly racialised campaign captures so depressingly well is the eclipse of ideas-led politics by identity politics. That's why Khan being a Muslim is important to both sides, the leftish and rightish, Labour and Tory, Guardianista and Evening Standardite – because both are in thrall to the logic of identity politics. And it's far from the only instance of the eclipse of the politics of ideas. In too many political contests today, what matters is not what a politician thinks, but what a politician is: what religion, what ethnicity, what gender. And likewise, what supposedly matters to the electorate, certainly as far as identity-embracing elites are concerned, is not a politics that aims at the universal, the ideas to which we can all potentially lend our support, but a politics that caters for the particular — the particular values that must be respected, the particular needs that must be met. The result is a shallow personality politics on the one hand, and a fragmented, polled and profiled electorate on the other.
Given the support for this then incipient form of identity politics by Ken Livingstone's Greater London Council over three decades ago, perhaps it is fitting that the London mayoral election has degenerated into a depressing battle over stereotyped, racialised voting blocs. It seems the logic of multiculturalism has finally come home to roost. But London deserves better than this. This great city deserves a politics and a vision driven by ideas, not racialised fearmongering or card-playing.
Tim Black is editor of the spiked review.
To enquire about republishing spiked's content, a right to reply or to request a correction, please contact the managing editor, Viv Regan.