The Ghomeshi trial and the cult of #ibelievewomen
This acquittal has exposed the ugly excesses of modern feminism.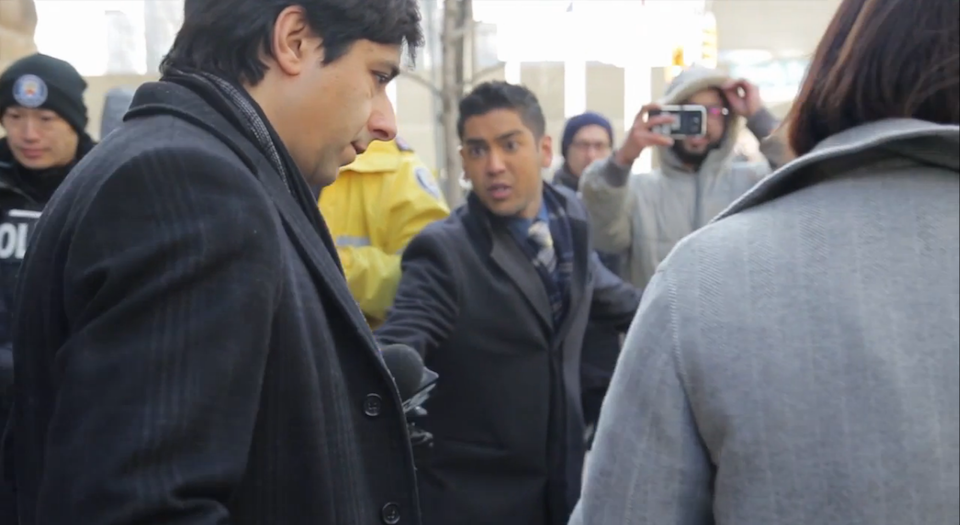 Judge Horkins delivered his verdict last week in the high-profile trial of R vs Ghomeshi in Toronto. He acquitted Jian Ghomeshi, a high-profile radio presenter for the Canadian Broadcasting Corporation (CBC), of four charges of sexual assault and one charge of choking involving three complainants, between December 2002 and July 2003. He also tore into the complainants' evidence, leading to an animated debate about whether the criminal-justice system oppresses victims of sexual violence.
Ghomeshi was sacked by CBC in 2014 following an allegation that he had injured a woman. Perhaps unwisely, Ghomeshi posted a self-justificatory Facebook article after his sacking, insisting that, while he liked rough sex, his encounters had always been consensual.
The floodgates opened. Various women used the media to accuse him of past sexual misconduct, and he became the subject of a social-media witch-hunt. Bill Blair, chief of the Toronto Police Service, then made a bizarre public appeal to women to report Ghomeshi, stating that the police's hands were tied unless women complained to them. Predictably, some women then went to the police.
The feminist commentariat united to denounce Ghomeshi, and the #ibelieve movement swung into action. Much handwringing ensued about the ordeal women alleging sexual violence face. Things looked bad for Ghomeshi, who by then had effectively been convicted in the court of public opinion.
Ghomeshi made the wise decision to retain Marie Henein, an Egyptian-born defence lawyer with a fearsome reputation. Initially he faced eight charges, but Henein's rigorous pre-trial investigations led to the Crown dropping two charges, on the basis that two complainants had no reasonable prospects of a conviction. The next tactically sound decision the defence team made was to opt for a trial without a jury. The first trial took place in February this year involving three other women. A further trial of one charge is due in June this year, involving yet another accuser.
One complainant, known as 'LR', is a waitress who made two allegations of assault. Lucy DeCoutere is an actress and a serving captain in the Royal Canadian Air Force. She embarked on her own media blitz against Ghomeshi, giving 19 interviews before she went to the police. She alleged one count of sexual assault and one of choking. 'SD', another complainant, made one allegation of assault. At trial, it emerged that DeCoutere and SD had liaised intensively about the case, with over 5,000 emails passing between them.
At the first trial, all three women ran into considerable difficulty because they had all withheld crucial information from the police, the prosecutors and the court. Henein repeatedly challenged these witnesses, whose credibility and reliability she attacked relentlessly. In his ruling, Judge Horkins described all three complainants' conduct as 'deceptive'. This is about as damning as it gets.
A striking feature in the complainants' accounts was the way their stories kept changing. LR met Ghomeshi at an event she was working at, and he invited her to a recording of one of his shows. After attending the show, she claimed that she sat with Ghomeshi in his bright yellow Volkswagen, which she called a 'Love Bug', and said that it made her feel safe. They were kissing and he suddenly and without warning pulled her hair. She left soon after, but agreed to meet Ghomeshi again in a bar for another recording, this time accompanied by a friend. Her friend left and he then took her to his house where they listened to music. She claimed that he suddenly and without warning pulled her hair, punched her in the head and forced her to the ground. Then he called her a cab and she left.
LR gave three media interviews before she spoke to police. She did not initially tell police that they had been kissing, instead alleging that the assault came out of the blue. Later she emailed police to say that she distinctly remembered wearing hair extensions: a detail she withdrew in court. At trial she attempted to explain inconsistencies in her account by saying that she was simply 'throwing thoughts' at the police. For instance, she had asserted that Ghomeshi smashed her head against a car window – a detail she had not mentioned before. In fact, Ghomeshi did not purchase the yellow Volkswagen until seven months after the alleged assault.
LR also claimed that she had purposely avoided any contact with Ghomeshi following these alleged incidents. However, in court the defence produced emails from her to Ghomeshi in friendly terms, one attaching a picture of her wearing a string bikini. Ghomeshi had not responded to these overtures. In court, LR claimed that she had forgotten sending these emails, but then suddenly remembered that she had sent them as part of a plan, whereby she would bait him in order to confront him. The judge said the factual inconsistencies in her evidence made him approach her case with great scepticism. He described her behaviour as 'odd'.
DeCoutere's behaviour was even more inexplicable. She met Ghomeshi at a film festival in 2003. She liked him and arranged to meet him one weekend. They had dinner and she went to his house. She says that he unexpectedly put his hand on her throat and pushed her against a wall, choking her and slapping her face. She said she was shocked, but stayed and listened to music and then left. Later she sent him flowers. In 2004, they sang together at a karaoke event.
DeCoutere omitted to tell police that she had been kissing Ghomeshi on the way back to his house, and on the sofa both before and after the alleged assault. She also did not tell police or prosecutors about an email she sent him a few days later, which said 'I want to fuck your brains out', or about a six-page love letter she sent him, which concluded: 'I love your hands.' In court, when confronted by this, she said she was trying to 'normalise' things.
Nor did she tell the authorities that she and Ghomeshi were photographed cuddling in a park some days later. She also failed to reveal a number of other friendly emails between them, clearly evincing an interest in an ongoing relationship. The judge was scathing about this, saying that she was clearly hoping she could get away with this non-disclosure. He disbelieved her explanation that she thought her first opportunity to open up about this was during the hearing itself, saying she had literally dozens of pre-trial opportunities to come clean. He found as a fact that she had attempted to mislead the court, commenting that her behaviour was manipulative and cast considerable doubt on her trustworthiness as a witness.
He noted that, in the run-up to the trial, DeCoutere was actively promoting her cause in the media, having given 19 interviews before she even went to police, leading to the hashtag #IBelieveLucy to trend. She retained a lawyer and a publicist. Her animosity towards Ghomeshi, expressed in emails to SD, saying things like 'Fuck Ghomeshi', contrasted starkly with her friendly overtures to him in the past. She claimed that the trial would be 'theatre at its best'.
The third complainant, SD, gave evidence that she and Ghomeshi had made out in a park and that he put his hands around her neck. Her account was extremely vague. She came forward following the media blitz in 2014. SD shared DeCoutere's publicist, and initially used the same lawyer. She and DeCoutere described themselves in correspondence as the 'insta sisters' who were going to bring Ghomeshi down. She maintained, like the others, that she tried to keep her distance from Ghomeshi, but again this was undermined by evidence of continuing contact and correspondence (including a visit by Ghomeshi to her home, when they slept together, and she gave him a hand job). The judge said that SD was 'playing "chicken" with the justice system'. He rejected her explanation that she was unused to navigating the system, as she put it, observing that all she had to do was to tell the truth.
In summing up, the judge said that the standard of proof in criminal proceedings is very high: it is not enough to think that someone is probably guilty. The court has to be sure of guilt. 'Similar fact' evidence was inadmissible, therefore the accusers could not rely on the existence of other accusations to shore up their own accounts. All that each accuser could rely on was her own unsupported word. Given that each accuser's evidence was tainted not just by inconsistencies and questionable behaviour, but 'outright deception', it was impossible for the court to treat their accounts as reliable or sincere.
From an orthodox legal standpoint, Ghomeshi's acquittal was inevitable. But immediately feminists led a protest to the Toronto police department. DeCoutere greeted her supporters outside court, seemingly unfazed by the court's denunciation of her own dishonesty.
It's a sign of how twisted the feminist agenda has become that deceit and barefaced attempts at manipulating the justice process are minimised and excused as signs of trauma. These were articulate, mature women who set out to destroy a man's life, seemingly as payback for his rejection of them years before. Unluckily for them, Ghomeshi had retained evidence of their attempts to pursue a relationship with him. His case shows that women can be both manipulative and deceptive when jumping on the feminist bandwagon.
If anything has set the feminist cause back, it is the behaviour of these complainants. It is high time that apologists for the cult of #ibelieve recognise that inconsistencies and withholding information are not a sign of veracity, but a potential red flag. Adult complainants must expect their accounts to be probed rigorously, if the justice system is not to be taken for a ride.
Barbara Hewson is a barrister. Her views here are personal.
To enquire about republishing spiked's content, a right to reply or to request a correction, please contact the managing editor, Viv Regan.