No end in sight to paedo hysteria
Operation Midland may have closed, but the elite obsession with child abuse continues.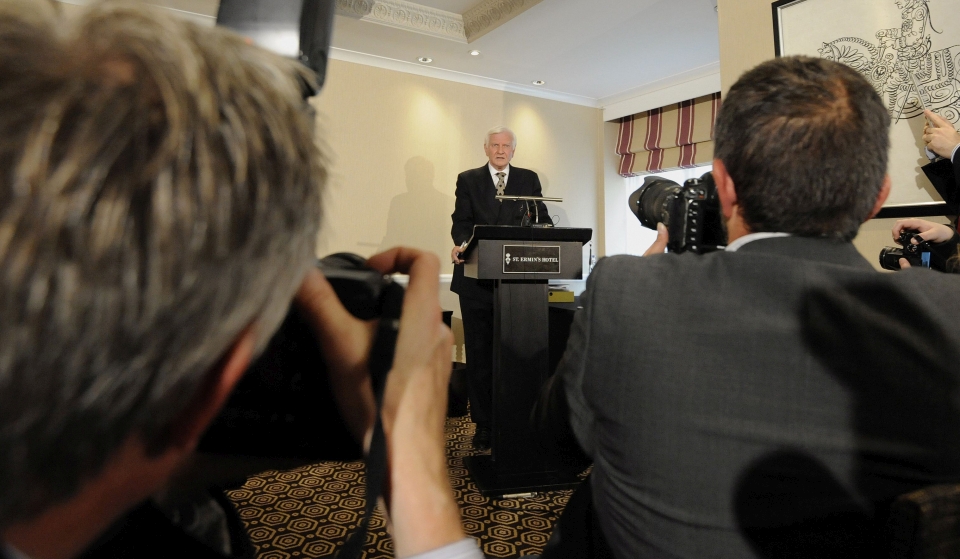 So, after a year and a half, and at a cost of nearly £2million, Operation Midland, the Metropolitan Police investigation into a so-called VIP paedophile ring, has come to a close. And did it find what it was looking for? Did it prove that at some point during the 1970s and 1980s the great and the good were routinely sexually abusing children? Did it corroborate claims that spy chiefs, high-ranking politicians and army generals were torturing and murdering vulnerable young people? Did it hell.
After the exoneration of the likes of military chief Lord Bramall and the now deceased former Tory minister Leon Brittan, former Tory MP Harvey Proctor was Operation Midland's great hope, its one remaining suspect, its last shot at a prosecution. But yesterday Proctor announced that the police had cleared him of any wrongdoing. And then, a few hours later, the Met announced Operation Midland had been shut down.
Not that Midland's demise was a shock. Reports have suggested for months that officers had found the square root of nothing. Which was hardly a surprise given that the whole investigation was based on nothing more than the claims of one putative witness known as 'Nick'. And what claims they were, too. Nick said that he'd seen assorted public figures rape and murder young boys at various London addresses during the 1970s and 1980s. He said he'd seen Proctor kill one boy and beat another to death during a sex party. He said he'd seen another about to have his testicles cut off, before ex Tory prime minister Edward Heath intervened.
That Nick turned out not to be the most reliable of witnesses was all too predictable. The allegations always sounded like a conspiracy theorists' waking dream, the kind of thing that has long circulated as urban myth, occasionally erupting into pop culture as it did in novelist David Peace's Red Riding trilogy, before returning to its rightful home on internet message boards, to be frothed over by tinfoil-hat wearing zealots. If Nick's claims sounded incredible, that's because they were. There was no evidence, no corroboration and certainly no bodies. A 'Walter Mitty fantasist' was one officer's conclusion, a view which was backed up by Nick's own family, who also thought the claims were imagined, noting that he regularly made up stories as a child.
A few years ago, perhaps, Nick's claims might have been treated with the scepticism they deserve. But we live After Savile, an age in which claims of child abuse are to be treated with kneejerk credulity. Legel precedent is being rewritten, common sense overturned. Individuals with tales of child abuse are no longer complainants with allegations to be proved; they are automatically 'victims' with facts to be believed. As institutions and individuals at the top of British society scramble to right the wrongs of Savile's alleged life of abuse, there is no room for doubt, let alone scrutiny. As spiked's Luke Gittos has observed, all allegations must be believed in these witch-hunting times.
This is what happened to Nick – he was believed. This is why, right at the start, before the investigation had got underway, before his claims had even been tested, Midland's lead detective, Kenny McDonald, felt comfortable announcing that Nick's stories were 'credible and true'. This immediately made those the police then started questioning look, if not guilty, then certainly suspect.
So suspect, in fact, that Proctor, who was the youngest of those accused, had to leave his job and home in Leicestershire and move to Hong Kong. Others who were dead or died before Midland had cleared them left their families to shoulder responsibility for the alleged crimes. In fact, just about the only thing Midland did achieve was to upturn the lives of innocent people.
Proctor's anger this week is understandable. He called for Midland to be 'the subject of a truly independent public inquiry'. He called for the resignations of Met police chiefs, Sir Bernard Hogan-Howe, Patricia Gallan, Steve Rodhouse and Kenny McDonald. And he called for apologies from those politicians, Labour and Tory alike, who had voiced Nick's claims in parliament: 'The likes of Tom Watson, John Mann (who described me on the day of my house search as "the first of many") and Zac Goldsmith should hang their heads in shame.'
But Proctor's targeting of individuals misses the point. The long-term obsession with child abuse, and the sheer After Savile hysteria, has held whole sections of the British elite in its grip, not just Met police chiefs, Tom Watson and Zac Goldsmith. Their dripping self-righteousness and moral self-aggrandisement are merely reflections of the crusading zeal which fuels this elite hysteria. They write large the elite need to have some form of easy moral mission, some sense of an evil in our midst around which its members can orient themselves. And what could be more unambiguously evil than child abuse? While other moral frameworks, other sources of moral authority, religious, imperial or otherwise, now lie out of reach for our disoriented elites, the war on child abuse is all too accessible. Goldsmith or Watson might not know what they are for anymore, but they know what they are against: the sexual abuse of children.
It's not a moral vision. It's a substitute for a moral vision. But it works. And works dangerously well. All it demands is the sheer conviction, the sheer belief that there are lots of people out there abusing, and sometimes killing, children. Hysteria and credulity reign. Actual cases of paedophilia are no longer isolated acts, but glimpses of networks, tips of icebergs. They must be, because that's what the crusade demands: an unwavering belief in the continued existence of the devil-paedophile.
So while Proctor's rage against particular politicians and policemen makes sense, it won't perturb the crusade as a whole. After all, Midland was just one of countless police investigations into child abuse established After Savile, from Operation Fairbank and Operation Athabasca to Operation Cayacos and, of course, Operation Yewtree. And then there's the all-embracing Independent Inquiry into Child Sexual Abuse (aka the Goddard Inquiry), which is due to snake its way through assorted bodies, from church to local council, over the next 10 years at least.
Far from going away, then, the paedophile hysteria has been institutionally enshrined. And that really is something to be worried about.
Tim Black is editor of the spiked review.
To enquire about republishing spiked's content, a right to reply or to request a correction, please contact the managing editor, Viv Regan.