Let's hit the terrorists where it hurts
Hurt the terrorists by being free: Brendan O'Neill in English and Dutch.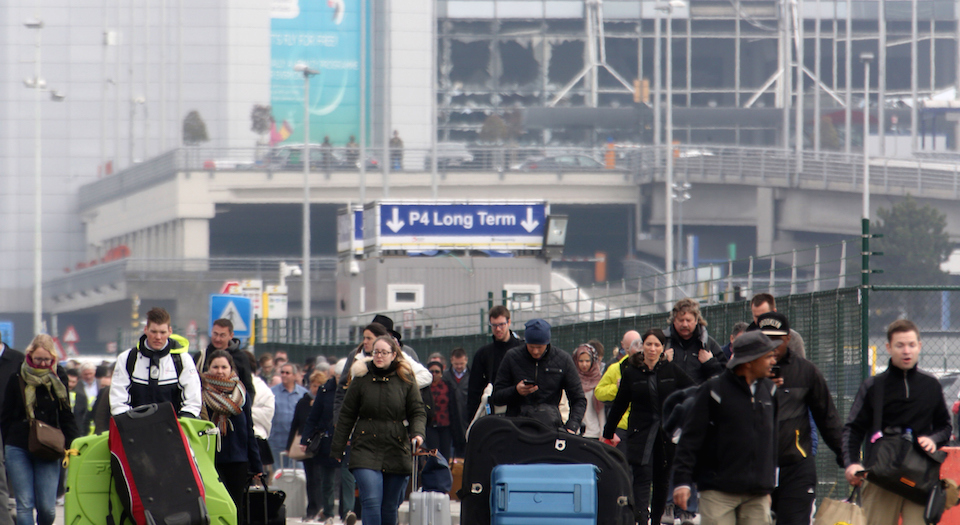 Spiked's editorial response to the Brussels bombings, in English and in Dutch further below.
The barbarism in Brussels, a grotesque, misanthropic assault on flyers and commuters, has sent shockwaves through Europe. Many feel scared. Will London be next? Or Paris again? There's already heated talk about what needs to change after the Brussels bloodshed. Perhaps border controls in Europe should be tightened. Given that the airport bombings took place in the check-in area, before security, maybe we need security checks at the very entrances to airports. And perhaps big public events should be called off for a while. There's talk of Brussels going into lockdown for weeks, football matches being cancelled. 'Stay off the streets', everyone says.
This desire to stay home, this urge to limit the number of big gatherings that fatality-hungry terrorists love to target, is understandable. But it's wrong. Europe's response to this outrage should not be to change everything — it should be to change nothing. It should be to carry on with life as normal. Or, better still, with a keener determination to partake in and celebrate the openness and the freedoms and the huddling of humans in airports and restaurants and rock stadiums that these terrorists so clearly hate. They want us to feel fearful as we do the most everyday things of jumping on a metro train or clinking champagne glasses with a lover. So our response, our best blow to these lovers of death and loathers of the joys and associations of modern life, should be to refuse to feel that fear, and to live even more freely after the Brussels barbarism than we did before it.
Of course, action will need to be taken. Serious action. The authorities in Belgium and elsewhere must devote considerable energy to breaking up terror cells and punishing their members. No time should be wasted in bringing these hateful fantasists to justice. But this campaign should be discrete. It should be a clean, thorough, intelligence-led hunt for terror cells, not a demand for a society-wide, constant caution, for every citizen to feel scared, dodge crowded spaces, change their lives. Officials should hunt the terrorists, not do to our societies the very thing the terrorists want them to: make them less free, less open, more rigid, agitated, on edge.
It should be clear after the Paris and Brussels attacks that what we have today are gangs of Islamist nihilists who despise the buzz and the liberties of city life that most of us love. Apologists for Islamist terrorism insist it is a response to Western foreign policy, yet have no explanation for why, if that were the case, the terrorists target 20-year-olds at a rock gig rather than ministers of defence. Or they say this terrorism is an expression of fury with Europe's alleged mistreatment of Muslims, yet cannot explain why other groups that face prejudice — black Africans, Kurdish migrants, Jews — don't also go to their nearest airport and blow it up. On the right, meanwhile, there's talk of these terrorists seeking to build a Caliphate in Europe from which they might stamp the lot of us under their unforgiving heel, which would be more convincing if it wasn't for the fact that most of the terrorists destroy themselves as well as innocent civilians. Who'll run their Caliphate? They're all dead.
All of these apologetics, all these attempts to project neat narratives on to modern Islamist violence, are driven by a reluctance to face up to the true nature of the problem we face today. Which is that some people who live in our societies, many of whom were born here, have come to loathe those societies so much that they think nothing of obliterating their citizens. Rock fans, football fans, metro users — any citizen will do. It's not political, it's not protest; it's nihilism. And they justify their nihilism with appeals to an Islamist ideology. What we have are groups of people so estranged, or self-estranged, from society and its networks, so consumed by the self-pity and fury that often attend extreme manifestations of the politics of identity, so shot through with a narcissism that makes them imagine they are absolutely right and everyone who disagrees with them is dispensable trash, that they come to view the people around them as aliens, and society itself as contemptible.
Our response should be to defend and to live and breathe that society. We should neither glorify these individuals as rebels against foreign policy or as serious Islamist warriors, nor enforce authoritarian measures in an attempt to keep their threat at bay. Instead we should do more of the things they hate: more socialising, more travel, more music, more football. In Brussels this coming weekend, every single match and gig and theatre performance that was already planned must go ahead. It's a matter of principle. To do the opposite, to stymie citizens' ability to go about their lives, would be to do the terrorists' dirty work for them. In a sense, it would complete the barbarous act they set in motion with their bombs today.
Terror cells on their own, being small, isolated and made up of people with a death wish, cannot change society itself. The impact of terrorism is determined as much by society's own response to terrorism as it is by the terrorism itself. And we have the power to stop the ripple effect of the Brussels bombings. We can negate this act of violence that was designed to dent social and public life by instead reinvigorating social and public life. We need to deliver two blows to these terrorists: the police blow of tougher investigations, and the social blow of refusing to sacrifice freedom at the altar of fear — a blow all of us can help deliver.
If the Brussels attacks, and the Paris attacks, made you angry, good. Now you can be part of the fightback of civilisation by visiting Paris or Brussels or just going out in your own city, in order to do something the terrorists hate — raise a glass — as a toast to an institution they hate: the free society.
---
Na de aanslagen moet het leven gewoon doorgaan
Alle concerten, voorstellingen en voetbalwedstrijden in Brussel moeten gewoon doorgaan. Het is een principezaak.
Het barbaarse geweld in Brussel heeft geleid tot veel paniek, zorgen en angst door heel Europa. Welke stad wordt het volgende doelwit? Londen? Nog een keer Parijs? Hoe gaat het verder in België?
Meteen al is er gesproken over wat er nu moet gebeuren na het bloedbad van gisteren. Misschien moeten de Europese grenscontroles strenger? Moeten we misschien beveiliging brengen bij de ingang van ieder vliegveld, aangezien de bommen afgingen vóór de check-in-balies waar de beveiliging is? Moeten we grote publieke evenementen voorlopig maar afblazen? Sommigen vinden dat de mensen in Brussel de komende weken maar een soort huisarrest moeten krijgen, met voetbalwedstrijden die worden afgelast. 'Waag je niet op straat', wordt er gezegd.
Weersta de angst
Deze behoefte om in je schulp te kruipen, is begrijpelijk. Maar het is ook verkeerd. Na de aanslagen in Brussel moet Europa niet allerlei radicale veranderingen afkondigen. Sterker, Europa moet niets veranderen. Het moet gewoon doorgaan met het leven zoals iedere andere dag. Of, beter nog: met een nog scherpere overtuiging om deel te nemen aan de vrijheid en openheid om met groepen mensen – bekenden en onbekenden – samen te komen in vliegvelden, restaurants, voetbalstadions en popconcerten en al die andere gelegenheden waar de terroristen kennelijk zo'n hekel aan hebben.
Zij willen dat we bang worden voor de alledaagse dingen: wanneer we de trein nemen of ergens een biertje gaan drinken. Dus het beste dat wij, eenvoudige lieden, kunnen doen om aan deze anti-modernistische doodsverheerlijkers te laten weten dat we niets van ze moeten hebben, is om die gevoelens van angst te weerstaan en nog vrijer te leven dan we deden vóór dit geweld.
Discrete opsporing
Dat zal niet genoeg zijn. Natuurlijk moet er serieus actie worden ondernemen. De autoriteiten in België en andere landen moeten eraan blijven werken om terreurgroepen op te sporen en hun leden te bestraffen. Maar die strijd moet met enige discretie worden gevoerd. Het is een strijd van de slimste opsporingsdiensten, die níet moet uitmonden in een roep om burgers voortdurend waakzaam en alert te maken, of in een situatie waarin burgers zich terugtrekken uit angst om zich te begeven in een mensenmassa.
Het is heel simpel. De terroristenbestrijders moeten de terroristen bestrijden. Ze moeten níet met ons doen wat de terroristen willen, namelijk om ons beroven van onze vrijheden en verworvenheden.
Vooroordelen
Sommigen zeggen dat het terreur wordt gevoed door de Westerse interventies in andere landen. Ze hebben evenwel geen verklaring waarom de terroristen hun aanslagen plegen op argeloze mensen die een rockconcert bezoeken of ergens een hapje eten, en niet op politieke doelen, zoals de ministers van Defensie. Of ze zeggen dat dit terrorisme is uitgelokt door de wijze waarop de moslims in Europa worden achtergesteld op basis van vooroordelen. Maar ze vergeten dat er andere achtergestelde groepen waarover we in Europa vooroordelen hebben – Afrikanen, Koerden, joden, vrouwen – die niet naar het vliegveld hollen om er een bom te laten afgaan.
Anderen beweren juist dat terroristen een plan smeden om een kalifaat in Europa op te bouwen, van waaruit ze ons zullen vertrappen. Maar ook dat is weinig overtuigend, al was het maar omdat de meeste terroristen ook zichzelf opblazen. Wie runt dat kalifaat dan als ze allemaal dood zijn?
Nihilistisch protest
Ik geloof dat het na de aanslagen in Brussel en eerder in Parijs duidelijk is dat we te maken hebben met bendes van nihilistische islamisten, die neerkijken op ons en onze samenleving. We moeten onder ogen komen dat er mensen onder ons zijn – van wie velen hier zijn geboren – die het kennelijk niet bezwaarlijk vinden om een einde te maken aan het leven van grote groepen burgers, mensen zoals u en ik. Muziekliefhebbers, voetbalsupporters, reizigers: wie dan ook. Het is geen politiek statement, maar nihilistisch protest, dat zich rechtvaardigt met een beroep op een islamistische ideologie.
Deze nihilisten zijn vervreemd van de samenleving. Ze zijn geobsedeerd door een gevoel van zelfmedelijden, dat je overigens wel meer ziet in deze tijd waarin het kennelijk meer gaat om je biologie – of je man of vrouw bent, blank of zwart, et cetera – dan om je talenten, ideeën of overtuigingen. En ze zijn zo narcistisch, dat ze het gevoel hebben dat iedereen die het niet met hen eens is, het verdient om te sterven.
Wij moeten doen wat zij verafschuwen
Hoe moeten wij daarop reageren? Door onze beschaafde, vrije, liberale, democratische, Europese samenleving te verdedigen en door haar te belichamen. Dat betekent dat we de terroristen niet moeten omschrijven als rebels tegen ons buitenlandbeleid of als morele islamistische strijders, maar het betekent ook dat we niet allerlei drastische maatregelen moeten nemen om hun bedreiging in te perken wanneer die ook ónze vrijheden inperken. We moeten juist meer doen wat zij verafschuwen: meer reizen, meer muziek, meer voetbal, meer uitgaan.
En dus moet in Brussel alle concerten, voorstellingen en voetbalwedstrijden gewoon doorgaan. Het is een principezaak. Want het alternatief is een knieval voor de terroristen. Sterker, wie deze evenementen afblaast, doet wat de nihilist wil en knapt feitelijk het vuile werk op dat is blijven liggen met zijn zelfmoordactie.
Altaar van de angst
Terreurgroepen zijn klein, geïsoleerd en bestaan uit mensen die dood willen. Daarom zullen ze op zichzelf de samenleving nooit kunnen veranderen. De impact van hun terreur wordt net zo goed bepaald door hoe erop wordt gereageerd als door de daden zelf.
Wij hebben de macht om te voorkomen dat de laffe daders van de aanslagen in Brussel hun zin krijgen. Aan de ene kant moet de politie de opsporing intensiveren en aan de andere kant moeten wij, burgers én politici, weigeren om onze vrijheden op te geven op het altaar van de angst.
Als de aanslagen in Brussel u boos hebben gemaakt, goed. Nu kunt u deelnemen aan de strijd van de beschaving door Brussel te bezoeken, of Parijs, of uit te gaan in uw eigen stad of dorp, om iets te doen waarvan de nihilisten gruwelen: het glas heffen om een toast te brengen op de vrije samenleving. Proost!
Brendan O'Neill is the editor of spiked.
Translation by Marco Visscher.
Picture by: Getty Images / Sylvain Lefevre / Stringer.
To enquire about republishing spiked's content, a right to reply or to request a correction, please contact the managing editor, Viv Regan.