The myth of the male suicide epidemic
Men's rights activists are pathologising masculinity.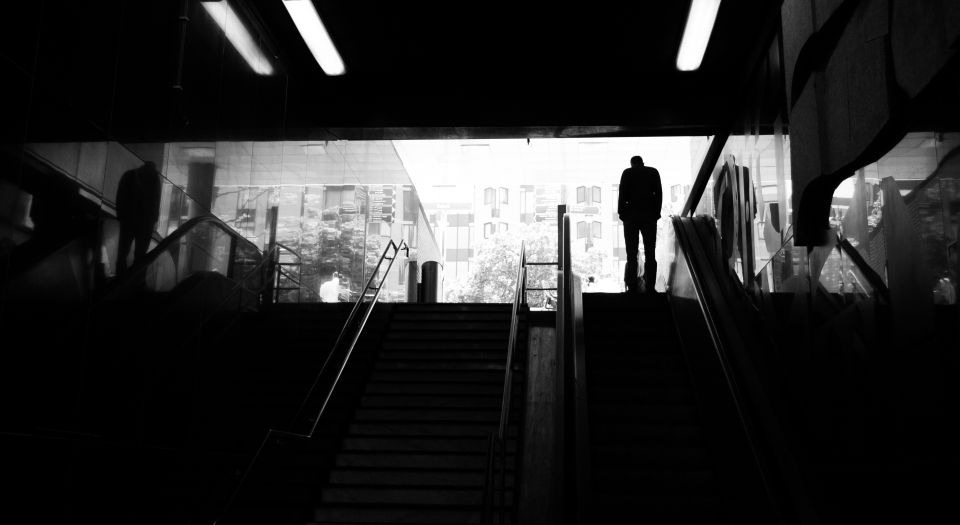 Suicide is the number-one cause of death for men under 35. This tragic truth has become the awareness-raising factoid du jour. Nowadays, you can barely turn on a television, open a newspaper or get on a bus without being reminded of the 'epidemic' of male suicide.
Recently, London commuters will have noted a poster campaign called #ManDictionary. Run by the Campaign Against Living Miserably (CALM), these posters offer definitions of macho hangups, ranging from #Menshun – 'To change the subject when a bloke says how he feels' – to the more morbid #Mandown – 'One of the 13 men who take their life every day in this country'. 'Keeping men alive by talking', is the tagline.
Then there's Sides of March, a Movember-style initiative where men grow mutton chops in the name of promoting discussion about the male-suicide rate. The idea, according to Adam Torr, who launched the campaign after the suicide of a friend, is that people will take one look at the throwback fuzz and ask, 'Why have you got those sideburns?'. Thus sparking a much-needed conversation.
After endless charity feel-bad campaigns, we've become numb to the idea that talking about a problem is a good in itself, better perhaps than actually solving it. But the campaigns around the male suicide rate seem uniquely devoted to it. The idea is that men's gruff inability to talk about their problems, to confide in someone when they're having a hard time of it, is at the core of the issue.
'You can't be a guy and talk about needing help', says CALM director Jane Powell. 'This is why [suicide is] really a gender issue. There is no ducking this.' Men's reticence to open up, campaigners contend, is the fault of 'harmful, boring and archaic male stereotypes'; of what Jack Urwin, author of Man Up: Surviving Modern Masculinity, isolates as the legacy of wartime men who 'weren't able to talk about or show any kind of healthy emotion'.
Suicide is, of course, a tragedy. One really is too many. But as with many awareness-raising campaigns, you have to take the men's groups' statistics with a man-sized pinch of salt. Though it continues to affect men disproportionately, suicide overall is on the decline. According to the Office of National Statistics, there's even been a steep decrease in male suicide among 25- to 34-year-olds since the late 1990s. And, lest we forget, the primary reason young men are more likely to die at their own hands is because they're pretty unlikely to die at all.
Suicide is the biggest killer among men aged 20 to 35, but it quickly drops off the scale as soon as men enter a period of life when they are prone to heart disease and cancer. In terms of the cause of male death overall, suicide doesn't even make the Top 10. Though some young men tragically take their life in the UK each year, the vast majority will live to a ripe old age before succumbing to the usual ailments.
The new obsession with male suicide has little to do with the facts and more to do with the sclerotic growth of gender politics. Men's rights activists, those most wont to fearmonger over male suicide, have set about playing feminism at its own game. Just as feminist campaigners use shocking stats about domestic violence to prove that all women, regardless of circumstance, are oppressed, men's rights types present male suicide as proof of the psychic imperilment of all men.
Herein lies the great contradiction of men's rights activism. Despite positioning itself against the feminisation of public life, and the demonisation of unreconstructed masculinity, men's rights activists still buy the idea that men are somehow deficient and destructive. Apparently our problem is that we're too blokey, too beholden to 'archaic' and 'harmful' stereotypes. As they criticise the idea that men are all misogynistic, gropers-in-waiting, they pathologise 'male' attitudes, suggesting men's inbuilt inability to talk about their feelings is driving them to self-destruction.
Yes, men are more likely than women to kill themselves. But this can't be boiled down to a universal gendered experience. Men, on the whole, are more likely to work high-pressure jobs – they are still, like it or loathe it, under the most pressure to provide. Perhaps these factors play a role. But they certainly don't for everyone. An issue as morally complex as suicide, the question of why some people feel so detached from their community, from those around them, that they're willing to take that most final and tragic of choices, is just not as simple as that.
Those contemplating suicide should get help. They should feel able to turn to friends, family and physicians in their darkest hours. But trying to stage a kind of national men's therapy session will only worry the well and further entrench the idea that men and women are fated by accident of birth. 'Feeling suicidal', CALM's website tells us, 'is actually fairly common'. The fact is, it isn't. And we do men no favours by pretending otherwise.
To enquire about republishing spiked's content, a right to reply or to request a correction, please contact the managing editor, Viv Regan.