Zac Goldsmith wouldn't lead London – he'd stifle it
The Tory candidate wants to rein in this great city's potential.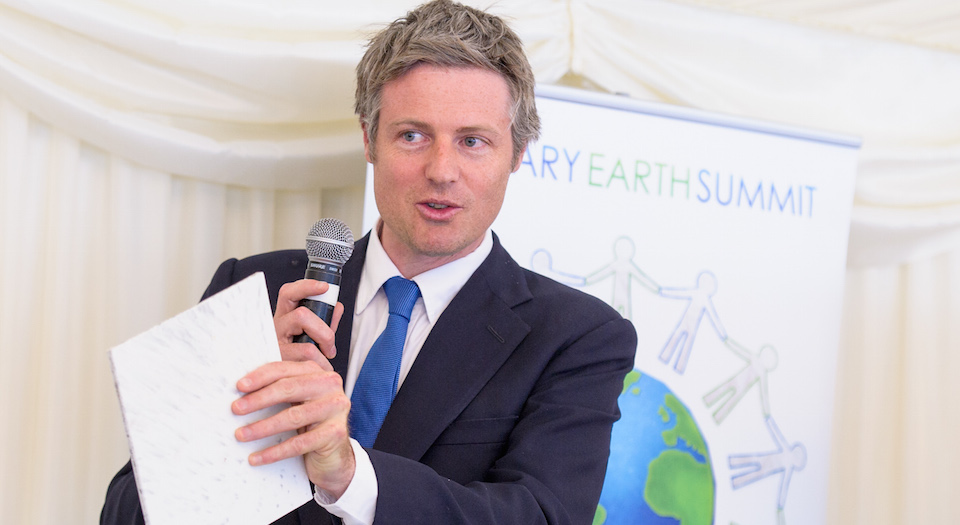 Zac Goldsmith, the Conservative candidate for London mayor, has been visited by the ghost of articles past this week, after Labour MP Michael Dugher opportunistically drew attention to a line in a piece he wrote for the Telegraph in 2000. 'I don't particularly want a plate of grilled tumours', moaned Goldsmith, 'which has come from a pig tortured under Auschwitz-like conditions'.
Goldsmith's blithe equation of modern farming methods with the systematic extermination of Jewry is certainly up there in the talking-bollocks stakes, along with his other daft public statements. One thinks of his claim, made in 2004, that 'our diet is making us ill'. 'A hundred years ago', he said, 'there were virtually no recorded cases of cancer. But now we have the lot, and autism and hyperactive children. We don't know what is in our food any more. There are so many hormones and preservatives.' That's the Gospel According to Zac: fish fingers and baked beans cause cancer and autism.
But what's interesting about Goldsmith's proclivity for Morrissey-esque nonsense about sausages is that it's not an aberration. When he warns of the dangers of modern food production, or chucks in a Holocaust analogy, these are not the brainfarts of an amiable young duffer who, after an afternoon doing interweb 'research', sometimes gets a bit carried away with himself. No, these are not deviations from his basic political impulse – they are its logical continuation. That's because Goldsmith stands very much against modernity. At some level, this new-fangled aristocrat sees the social and political forces that modernity unleashed, and the technological advances it fostered, as threats, risks, sources of our undoing.
So while Goldsmith's Labour opponents are feasting on snippets from 16-year-old articles, it's worth recalling once again the less headline-grabbing, but more essential, aspects of Goldsmith's opposition to the modern world, his desire to rein us back in, to stay time. There is his earliest conviction, as he puts it, that 'the world was under siege' (from humanity). There is his shallow espousal of Edmund Burke's conservatism (and reaction to the French Revolution) in a 2007 Tory policy document, where he even quotes Burke to justify his own opposition to people's material aspirations: 'The great error of our nature is not to know where to stop, not to be satisfied with any reasonable acquirement; not to compound with our condition; but to lose all we have gained by an insatiable pursuit after more.' And, of course, there is his embrace of that staple of modern-life-is-frightening sentiment, the precautionary principle, As he put it in a 2005 interview, 'I believe in the precautionary principle [the idea that if the consequences of an action are unknown, but are judged to have some potential for major negative consequences, then it is better to avoid that action]'.
The problem, as Goldsmith sees it – and as a long tradition of counter-Enlightenment thinking has it, too – is man's emancipation, his freedom from the shackles of more hierarchical societies. Because with that freedom, with that unleashing of social, political and economic energy, with that ramping-up of man's producing and consuming forces, the world is constantly being made over, melting all that's solid into air. And for an old-style Conservative like Goldsmith, a man who in his avowed attempt to put 'conserve' back into conservatism stands apart from the empty 'modernisers' of Cameron's Tory Party, that is a problem. People need to be reined back in, their activity checked, their desires and ambitions limited. 'Nature', 'the planet' and 'the environment' all act as figurative bulwarks against the enemy: modern man's ceaseless activity.
None of this is on the surface, as it were. When Goldsmith launched his green manifesto for London last week, you won't have heard mentions of the precautionary principle, or quotes from Edmund Burke. But the sensibility is there, the desire to limit, to check, constrain, lurking beneath the policymaking platitudes. That's why Goldsmith's plan for London is not about unleashing its energies, embracing the increasingly populous forces of change in its midst. No, it's all about caps and limits, regulations and rules: he wants to enforce a consistent recycling regime across all London boroughs; he wants to reduce air pollution by banning HGVs and vans from certain parts of London; and, above all, he wants 'unequivocally' to stop any building on the Green Belt.
Goldsmith does not have a plan for London's growth; he has a plan for its stifling. Not that his main opponent, Labour's Sadiq Khan, is much better. But Khan, at least in his unguarded moments, does seem enthusiastic about the idea of London, the mega-city. Moreover, Khan's green-tinged enthusiasms are probably as cynical and affected as Goldsmith claims, designed more to woo second-preference Green Party voters than to turn London into some oversized Eden Project. And this at least shows there is a non-green lining to every Labour cloud.
To enquire about republishing spiked's content, a right to reply or to request a correction, please contact the managing editor, Viv Regan.