The tyranny of censorship: Ireland's war on 'evil' books
The Irish state has just banned an obscene novel. That is outrageous.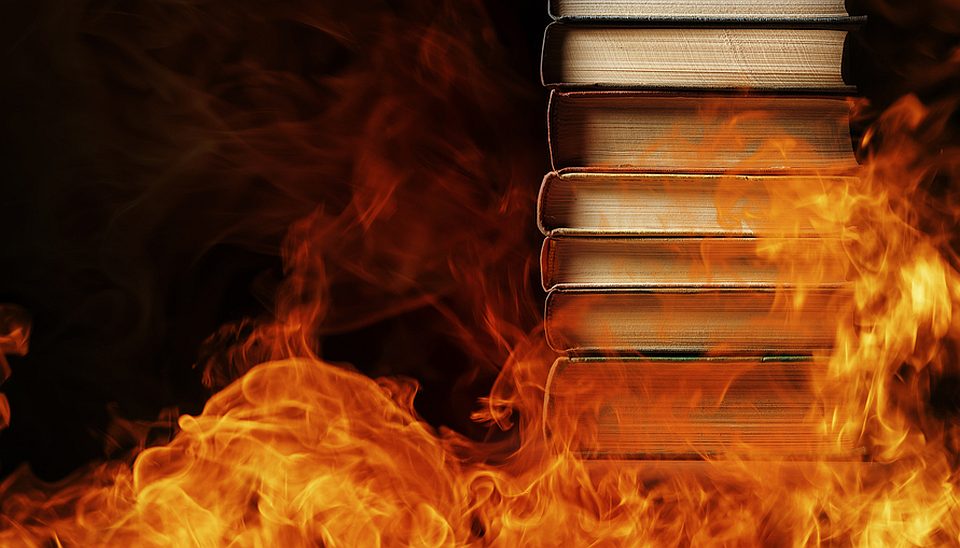 As if it isn't bad enough that Ireland still has a Censorship of Publications Board, at the weekend we discovered that this archaic outfit is still active. Given that it's been 18 years since these book-burners in chief forbade publication of a book in Ireland – 1998's The Base Guide to London, a book about seedy London hangouts – you could be forgiven for thinking they'd done the decent thing of realising it's the 21st century and calling it a day on their censoring antics. But no – on Saturday it was revealed that the CPB has banned The Raped Little Runaway, a weird novel by Jean Martin, which means it's an offence to distribute the book anywhere in the Republic of Ireland.
The CPB, founded in 1929 by the Censorship of Publications Act, is made up of five people – clever people, mind, not riff raff – who are appointed by the minister of justice. And these five people have the authority to ban any book or periodical they deem obscene. No one in Ireland may sell, buy or hand out copies of any book or periodical the CPB judges to be unacceptable. There's a name for this kind of thing: dictatorship. An aloof handful of experts has the ultimate tyrannical power: to prevent the sale or distribution of literature. They have now wielded this power against The Raped Little Runaway, on the basis that its 'graphic descriptions of a child being raped' are 'obscene'.
Prior to the setting up of the CPB in 1929, Ireland (then the Irish Free State) had a Committee on Evil Literature. The CPB replaced that overtly religious institution. Yet the CPB does pretty much the same thing: clamps down on what it considers 'evil literature'. The ban on The Raped Little Runaway is driven by a conviction that the book could warp minds, unleash base desires – that is, spread evil. Just because the CPB is not as active as it used to be, and just because the latest book it has banned seems to have very little literary value, that doesn't make its new act of censorship any better than its 20th-century bans on 'evil' literature like Brave New World and Catcher in the Rye. The targets of censorship may have changed – back then, classic literature; today, rubbish child-rape novel – but the motivation of the censorship is the exact same: to cover people's eyes and ears lest their mushy minds or knackered moral compasses be harmed.
A look back at the books banned by the CPB in the 20th century is enough to make literature lovers weep. Alongside Huxley and Salinger, Irish literary heroes like Brendan Behan and Edna O'Brien were banned. Behan's Borstal Boy (1958) was judged too critical of the Catholic Church. O'Brien's The Country Girls (1960) was considered too raunchy. These books are now freely available, as a CPB ban lasts just 12 years. But some books remain banned. Eight books about abortion are banned in this nation which still outlaws abortion. From Abortion: Our Struggle for Control (banned in 1983) to Abortion: Right or Wrong (banned in 1942), there are some books whose censorship is renewed every 12 years, so desperate is the Irish state to keep them out of people's hands. What a disturbing approach to the public.
And now The Raped Little Runaway joins their ranks. It may lack the moral worth or usefulness of those books, but its banning makes it yet another book that has exposed both the paternalism that lingers in the supposedly New Ireland and the ugly, people-distrusting authoritarianism of all acts of censorship. Oh, and it highlights some double standards, too. For the Irish state to ban a book for its 'graphic descriptions' of a child being raped is surreal, considering Ireland is the global capital of the misery-lit industry.
You can't swing a tote bag in an Irish bookshop without hitting 10 books about priestly rape or foul molesting parents. They have titles like Please, Daddy, No and Don't Ever Tell, and they contain eye-watering detail about adults doing nasty sexual things to children. They always have the same front cover – a sad, doe-eyed infant looking scared – beneath titles like Mummy, Make It Stop. They're a weird mix of misery, therapy and lots of sexual-abuse descriptions, and I'm convinced some people buy them because they have an emotional-abuse fetish. They're freely available, and so should The Raped Little Runaway be freely available. Because in a grown-up, democratic society, we trust the people to decide what they should read and what they should avoid.
Brendan O'Neill is the editor of spiked.
To enquire about republishing spiked's content, a right to reply or to request a correction, please contact the managing editor, Viv Regan.