Cleansed: a ringside seat in hell
Sarah Kane's play will blow your mind – if you'll let it.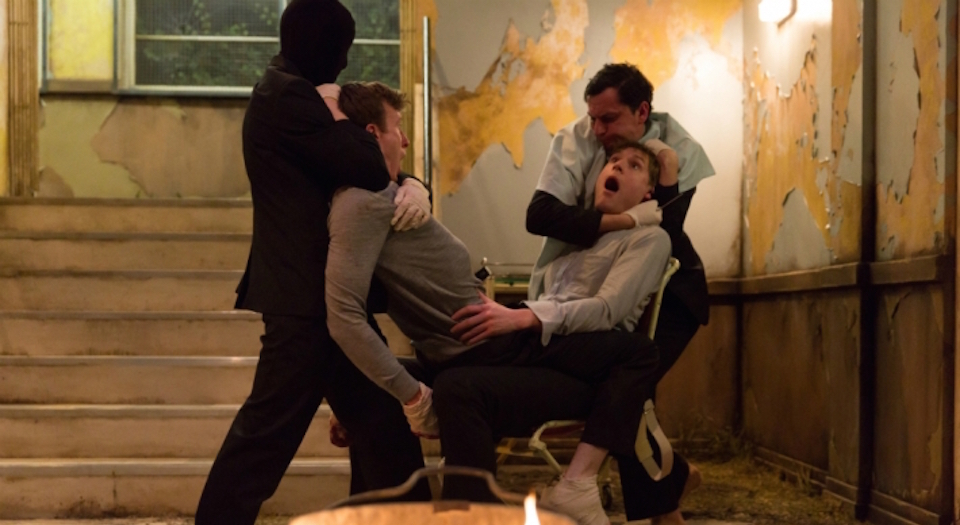 An advert for Saw III, the third part of that grisly movie franchise, featured a freshly pulled tooth dangling from a steel cable running through the middle of it. The tagline below the dripping molar read: 'You know the drill.'
Mutatis mutandis, it's over to the National Theatre for a major revival of an early play by the tragic young playwright Sarah Kane, who hanged herself in 1999 after years struggling with depression. The new production of her play Cleansed, first staged in 1998, has been greeted with a now customary display of shock and dismay. There have even been reports of people fainting and walking out.
That said, it has become uncool to express horror or outrage at Kane's work, as the Guardian's Michael Billington did when he first saw Kane's no less shocking play Blasted in 1996. In line with establishment thinking, he has since recanted and now acknowledges it as a major work. However, his initial reaction was at least honest. Shock and horror are reasonable responses to a play that turns on seemingly gratuitous violence and features frequent outbreaks of politically incorrect sex and rape. There is no more sincere response to such brutality than fainting or walking out.
Those who affect boredom or urbane indifference to such horrors are perhaps trying to protect themselves from Kane's vision of hell, equal to anything in Hieronymus Bosch. Designer Alex Eales sets Cleansed in a subterranean dungeon, which looks like the hospital wing of an abandoned death camp where there is no escape through the metal gates or shuttered windows. Amusingly, Kane originally set the play in a university, and it could be read as a parable of the vicious conformism in today's higher education.
The action is seen through the eyes of Grace (Michelle Terry), a woman who has come to reclaim the body of her brother Graham from black-clad torturers who stalk the stage like figures from a Dali painting. Desperate to reconnect with her lost brother, Grace strips off and wears the clothes left to her following his cremation. In doing so, she allows herself to relive her brother's experience in this purgatory. Cleansed is a world of systematic inquisition where the vows of a gay couple are tested first by rectal assault and then by shredding the fingers and toes of one of them.
The chief torturer, and only one who doesn't wear a black hood, fancies himself as a reasonable man. The play is worth its place in history for the moment he says: 'I may be a cunt, but I'm not a twat.' He is obsessed with a woman cage-dancing in a mobile shower unit. He has to feed coins into a slot in order to ogle her and masturbate – before offering her his hand in marriage. Throughout the play, clothes are stripped, characters perform acts of desperate, compulsive sex and, unable to cope with the relentless barbarism, a man in Grace's clothes hangs himself with her tights.
The hellish melee is unified not only by the clockwork regimen of Katie Mitchell's pitiless production but also by Melanie Wilson's sound design, which uses the somewhat corny, doom-laden language of horror films: moaning wind, muffled drums and the boom of field guns dumping their ordnance in some distant field. The sound entombs you as much as the underground set and the tone is bitterly sardonic, with daffodils springing from cracks in the concrete and the inclusion of songs such as Blondie's 'Picture This'.
So what, if anything, is the point of this litany of woe? At one level it is familiar dystopianism of the sort purveyed by Edward Bond, whose notorious 1965 play Saved featured a baby being stoned in a pram. Another of his plays, Lear, depicted a man having his eye extracted by means of a specialist bottle opener. Much, too, is owed to Jacobean theatre with its notorious love of gore – a Dionysian pleasure in itself. The justification for the gore here is not only historical and literary precedent, but also the lofty assertion in the programme that Kane was a stage poet. We are told that her imagination knew no limits and demolished boundaries in the minds of her audience. Her language is admired for being pared down – usually to four letters.
The glib orthodoxy also tells us that we should eschew vulgar biographical readings of her plays and not see them as narrow accounts of her depression or symptoms of mental illness. She was, we are assured, a gifted, professional writer manipulating images with craft and originality. Personally, I don't buy that. Yes, she was gifted and original, but these attempts to give account of Kane's writing, by discussion of its technique and relative position within literary tradition, sell her short. They lop the balls off her often visionary message and perform a hysterectomy – rendering it neuter.
So why pull punches? Not only is the play a ringside seat in hell, it is a resolute account of the experience of despair. It is an affront to narratives of hope or progress and to the social healing good liberals want it to perform. Often a rather arch, self-regarding director, Mitchell fully descends into Kane's account of a disturbed mind. What is staged is Kane's desperate struggle to make sense of the world and her own impulses. It is Kane's account of consciousness, presumably based on her own warring demons.
Grace's yearning to be reunited with her brother is not merely a case of sisterly love, but a dramatisation of traumatic alienation. If it echoes Greek myths, such as Orpheus searching in the underworld, it is a bleak tale of self-estrangement. Anima is amputated from animus and it is resolved by no less shocking surgical hermaphroditism. Sex in the play is an expression of love, dependence and exploitation. Extensive and insistent nudity amid the violence serves to emphasise the vulnerability of the human body, and with it the vulnerability of the human mind. When asked about heaven, all Grace can do is shrug and say she doesn't know – all she can see is hell. The only real comfort Kane offers is the meagre consolation of endurance: the feat of not dying – surviving until daylight.
So you can see why people have walked out of the play or sought to repudiate its distressing imagery. Critics and theatregoers have been eager not to meet the play's gorgon gaze – preferring instead to assess the experience on its artistic merits and place within the canon. The challenge is to allow yourself to enter into Kane's world. If you can do this, the play is also a terrifically moving spectacle of someone struggling to find a reason for living. It's a play with the power to blow your mind – if you'll let it. But that is not necessarily something to be recommended.
Patrick Marmion is a playwright, journalist and associate lecturer at the University of Kent. He is currently adapting Will Self's Great Apes for the stage.
Cleansed is at the Dorfman Theatre in London until 5 May 2016.
Picture by: Stephen Cummiskey / National Theatre.
To enquire about republishing spiked's content, a right to reply or to request a correction, please contact the managing editor, Viv Regan.