Rhodes Must Fall: a privileged protest?
Well-off students make unconvincing warriors against 'imperialistic' statues.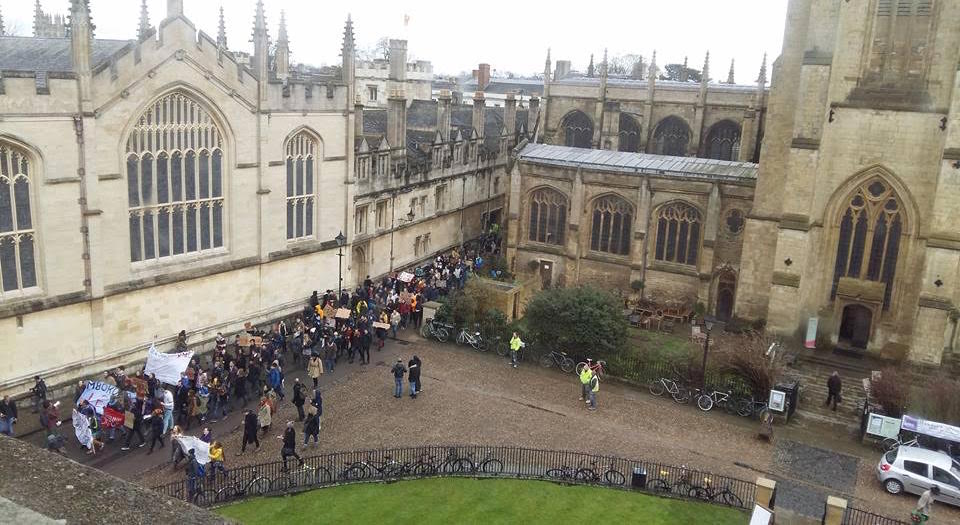 On 6 March, exactly one year after the Rhodes Must Fall (RMF) campaign began in South Africa, students gathered in Oriel Square at Oxford University to call for the removal of a Cecil Rhodes statue. Cecil stands, and, so protesters told me, students must rise.
I asked masters' student Mastish Terefe about her reasons for coming along. She was warm and enthusiastic: 'This is the most exciting march for Rhodes Must Fall so far.' Dalia Gerbrial, a masters' student at Pembroke, agreed: 'This is an attempt to engage the public and move beyond just the statue. I just hope people will listen.' 
The march may have been exciting, but it was not quite as successful as intended. Three thousand people were invited on Facebook, but on the grey, drizzly Tuesday morning, only about 100 students made it. There were concerns that the media would outnumber the students while Oriel's deans, porters and pyjama-clad undergraduates stared on from their windows. 
Anna Lukina, a 17-year-old law student at Hertford College, stood out: 'I oppose RMF, actually. I just want to expose myself to oppositional viewpoints. I think I'll be persuaded by some', she said, proffering a wry smile: 'well, anything to procrastinate.'
Chants were rehearsed, poems recited and banners unfurled – there was even a rap. One after the other, students expounded their frustration with Oxford, their anger at being ignored and their burning desire to 'start a conversation'.
And, in a way, it was easy to sympathise. Oriel's 'six-month consultation' on the matter was revealed to be a farce when it was cancelled overnight at the prospect of losing donors. The Rhodes Must Fall movement claims that all it wanted was a chance to debate the issue, but money talked and the dialogue was shut down.
But RMF's desire to reopen debate, repeated throughout the protest, comes across as somewhat disingenuous. RMF's original demand was that Cecil lose his post because it oppresses students.
The truth is, RMF's methods have not been to open debate with Oriel's governing body, or with college members. The campaign began by using social media and public platforms to shame the college into submission. And, as the march pressed on to All Souls (particularly ineffectual, given that no non-members are allowed into the site), further hints of hypocrisy emerged. One of the speakers, Femi Nylander, spoke eloquently about how he hadn't struggled to come to Oxford only to find it a hotbed of imperialism. But Nylander's 'struggle' rings hollow – he attended one of the most exclusive private schools in the country.
This tension extends to RMF as a whole. There is something profoundly ironic about the Oxford movement: some of the most privileged students in the world are campaigning to have historical figures, including that of Queen Victoria, removed so that they feel slightly more comfortable within their university bubble.
But removing a statue will make no material difference to the number of young black students admitted to Oxford, and racially motivated violent crimes won't decrease in number or severity because of its removal. All that it will achieve is making some of the richest kids on the planet feel slightly more pleased with themselves.
It is also awkward to compare RMF Oxford to its progenitor in South Africa. At the University of Cape Town, students flung human faeces at the statue of Rhodes before physically tearing it down. At Oxford, by contrast, Cecil stands untarnished. No paintballs, no eggs, not a chip off his nose. In Africa, dozens of students have been arrested for standing up for what they believe in. In Oxford, there have been some angry Facebook posts. And while we might not endorse throwing actual shit at things we disagree with, it's difficult to respect the movement in Oxford, whose advocates are reluctant even to contemplate sacrificing their own privilege.
Funnily enough, it's impossible to tell that the statue is even part of Oriel College unless you stand on the other side of the road and crane your neck. And even then, one cannot identify the figurine – unless, of course, a large campaign goes around telling everybody how upsetting they should find it. The protest didn't help me make my mind up about whether RMF is wrong or right, but it did reveal something quite perturbing about our generation of young adults. These people are loud behind computer screens, but in the face of challenge they are toothless. And for all their impassioned rhetoric about violence, when push comes to shove, a bit of old stone has greater staying power.
Catherine Johnson is a student at the University of Oxford.
Picture by: Tom Barrett.
To enquire about republishing spiked's content, a right to reply or to request a correction, please contact the managing editor, Viv Regan.