George Martin: pop's great innovator
How The Beatles producer changed the music game.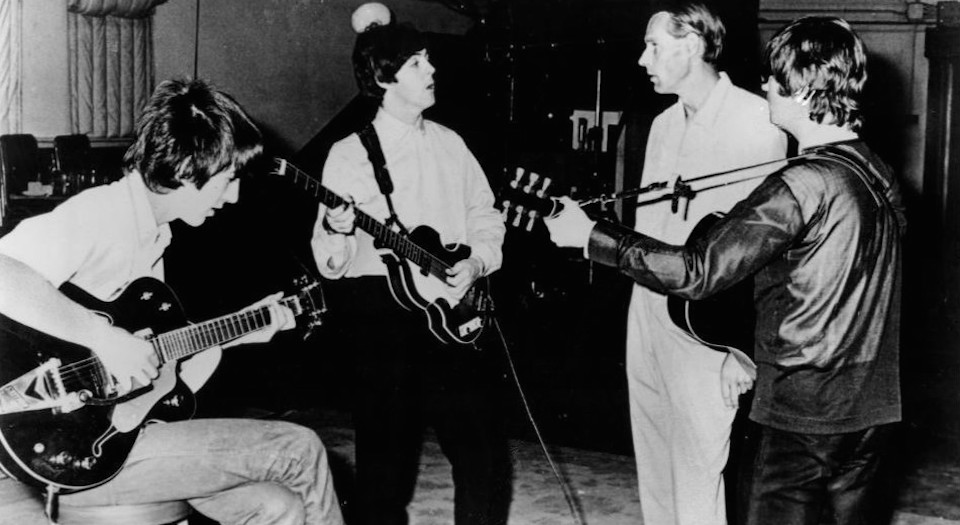 For over half a century George Martin's public life was dominated by The Beatles, the pop group that he worked with for just seven of his 90 years on this Earth. Just as Sir Geoff Hurst is forever asked about his hat-trick in the 1966 World Cup final, so Sir George was quizzed endlessly about the summer of '66, and the tape loops, backwards playbacks, and distorted vocals that resulted in Revolver – an album of technical breakthroughs that invented many of the familiar tropes of modern popular music, and opened the door for even greater experimentation by Martin the following year.
His special relationship with 'the boys' is a key part of the Fab Four legend – a story as familiar to the Baby Boomer generation as the fairy stories they learned at their mother's knee. So familiar, in fact, that it is easy to forget how incongruous the pairing must appear to anyone coming to the tale anew.
When George Martin first met the band, at an EMI audition in June 1962, he was in his mid-thirties, wore sports jackets and suits, spoke in mellifluous tones with an accent that was pure upper-middle class received pronunciation, and could have passed for a typical master from a public school. His wartime service as a naval officer and subsequent education at music college only added to the 'establishment' aura.
The Beatles – by stark contrast, and notwithstanding Brian Epstein's attempts to spruce up and domesticate them – were northern, working class, unsophisticated, irreverent (in John Lennon's case abrasive), and generally 'rough around the edges'.
It's hard to imagine a less auspicious beginning. Martin came in to listen to the tracks they had recorded, and was underwhelmed both by the songs and the performance. Yet he saw something in them, and a rapport of sorts was struck up. When Martin asked them if there was anything they didn't like, George Harrison replied, 'Your tie, for a start.'
The thing that Martin liked was not their music, but their personality and charm. And to The Beatles, this schoolmasterly figure must have been easy to relate to, as Harrison's schoolboy cheekiness suggests. His affectionate use of the phrase 'the boys' when speaking of them suggests that the role came naturally to him, and in his position as musical educator and all-round technical facilitator, he was indeed a sort of teacher.
When one scratches the surface of Martin's image, and looks beneath the patina of urbane sophistication, the attraction becomes less surprising. His background, for one thing, was nothing like the life of Home Counties comfort and privilege one might imagine. He was raised in Islington at a time when it was at the wrong end of the Monopoly board, and noted for its slums rather than its wealthy chatterati. His father was unemployed during the Great Depression and the family lived in two rooms in the kind of poverty that none of the Beatles endured in post-war Liverpool. The voice was acquired through elocution lessons years later, after he heard a recording of himself and was shocked by his own accent. (These were the days when those hoping to get on had to lose their regional tongue. Actors such as Peter O'Toole learned to speak like thespians, and even Alf Ramsey, manager of the aforementioned England team, underwent voice training – with somewhat unconvincing results.) Martin might have sounded posh, but he was no snob, and had more in common with the band than they would have realised.
Another thing they shared was a sense of humour – a crucial and often overlooked element of The Beatles' character. The Parlophone imprint, now synonymous with The Beatles, was originally a backwater handling mainly comedy (Beyond The Fringe, Flanders and Swan, etc) and novelty songs such as Bernard Cribbins' 'Right Said Fred' and Peter Sellers' 'Goodness Gracious Me'. The boys were particularly impressed by Martin's involvement with the Goons, and this is most clearly evident in songs such as 'Yellow Submarine' and The Beatles Fan Club Christmas discs, in which their Goonish humour and Martin's talent for silly sound effects are displayed to their best advantage.
Musically, George was an enabler, and combined his classical musical training with a 'can do' attitude typical of his military background. He would suggest possible instruments for specific tracks, create imaginative arrangements and occasionally play parts himself. At his best he was inspired, as demonstrated by his audacious orchestration for 'Eleanor Rigby'. Less successful was the intrusive and rather clunky 'baroque' piano solo shoehorned into 'In My Life', one of the most affecting and heartfelt Beatles ballads.
Technically, he would set about creating effects that satisfied the band's often challenging demands, such as distorting John's voice through a Leslie speaker when he wanted to sound 'like the Dalai Lama calling from a distant mountain top'. The solutions were sometimes of the make-do-and-mend, brown-paper-and-string variety, and at other times involved intricate and imaginative use of primitive recording equipment, as when he famously spliced together two versions of 'Strawberry Fields Forever', slowing it down in order to align the different keys.
To put the extraordinary pace of his production progress into context, it is worth remembering that when he joined EMI in 1950, they were still cutting live performances directly into hot wax. And even the spectacular Sergeant Pepper's Lonely Hearts Club Band, on which his technical innovation and arrangements reached full bloom, was recorded on a four-track tape recorder at a time when US studios were already using eight-track.
Pepper divides opinion to this day, but its detractors would acknowledge that Martin's productions generally exhibited taste and restraint. When the 1969 'Get Back' album tapes were eventually handed to Phil Spector, the resulting strings-and-heavenly-choir-laden Let It Be LP was not to Martin's (or Paul McCartney's) taste. He remarked acidly that the credit should have read: 'Produced by George Martin. Over-produced by Phil Spector.'
After the band split he carried on working with other artists, as well as working on The Beatles Anthology series and producing the biggest-selling single in British history: Elton John's Diana tribute 'Candle In The Wind'. His millions of fans will remember him for the wonderful music that brought so much happiness and pleasure.
Ed Barrett is a writer based in London.
To enquire about republishing spiked's content, a right to reply or to request a correction, please contact the managing editor, Viv Regan.