Father Jack: 'feck off' to the anti-fun police
Let's raise a glass of Toilet Duck to the foulmouthed priest.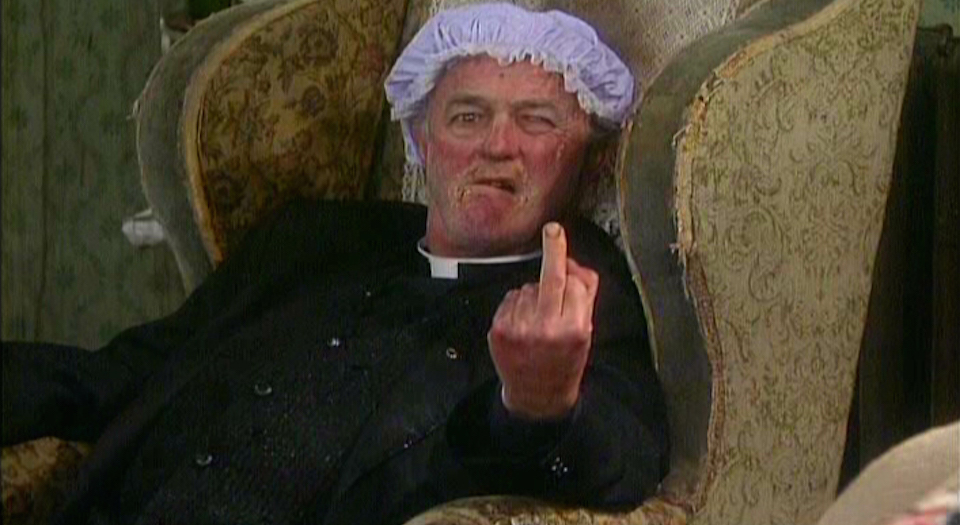 'Drink! Feck! Girls!' These were the sayings of Father Jack, as portrayed by the late Frank Kelly, who died this week. Father Jack was a monstrous, lecherous alcoholic in the 1990s Channel 4 comedy Father Ted, the programme which imagined the antics of three respectively drunken, corrupt and imbecile priests and their lunatic housekeeper in the west of Ireland.
The mid-1990s was a peculiar time to have aired a show about funny Irishmen. IRA violence was at its last spectacular hurrah, while loyalist violence was at its most savage. Bombs were going off in London and Manchester. The last thing the British wanted was more deranged Irish Catholics on their television screens.
Yet Father Ted worked. It tapped into a long vein of British culture in which the Irish have been portrayed not solely as retards or insurgents, but as our amiable second cousins. Father Ted harked back to a long tradition of the cute and naughty 'stage Irishman', as exemplified by Shakespeare's Henry V or Dave Allen. In the minds of the British, the Irish will always be mad, curious, offbeat, loveable and not-quite-us. This is why we loved and lauded the late Terry Wogan. This is why Father Jack was so memorable.
But would Father Ted have been made today? I doubt it. It was a product of the 1990s, that era of Irish theme pubs, alcopops, lads' mags and the last time we were allowed to have fun. Or so it emerged, before the consequences of the Good Times were felt. The 1990s saw the slow, snide emergence of health-absorbed, self-obsessed, fun-hating political correctness, and of anti-clericalism and bogus 'anti-racism'. Consider the drink so loved by Father Jack – whether it be whiskey, floor polish or Toilet Duck. That's not funny anymore in our health-paranoia times. We have since become more puritanical and censorious. Ours is an era of No Platforming and Twitch-hunting. Everything is about 'the self' and 'taking offence', whether it be imaginary, perceived racism at the Oscars or outrageously saying that a trandegender show-off with a penis just might be an actual man. And not a day passes without some story or film about Catholic pederasty.
Father Ted couldn't have been made in 2016 because we live in Protestant times. Throughout the Western world we now collectively and ostentatiously hold to subjective, personal values according to outrage, indignation and the desire to censor, whether it be as Islamist headbangers or self-righteous students. We distrust priests and people of authority – hence the rise of populism in Europe and the US. Everything now is about Protestant individual conscience, not a Catholic belief in the universal.
Don't drink, don't smoke, don't eat salt and don't eat sugar. The worst manifestation of this new, insular, censorious, conformist, Protestant, out-performing mindset is the puritanical belief in 'institutional' or 'mindset' racism or sexism. This is the notion that others have a window into your soul, that they alone know how you should behave. Remember that it was the Protestants who were most keen on banning this type of thing.
The real lesson from the passing of Father Jack is that we should all be a bit more universal and Catholic – maybe with a small 'c'.
---
Littering has nothing to do with 'the cuts'
According to the New Statesman's Laurie Penny, the anti-litter 'Clean for the Queen' campaign, planned for this weekend, is 'the usual monarchist deference is an insidious attempt to redefine poverty as a moral choice, rather than a result of the government's austerity'. Penny goes on and on to explain how throwing litter is the fault of the Conservatives and their austerity conspiracy. It's all to do with cuts to councils, you see.
There is much linguistic puritanical imbecility going on at the moment. I doubt that ordinary members of the public are especially deferent to the monarchy. Maybe, just maybe, they are using the queen as a tag, as a focus, as a way of getting involved in cleaning up their streets. The legend 'Keep Britain Tidy' just doesn't work. People no more desire to 'Clean for the Queen' than students at Yale University aspire to become a 'master' of slaves.
Do you remember that magical time back in the 1970s when Britain was free of rubbish? Do you remember the halcyon days when we used to frolic in fields or play hopscotch under the kindly gaze of Jim Callaghan? Me neither. I have lost count of the times I have seen arguments in the letters page of the Guardian saying, 'if there wasn't litter, then binmen would be put out of work'. Yes, if there weren't seatbelts, there wouldn't be the need for paramedics. We need local government binmen as much as we need the police and tax collectors; if only they didn't exist.
The litter problem has a long history. It is both the result of postwar socialism and libertarianism. The welfare state after 1945 has gradually reduced people to a state of inertia and dependency. The liberalism of the 1960s fostered rights-based selfishness and a disregard for society. Capitalist, self-worshipping Thatcherism only made matters worse.
Both the state-worshipping left and the money-worshipping right have conspired to bring about this state of affairs. This is why we have litter. Does no one read Edmund Burke anymore?
---
Down with gendered toilets!
I am thrilled to hear that boys in Australia will be allowed to go into girls' toilets, all in the name of 'gender equality' – and, of course, nothing whatsoever to do with perving. Here's some other suggestions for banishing gender discrimination:
Criminalising 'male' and 'female' public toilets for being transphobic;
Getting rid of blatantly 'male' and 'female' gendered sections in Waterstones book shops;
Abolishing obviously gendered sections in the magazine shelves of WHSmith and the healthcare sections of Boots;
Doing something about pink 'girls' and blue 'boys' sections in shops;
Banning 'masculine' and 'feminine' nouns in other languages;
Stopping my five-year-old niece, growing up in the painfully politically correct environs of north London, from referring to large cars in the street as 'daddy cars' and small cars as 'mummy cars'.
Patrick West is a spiked columnist. Follow him on Twitter: @patrickxwest
To enquire about republishing spiked's content, a right to reply or to request a correction, please contact the managing editor, Viv Regan.