The rise of Trump and the fall of the Republican establishment
The crisis of the GOP is greater than people realise.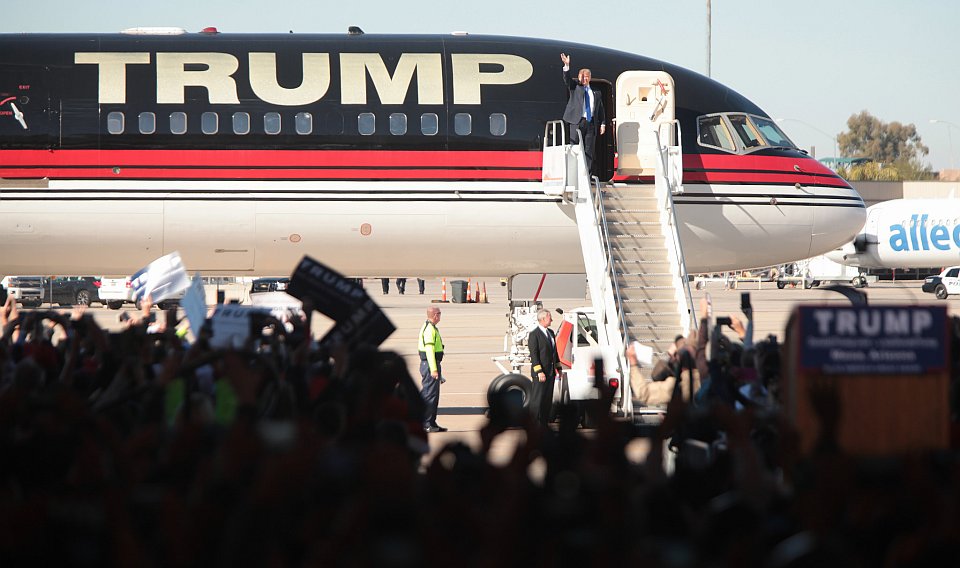 The nightmare for the Republican establishment continues. The results from last night's Super Tuesday primaries show Donald Trump advancing towards becoming the party's nominee for president.
Trump won decisively last night, even if not by as big a margin as the polls predicted. He won seven of the 11 states up for grabs, and in both the north and south.
Trump's gains come after he has gone out of his way to alienate the Republican establishment – he has insulted them, pilloried their most recent president (George W Bush), and overturned their orthodoxies on a range of issues. His wins have also overcome extraordinary opposition from the elites of the party. In recent weeks, Trump has been called a racist demagogue and been attacked for not distancing himself from former Klansman David Duke. More and more Republican politicians have announced they won't vote for him in November, if he is the nominee.
Of course, the contest is not over. Trump's rivals – Ted Cruz, Marco Rubio and John Kasich – did well enough to stay in the race. But Trump is clearly the frontrunner now. If Trump wins in Florida (Rubio's home state) and Ohio (Kasich's home state) on 15 March, it's all over but the shouting. Trump right now leads in the polls in both states.
If this was any other candidate, the Republican leadership would say now is the time to unite behind him. And any candidate that excited so many to vote – turnout for the Republican primaries on Super Tuesday was up to 8.3million, versus five million in 2008 – would be hailed as the leader of a movement, like Obama was eight years ago. But instead, the Republican establishment for the most part is recoiling in horror – and appears clueless as to how to stop him. In recent weeks, we've seen a last-minute and chaotic attempt to block Trump's rise. This will become more panicked and desperate following Trump's wins on Super Tuesday.
After last night, the GOP leadership's strategy of coalescing around a single candidate who could go head-to-head with Trump looks very unlikely. Republican rivals to Trump remained divided, and it's hard to see how Cruz, Rubio or Kasich have any kind of path to become that clear favourite. The party hierarchy now seems set to adopt their version of Hail Mary: try, somehow, to just scrape together enough votes to stop Trump from obtaining a majority before the party convention in Cleveland in July. Then, at the convention, hope that they can cobble together support for a non-Trump candidate (or maybe a combined ticket of say Cruz and Rubio).
Let's leave aside how, if such a cunning plan ever came to pass, it would mean denying the nomination to the candidate with the highest vote total. The most striking thing is how the establishment's contingency plans all lack a key component: leaders who can make it happen. We now hear party donors and other elites saying they want to rally around Rubio, their favoured son, in Florida. But while there may be a Republican establishment in name in Florida and elsewhere, it's in name only. In reality, there is not a coherent group with wide influence in that state, nor do the senior party people there have any loyalty to Rubio, even though he has served as senator for the state. We will see the Republican Super PACs (Political Action Committees) bombard Florida with TV advertisements over the next two weeks – but you won't see extensive ground troops or signs of enthusiasm for Rubio.
Likewise, you hear talk of stopping Trump at a 'brokered' convention. But the convention cannot be brokered without brokers – party elders or fixers who can knock heads together and force compromise. The 'party bosses' no longer exist.
The ineffectiveness of the Republican establishment – or indeed the absence of a true establishment – has been a major part of this contest. As a recent investigation by the New York Times found, 'The party has been gripped by a nearly incapacitating leadership vacuum and a paralytic sense of indecision and despair'.
From the start, the Republican leadership underestimated Trump – because they overestimated the strength of their own candidates, and the popularity of their own messages. They assumed that, if they found Trump beyond the pale, then certainly their party's voters must feel the same. They couldn't imagine that a populist, anti-establishment campaign – a campaign against them – could succeed. Time and again, the party elites have proved to be out of touch. One reporter in New Hampshire interviewed GOP officials and found that they didn't personally know anyone who supported Trump. 'I don't see it. I don't feel it. I don't hear it, and I spend part of every day with Republican voters', said a leading Republican. And yet Trump won big in New Hampshire.
To the extent that the Republican establishment has cohered, it has shown poor judgement in selecting candidates to get behind. First the big money flocked to Jeb Bush (or Jeb!), who was as exciting as a wet noodle. More recently they have moved to support Marco Rubio, who is supposed to be the future of the party. After mis-steps, including a disastrous debate performance, Rubio took the advice of the party's so-called thinkers and decided to throw insults at Trump. Rubio insinuated that Trump urinated on himself at the last debate, and joked about Trump's penis size. That's what the Republicans' best and brightest has to offer.
The Republican establishment's ineptitude has proved wrong the view that a big money cabal secretly pulls the strings in American politics (a view popularised by Bernie Sanders, among others). Money hasn't won the day (ask Jeb Bush), nor have endorsements from prominent politicians mattered very much. The party officials and activists, conservative media (including Fox News) and Republican think tanks – all have been shown to have no power.
We're witnessing a hostile takeover of the Republican party. Trump is winning with policies that are either at odds with the leadership (like on healthcare) or more extreme versions of current views (as with immigration). And he has done so by mobilising people – mainly working-class, without a college education – who in the past tended to stay home rather than vote. These are voters who have either been ignored or treated with contempt by the party's leaders. Trump's takeover has revealed the Republican party for the empty shell it has become.
This is not just a case of party leaders being flummoxed by an unconventional candidate. The weaknesses of the Republican party are more fundamental, and have been evident for some time. While both right and left got excited about the Tea Party, it is less recognised how small in number, and – more importantly – out of the establishment's control, these 'movement' conservatives are. It is striking how the Republican party is lacking in groups and institutions that can mediate between the leaders/donors and the voters. In this respect, the Republicans are in a worse state than the Democrats, whose elites have successfully rallied around Hillary Clinton (who also advanced towards her party's nomination on Super Tuesday). Even though few within the Democratic Party are genuinely excited about Hillary, the party does have a wide array of interest groups, like public-sector unions and Planned Parenthood, who will work for them, knock on doors, and so on.
One reason why the Republican establishment is failing is that they have not properly understood Trump's supporters. It is not the case – as both pundits and party representatives seem to think – that Trump supporters are angry. Just look at Trump's huge events, which are festive and joking. Labelling Trump supporters 'angry' is a way to dismiss them as emotional and irrational. Moreover, it's not the case that Trump's fans hate the Republican establishment. They are better described as indifferent towards it – they have zero loyalty, because that establishment thinks they are nothings.
For the Republican establishment, that verdict from the masses is perhaps worse than outright opposition.
Sean Collins is a writer based in New York. Visit his blog, The American Situation.
To enquire about republishing spiked's content, a right to reply or to request a correction, please contact the managing editor, Viv Regan.