Philip Hammond: clueless in Syria
The UK foreign secretary doesn't know the first thing about the conflict.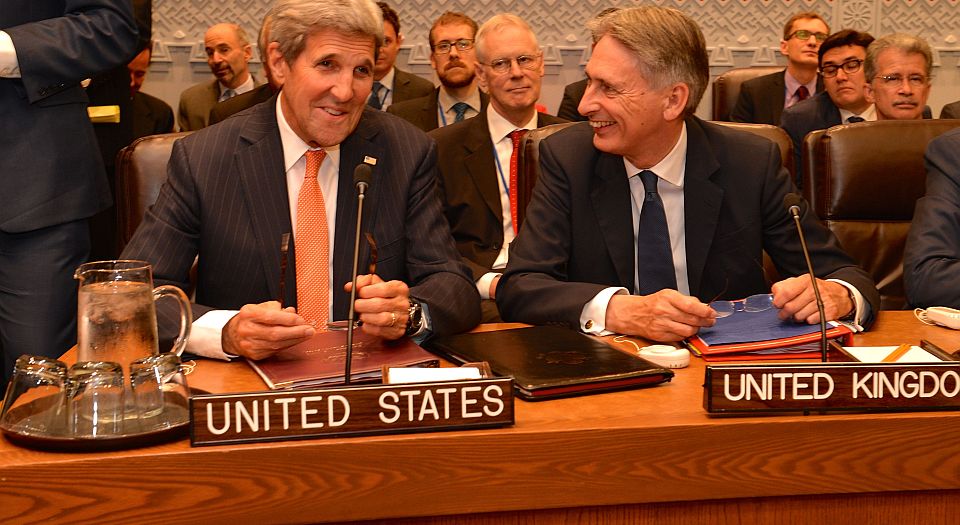 UK foreign secretary Philip Hammond made a truly alarming statement the other day. He revealed that the British government had disturbing information that the Kurds in Syria were 'coordinating with the Syrian regime and Russia'.
What is truly alarming is not the news that the Kurds in Syria are working with Russia and Bashar al-Assad's government. No, it's that Hammond doesn't know this already. This is the foreign secretary, one of the permanent members of the UN Security Council. That a global player on the world stage doesn't actually know what is going on in the Syrian conflict really is shocking.
If Hammond had read any in-depth reportage on the Syrian war, he would have known that the Kurds are working with Russia and the US. Although some observers suggest that the Kurds are playing them off against each other, there is in fact considerable cooperation between Russia and the US. In the past couple of weeks, they have worked together to back the Kurds with airstrikes to push out ISIS and CIA-backed jihadist groups. As Tim Black wrote on spiked last week, this has led to a bizarre situation in which US allies are now fighting each other in Syria.
We should probably feel sympathy for Hammond; he's obviously got a lot of news to catch up on. Remember the 70,000 moderate rebels that Cameron, in December, said were waiting for our bombs so that they could jump into action and turn Syria into Sweden? He recently bumped that figure up to an astonishing 120,000. Even Obama said two years ago that the idea that there was a significant moderate force waiting to take power was largely a fantasy. Hammond obviously hasn't caught up with the fact that the 'opposition' in Syria consists in the main of largely CIA-backed jihadist groups or al-Nusra Front. The jihadists are so awash with US weapons that they are having a bit of a clear-out, even selling some on Facebook.
Hammond also probably doesn't know that the Syrian debacle is the consequence of confused US policy in Syria. Initially, the US sought to overthrow Assad through the funding of opposition groups. Following the 2013 chemical attacks, Obama (and Cameron) sought to gain approval for airstrikes on Assad. But the UK House of Commons rejected airstrikes, and there was little desire among Americans for regime change. The rise of ISIS then presented a problem that Obama sought to counter without strengthening Assad, which meant using the CIA to fund and train various groups. The problem was that the jihadi groups, such as al-Nusra Front, sucked in the more 'moderate' groups. Russia, on the other hand, has consistently sought to strengthen Assad as a bulwark against ISIS and other jihadist groups. That's right, those moderate rebels Hammond was so worried about Russia bombing are mostly jihadists.
In the run-up to the much-derided partial ceasefire, the Pentagon revealed it told Russia where US special forces are and requested that Russia refrain from bombing them. Likewise Russia has requested that the US not bomb in certain places. Both sides have cooperated. This goes far beyond the formal 'memorandum of understanding' established last year between US and Russian militaries so as to avoid accidents. Moreover, US-trained rebel groups were excluded from these requests. In other words, the US has said to Russia that bombing US-trained rebel groups is permitted. So, the US is already coordinating with Russia at the highest level.
Hammond also said that Russia could end the war with a phone call to Assad. Well I hate to be the one to break it to him, but our erstwhile allies Turkey and Saudi Arabia are the main funders of ISIS, so perhaps a couple of phone calls to them from NATO wouldn't go amiss, either. Turkey, as is well known, has been letting fighters, money and weapons through the Turkish-Syrian border for several years now. Unfortunately, journalists in Turkey who report on such matters tend to end up dead. Turkey is now saying that the US must choose between it and the Kurds.
The US has ignored Turkey's pleas and continued to launch airstrikes to allow for Kurdish advances. It's fair to say that, at the moment, NATO ally Turkey is now more or less in a proxy war with the US. For example, on Saturday, ISIS attempted to retake a town near the Turkish border controlled by Syrian-Kurdish forces. Some of the ISIS fighters had come over the Turkish border. Kurdish forces backed by US airstrikes kept the town under Kurdish control.
It's possible that Hammond doesn't know that NATO has more or less told Turkey that if it initiates any conflict with Russia it will not have NATO backing. Which, I imagine, would be a disappointment for Hammond, who has shown himself to be determined to keep the new Cold War going. At the recent UN Security Council meeting in Munich, for example, he could be seen sitting next to Dmitry Medvedev and rolling his eyes as if he was 12 years old.
So, as well as his ignorance of the Syria conflict, Hammond is also pretty clueless when it comes to diplomacy.
Tara McCormack is a lecturer in international politics at the University of Leicester. She is author of Critique, Security and Power: The Political Limits to Critical and Emancipatory Approaches to Security, published by Routledge. (Buy this book from Amazon(UK).)
Picture by: Freedom House.
To enquire about republishing spiked's content, a right to reply or to request a correction, please contact the managing editor, Viv Regan.