When anti-Zionism slips into anti-Semitism
On British campuses, pro-Israel students are having a rough time.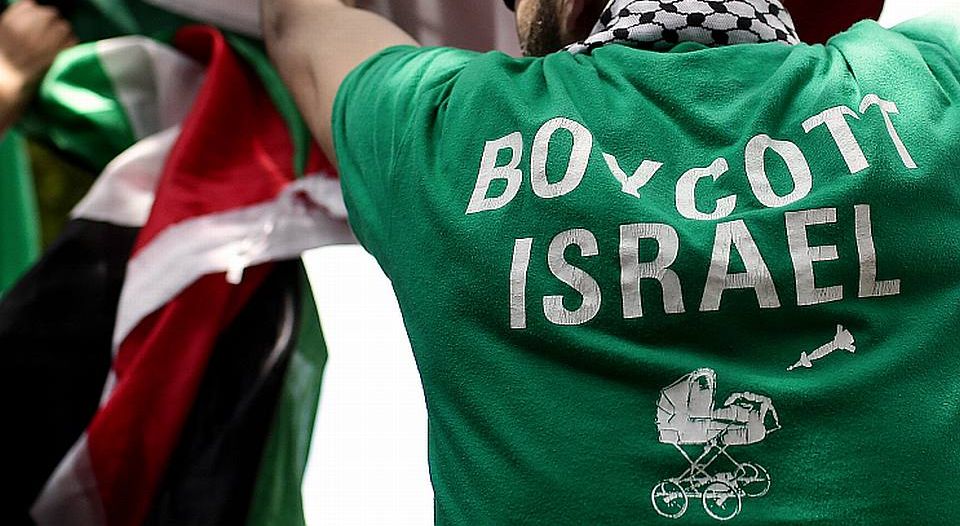 Another week, another anti-Semitic incident on campus. The Oxford University Jewish Society has said it was 'unsurprised' by allegations that anti-Semitism was rife within the Oxford University Labour Club (OULC). But who was? It certainly didn't surprise me.
Former co-chair of the OULC Alex Chalmers stood down, claiming the group had 'a problem with Jews' after they endorsed Israeli Apartheid Week at a meeting on Monday. Since then, other club members, past and present, have backed his claim that a nasty, anti-Jewish sentiment has infiltrated the society under the guise of criticism of Israel.
The anti-Israel hyperbole of left-wing students is nothing new. But, in the past few years, there appears to have been an increase in aggressive episodes that make Jewish students feel uncomfortable and unsafe on campus.
In January, a violent protest at King's College London made the headlines as video clips showed anti-Israel protesters banging on windows and setting off fire alarms to disrupt a talk by the former head of the Israeli security agency, Ami Ayalon. At the end of last year, several Jewish and Israel societies reported instances of Palestinian student societies holding memorials commemorating the deaths of Palestinians involved in stabbing attacks on Israeli civilians.
This is disgusting behaviour, but, more than that, it is incredibly sad. Jewish students are now so accustomed to these incidents that they are resigned to them.
University authorities appear finally to be taking notice of the difficult situation and both KCL and the OULC have launched investigations into the respective incidents. This is a step in the right direction, but, in practical terms, most efforts to combat this issue simply result in more security at Jewish and Israeli events. As one student quite rightly pointed out, no other society needs this level of security.
At a conference in Glasgow last month, held by Israel advocacy group Stand With Us, students from Scottish and English universities discussed their experiences of hostility on campus and exchanged advice. When I asked if any of the Israel societies had ever managed successfully to hold a debate with their Palestinian counterparts, I was told such a thing was impossible. The new Israel Engagement Society at the University of Edinburgh – a society whose very existence was contested – explained that it was keeping its events under the radar to avoid any possible protests. Other groups said they kept their venues secret until the very last minute for similar reasons. It's shocking that Jewish students, or students of a certain political belief, are being forced to hold clandestine meetings.
Yet in the midst of hostile surroundings, the perseverance of pro-Israel students is impressive. Just last week, the University of Warwick Jewish Society, which has just 60 members, defeated a motion to support the Boycott Divestment and Sanction (BDS) movement with an astounding 644 votes to 376. And, as Israeli Apartheid Week looms next week, students are planning to set up stalls and prepare counter-campaigns determined to bring some balance to a debate that has become so skewed it is practically sideways.
Don't get me wrong, Jewish students still have a great time at university. Most Jewish student societies are highly active, hosting countless events. Not all campuses suffer from shrill anti-Israel rhetoric.
But while cases like Warwick are heartening, the problem of anti-Semitism on campus is not going away. And nor will it, so long as pro-Palestinian activists continue their abject denial of anti-Semitism within their movement. They tell pro-Israel students not to conflate Zionism with the Jewish people, but that is exactly what they do themselves. 'Nazi' is a term of abuse often hurled at Jews during protests, and anti-Semitic banners are commonplace at BDS rallies.
Israel societies have sprung up on several campuses in response to this tense political atmosphere. Whereas Jewish societies used to host Israeli speakers or hold Israeli events, now many refuse to be associated with anything political and seek to distance themselves from debate on the Middle East. While Israel societies have had a positive impact, the need for them has angered some Jewish students. One student told me it was 'bullshit', despairing of the fact that his fellow Jewish, pro-Israel students were now too afraid to admit their own political beliefs.
But who can blame them? According to spiked's Free Speech University Rankings, 13 universities have backed BDS and many universities hold activities linked to Israel Apartheid Week. So when students tell me they hesitate before telling someone new that they are Jewish or pro-Israel, I am once again not surprised. I'd probably hesitate, too.
Naomi Firsht is a reporter for the Jewish Chronicle and co-author of
The Parisians' Guide to Cafés, Bars and Restaurants.
To enquire about republishing spiked's content, a right to reply or to request a correction, please contact the managing editor, Viv Regan.