The closure of the Independent mind
The death of print newspapers is bad news for our intellects.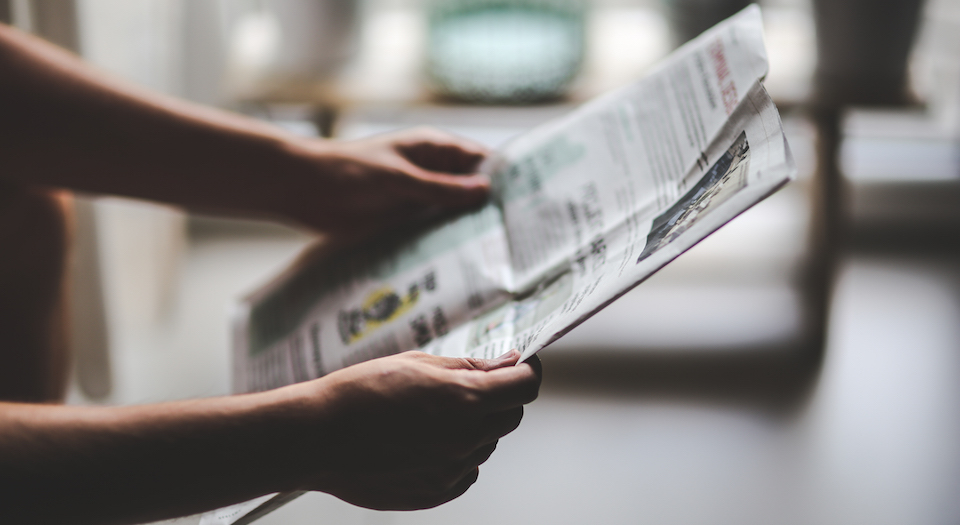 I shall miss the Independent. Not because I read it often or was much enthused by the newspaper – its Middle East correspondent Patrick Cockburn and its columnist Mark Steel were my only two motives to open its pages – but because of what its closure represents. In an age of digital distraction, diminishing attention spans, social-media echo chambers and devices that are never switched off, newspapers stand for deep reading, contemplation, expanding horizons and challenging prejudices. It is a strange paradox, but the digital age is mentally taking us backwards. This is why the closure of the Independent as a print newspaper matters.
How does one typically read the news today? If you don't open a newspaper or find a freesheet on a train, you will get it delivered to your smartphone or laptop via social media. You will skim-read most of it, read the occasional story thoroughly, share or comment on an article with a particularly arresting or provocative headline, then click elsewhere. You will seldom digest stories fully. Few of us actively seek out online opinions antagonistic to our own: Twitter streams feed from sources with which we agree, to newspapers whose prejudices we share already. The end result of this process is the Twitter echo chamber, in which groups of likeminded people coalesce to agree with each other fulsomely. Online news has not so much opened our minds as allowed us to seek means to glue them shut.
On the other hand, consider a newspaper. The first demand a newspaper makes of you is asking you to pay for it. This is why you will not pluck and pilfer from the product à la carte: you have literally invested in it. You will come across contrary views, stumble serendipitously upon news stories and views you weren't seeking; Owen Jones was a feature of the Independent, but so too was Nigel Farage. Newspapers aren't composed from algorithms. It's the difference between browsing among unfamiliar sections in a book store and Amazon telling you what you might like depending on what you like already.
Slow reading begets deep reading. While a deliberately outrageous online article is designed to solicit traffic, newspapers have contemplative editorials fashioned to entertain and inform the discerning reader. While the wretched ephemeral chatter of below-the-line comment sections serve the rancorous and self-righteous, a newspaper letters page contains considered, informed and verified counterargument. The ungoverned web promulgates inebriating certitudes; newspapers encourage creative doubt. Whereas digital news is tailored to the tastes of the self, newspapers aspire to the detached and objective.
It's often said that we live in intolerant, censorious, hyper-sensitive times. The 'safe space' is the ultimate manifestation of this peculiar mood, combining feelings of indignation, self-righteousness and fragility. There may be many reasons for this, including the rise of identity politics and the culture of victimhood, but one factor is the shrunken horizons facilitated by the digital age, which allow us to read what we want to read – rather than to read what's good for us.
As the eminent sociologist Zygmunt Bauman tells the Italian news magazine L'espresso in an interview this week: 'Most people don't use the internet to open their minds, but to hide behind fences, to build their own "comfort zones"… people live in a kind of imaginary world, without controversy, without conflict, without exposing themselves to difference.' Such 'comfort zones' and 'safe spaces' embody the spirit of a generation ever-prone to megalomaniac solipsism. So no wonder the new generation shun newspapers.
Newspapers represent the dissemination of information and opinion from above and from without. They represent knowledge bestowed with authority, integrity and privilege. You read what's put in front of you, learn what you do not seek. It is not subjective news for a choosy, delicate consumer age, afraid of strange ideas.
In the long term, print news probably will survive as freesheets at the lower end of the market, a minority interest at the higher end, and through online subscriptions. After all, newspapers survived television, just as television survived the internet, cinema survived television and theatre survived cinema. It's just a pity that, like theatre, newspapers will become a refined, elite taste.
---
TV: a portal on the wider world
A Muslim teenager feared to be in danger of being radicalised and travelling to Syria to become a jihadi bride should be watching more television, a family-court judge has been told. Sarah Morgan QC, representing the father of the 17-year-old from London, said that the best inoculation against Islamic State ideology 'is more television', in that it would 'be a portal on the wider world – football, boys and so on'.
There was a time when television was deemed the absolute incarnation of unsociability. But, again, in our fragmented digital age, in which family members are inclined to watch different programmes on their own personal devices, we are starting to appreciate the unifying force of TV – both for families and for society at large. The success of Gogglebox represents this recognition.
Islamists (and conspiracy theorists in general) are famously averse to television sets, disdaining, of course, the 'mainstream media', preferring instead subjective news that accommodates rather than challenges their views. Old-fashioned news, tailored for no one in particular, through print or screen, can enlighten and unify.
---
Sign of the times
In Stockholm, street signs have been erected warning pedestrians that using smartphones while walking is putting them and others in danger. It is not an official move, admittedly. Rather it is the initiative of two Swedish artists alarmed at the trend of people staring at their phones while walking in the street.
'I am dependent on social media myself. And one day on my way to work I was almost run over because I was staring at my phone like a sick person', said Jacob Sempler, who created the signs with his colleague, Emil Tiisman.
This irritating habit of receding into one's self while among others is more than just a public nuisance. It's the ultimate manifestation of the digital paradox: the more able we are to communicate outwardly, the more detached, self-consumed and isolated we become. Is it any wonder people talk about 'safe spaces'?
Patrick West is a spiked columnist. Follow him on Twitter: @patrickxwest
To enquire about republishing spiked's content, a right to reply or to request a correction, please contact the managing editor, Viv Regan.