Scalia: a radical in a court of liberals
Denounced as a conservative, Scalia was actually pretty edgy.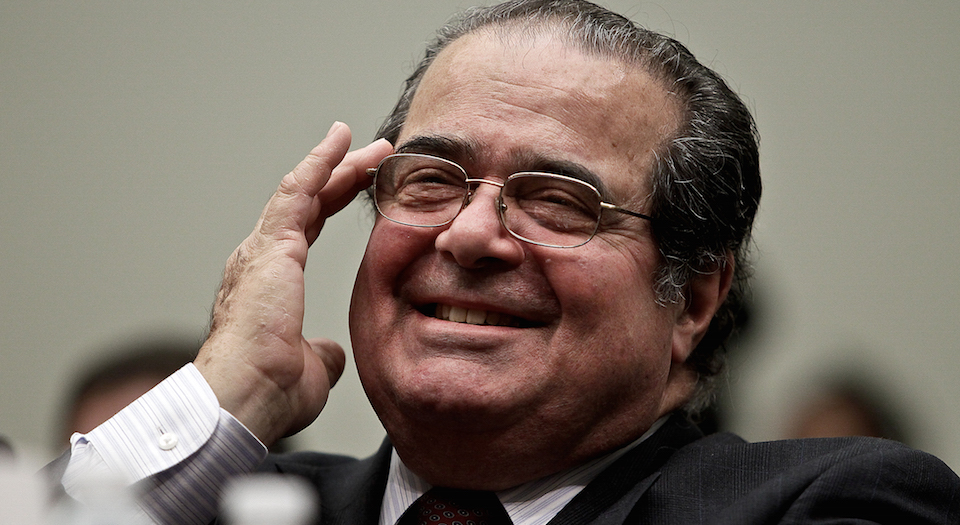 I first discovered Justice Antonin Scalia on a YouTube video, taking questions at a panel debate at an American university. I watched it because the description claimed it showed a US Supreme Court judge 'totally owning' a group of students. The description was a good start. Then being at a predominantly liberal UK university, and having my first brush with an increasingly shrill and self-important mob of student politicos, I took any opportunity to see their American counterparts have their arses handed to them.
'Okay, I have time to take questions', Scalia began, before pointing to a young, confident-looking man in the front row. The young man immediately launched into his undergraduate thesis on why Scalia's judgements had been wrong before Scalia cut him off:
'Do you have a question?'
'Yes, I do have a question – that.'
'Questions don't start with "that"', Scalia responded, with an insistent smile. The young man struggled to regain authority over the room.
'Well, Plato has a question for you', the young man claimed, before Scalia replied:
'Well, Plato just ran out of time.'
Of course, the same people who would have felt the icy edge of Scalia's tongue were in celebratory mood following his death. One site called him 'a titanic, sweeping, one-man disaster for LGBT rights, racial justice, abortion access and general human decency'. Online feminists rushed to call him 'hideous' and 'revolting'. His death has led to a political fight in the US over whether it should be Obama or the next president who appoints his successor. Liberals claim that Obama has a responsibility to appoint a replacement straight away, while conservatives insist that the appointment be delayed until after the election. Such was the apparent political clout of Scalia that he even inspired conspiracy theories, with some suggesting he had been murdered by a Black Power illuminati group headed by Obama and Beyoncé.
Ludicrous theories aside, the thing that Scalia's detractors hated about him was that he was unwilling to grant them their freedom. His legal philosophy, known as 'originalism', led him to interpret the US Constitution only as the founding fathers would have read the document. Does the constitution grant you a right to an abortion? Not for Scalia, because there were no abortions in 1788. Does the constitution prohibit waterboarding? How could it? They didn't waterboard people back then. While there were clearly conservative implications to his approach, it also meant that he was often the Supreme Court's awkward voice, puncturing its willingness to enact social change from above. He did not accept that, as an unelected judge, it was his responsibility to strike down democratically elected state laws in favour of a particular judicial gloss on the constitution. It was this apparent refusal to adapt the law away from democracy that led him to be popularly understood as an anachronism. But in truth, in the context of today's court, he was a radical.
When I learned more about Scalia's politics, I found that I disagreed with him on a lot of issues. He was clearly anti-women's choice, a fact he insisted did not influence his criticism of the seminal abortion judgement, Roe v Wade. He often described the death penalty as 'fair'. But with Scalia, his politics did not obviously influence his legal reasoning. He accepted that he was a 'social conservative', but he was very convincing when he argued that this did not cloud his ability to rule impartially on the cases before him. Of course, he relished the fact that his particular legal philosophy permitted him to remain the conservative voice in a predominately liberal court. There was palpable mischief in his eyes when he spoke about how he left politics well outside the courtroom, when everyone around him was insisting that he was the most activist judge of them all. He often suggested that he was 'glad' that he had been able to reach a particular conclusion, as though his intellect was entirely separate from his politics.
But whatever Scalia's political motivations, he was undeniably intellectually coherent. It's also hard to think of a judge who stands out so predominantly in the public imagination. He stood out because of his unwillingness to adapt his approach to a prevailing orthodoxy. The fact that he was hated so often for insisting on the limits to his own power shows that he was not at home in a court that so often believed its role was to shape public attitudes. He was a stop-gap on the increasing power of the law over the lives of the American people, and the perfect antidote to self-righteous liberal pomposity. I am sure Plato does have a lot of questions for Scalia. Now, God willing, he will answer them.
Luke Gittos is law editor at spiked, a solicitor practising criminal law and convenor of the London Legal Salon. He is the author of Why Rape Culture is a Dangerous Myth: From Steubenville to Ched Evans. (Buy this book from Amazon(UK).)
To enquire about republishing spiked's content, a right to reply or to request a correction, please contact the managing editor, Viv Regan.