'Believe the victim': this is bigger than Bernard
Hogan-Howe's climbdown was welcome, but not enough.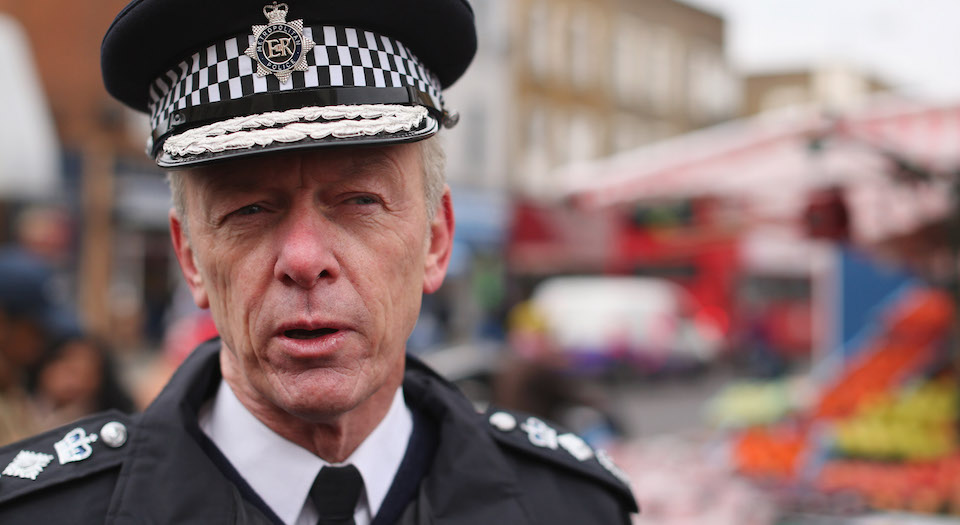 This morning, Sir Bernard Hogan-Howe, head of Metropolitan Police, announced the launch of a judge-led inquiry into whether the Met have been handling allegations of sexual assault properly. The inquiry will reconsider whether 'believing the complainant' was a proper approach to take. Speaking on Radio 4's Today programme, Hogan-Howe suggested that officers had been 'carried away' by the notion of 'belief' and that investigating a crime properly requires officers to 'keep an open mind'.
The announcement that the police will actually start investigating crimes, rather than just believing in them, reveals the sorry state of policing around allegations of sexual abuse. Hogan-Howe's climbdown follows embarrassing revelations regarding the conduct of Operation Midland, the Met's investigation into allegations of a sadomasochistic paedophile ring involving a number of high-ranking members of the political establishment. None of these allegations has resulted in criminal charges. Kenny MacDonald, one of the leading detectives in the case, said from the outset that he believed the allegations, made by a single complainant known only as 'Nick', to be 'credible and true'. During his Today programme interview, Hogan-Howe suggested that MacDonald 'misspoke'.
Operation Midland has been an embarrassment for the Met, and for Hogan-Howe in particular. It took up in excess of 80,000 hours of police time, and yet no charges were brought as a result. The announcement of a judge-led inquiry is a way for Hogan-Howe to deflect attention from the investigation's outcome, focusing instead on the minutiae of the investigation itself. But in some respects, Hogan-Howe deserves a degree of credit for attempting to reverse what has become a powerful social trend. The problems highlighted by Operation Midland are not confined to a specific investigation – nor are these problems solely within the ranks of the Metropolitan Police. In recent years, the drive to believe complainants has had a significant impact on many areas of public life. It is the result of a society-wide panic around sexual abuse and the suspension of the presumption of innocence in these cases.
It is true that the Metropolitan Police have been at the forefront of this in recent years, but they are far from alone. Perhaps Hogan-Howe should also be reconsidering his unholy alliance with the NSPCC in preparing the first report into allegations made against Jimmy Savile, Giving Victims a Voice. This report confidently proclaimed that complainants' evidence would be 'treated as proven fact' rather than being tested and scrutinised. Surely the Operation Midland climbdown should lead us to question this report, too? Indeed, it is, arguably, the most prominent example of the 'I believe' doctrine.
But it's not just the police who are at fault. Both Keir Starmer and Alison Saunders, the two most recent directors of public prosecutions, have made announcements with regards to the importance of believing complainants. In 2014, the Crown Prosecution Service (CPS) published guidelines suggesting that CPS lawyers should not consider questions about a complainant's credibility when deciding whether or not to charge – in other words, believe the allegation even though there may be reason to suspect the complainant is lying. This has not proven to be a successful approach. The most recent statistics on violence against women and girls shows that the CPS charged a higher number of defendants in rape cases while at the same time achieving a lower rate of convictions overall. This shows that the stated policy of believing complainants has led to more innocent people being prosecuted and, very probably, some defendants, who are in fact guilty, walking free.
This madness is not exclusive to the state, either. In recent years, the rise of unofficial sex-crime tribunals have suspended the presumption of innocence in favour of the presumption of belief. #IBelieveLucy was a hashtag formulated in response to the allegations against Canadian radio host Jian Ghomeshi, who is only now facing a criminal trial in relation to allegations of sexual assault. It is common for Twitter to respond to particular allegations with proclamations of belief. In the US, there has been a rise in campus 'Title IX' sexual-assault tribunals, which allow students to make complaints of rape and sexual assault to their universities instead of the police – often in cases where there is no evidence to support a prosecution. There have also been calls for these tribunals to be introduced at British universities.
Hogan-Howe was right to back down. But he is not the only one who is guilty of promoting the 'I believe' doctrine. One man does not make a panic. If we want to serve rape complainants and defendants better, we need radically to re-examine our approach to these cases. Restoring the presumption of innocence would be a good place to start.
Luke Gittos is law editor at spiked, a solicitor practising criminal law and convenor of the London Legal Salon. He is the author of Why Rape Culture is a Dangerous Myth: From Steubenville to Ched Evans. (Buy this book from Amazon(UK).)
Picture by: Oli Scarff / Getty Images.
To enquire about republishing spiked's content, a right to reply or to request a correction, please contact the managing editor, Viv Regan.