Zika: why all women must have abortion rights
Every woman, not just those threatened by Zika, should have choice.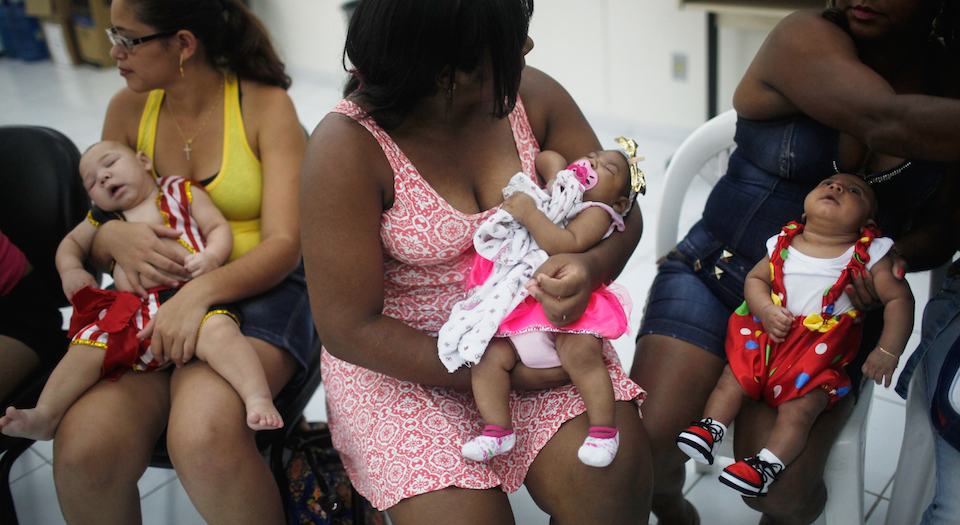 Although not much is known about the Zika virus epidemic, and there are claims that the link between the mosquito-borne virus and fetal brain defects resulting from microcephaly is unproven, the fears faced by pregnant women in the regions affected are beyond dispute. This alone is cause enough to demand action to allow these women the choice of abortion.
In countries that have seen increased cases of Zika and microcephaly, governments have issued warnings to women: Colombia has advised women not to get pregnant for the next six to eight months and El Salvador has called on women to wait two years before getting pregnant. And yet, women in much of Latin America face strict controls on both abortion and contraception. This makes planning births impossible. Nine of the affected countries have highly restricted abortion laws. The Dominican Republic, El Salvador and Nicaragua provide no legal access to abortion under any circumstances, and a further six countries in the region only allow abortion to save a woman's life.
The plight of women in Latin America has prompted the United Nations high commissioner for human rights to call on the countries hit by the virus to allow women access to abortion and other methods of birth control. The pope's visit to Mexico next week will no doubt provide him with a (some might say God-given) platform to empathise with the members of his church who are being hit by the virus in the region.
A global poll of Catholics conducted by Univision in 2014 found that 91 per cent of Catholics in Latin America support modern birth control. In reaction to this, the leaders of the Catholic Church used their political influence in developing countries and at the UN to block access to public-funded family-planning programmes. Jon O'Brien, president of Catholics for Choice, has appealed to Pope Francis to use the visit next week to reverse this injustice by lifting the church's ban on birth control, which has always been motivated by politics rather than theology. Catholics for Choice claims that traditional Catholic teaching about conscience gives women the final moral authority over their abortion decision. And progressive Catholic theologians argue that abortion can be justified in a range of situations, including severe fetal anomaly.
There is little doubt that, with or without the pope's blessing, Latin American women from all walks of life will access abortion when they feel the risks of Zika are too high. Women always find ways to end unbearable pregnancies. 'Unsafe abortion is the No1 maternal mortality cause in the region', said Paula Ávila-Guillen, programmes specialist at the Center for Reproductive Rights and an expert on reproductive policy in Latin America, in an interview with the Guardian. 'When women decide to terminate their pregnancies, they are going to do so – it's just a matter of how.'
If safe abortion is not made available in Latin America, the consequences of Zika will be measured in lost lives and damaged babies. The global consequences are significant, too. Public-health officials and epidemiologists have already found it necessary to divert attention from the global South to the worried well of the West, who have more political clout. Blogging on Jezebel, writer Sarah Seltzer said:
'Count me among a likely large pregnant population starting to calculate exactly when mosquitoes will start buzzing near our homes. Now, as I watch the various preggo lady message boards I lurk on begin to blow up with concerns about the virus, I can see that this is a worry that cuts across all demographics, possibly forcing more attention to abortion and its availability. Will Americans be satisfied with a government response that amounts to, "Ladies, wear your DEET?". And when something like a mere bug bite can endanger a fetus, can conservative politicians and clergy in the Rick Santorum school of thought comfortably assure a great many fearful citizens that the potential outcome, including a possible stillbirth, is an act of God?'
Increased incidents of diagnosable birth defects have a way of focusing the mind on the need that all women may potentially have for abortion – regardless of their creed, income or social status. An outbreak of rubella in 1958 in the US started to soften middle-class attitudes towards abortion among those who understood the devastating impact on babies born to infected mothers. Congenital rubella syndrome is associated with deafness, eye problems, heart defects and intellectual impairment. At the same time in the UK, thalidomide, a commonly and legally prescribed drug to treat symptoms of pregnancy such as morning sickness, was found to cause limb defects.
Histories of abortion-law reform in the UK claim that the 'thalidomide crisis' was responsible for far more than the Ground E of the Abortion Act, allowing abortion in cases of 'serious risk' of 'severe handicap', which was passed in its wake. The random impact of fetal anomaly posed the need for abortion as something that was unassociated with blame or shame – which had nothing to do with the 'feckless poor' or those with 'insufficient sexual restraint'. Thalidomide, a tablet prescribed by doctors to make pregnancy easier, created the need for abortion. With rubella, this need was created by an, at that time, unpreventable disease.
The Zika virus also impacts on the wanted pregnancies of ambassadors' wives, who under 'normal circumstances' would never dream of requesting abortion, just as it impacts on the unwanted pregnancies of the over-burdened poor who long for the choice.
It should be easy for policymakers, politicians and perhaps even the pope to make exceptions for the women pleading for abortion from fear of Zika infection. They would follow a well-trodden path of compassion in making concessions. And once they have opened their minds to the needs of these women, we need to ensure that they are wedged open for good.
No woman should need to demonstrate her worth or blamelessness before she has access to abortion. No woman should need to show that she deserves a choice that should be hers by right.
Ann Furedi is chief executive of the British Pregnancy Advisory Service and the author of The Moral Case for Abortion, which will be published by Palgrave Macmillan in July 2016.
Picture by: Mario Tama / Getty.
To enquire about republishing spiked's content, a right to reply or to request a correction, please contact the managing editor, Viv Regan.