What a bunch of political point-scorers
Moaning about Cameron's use of language won't tackle the migrant crisis.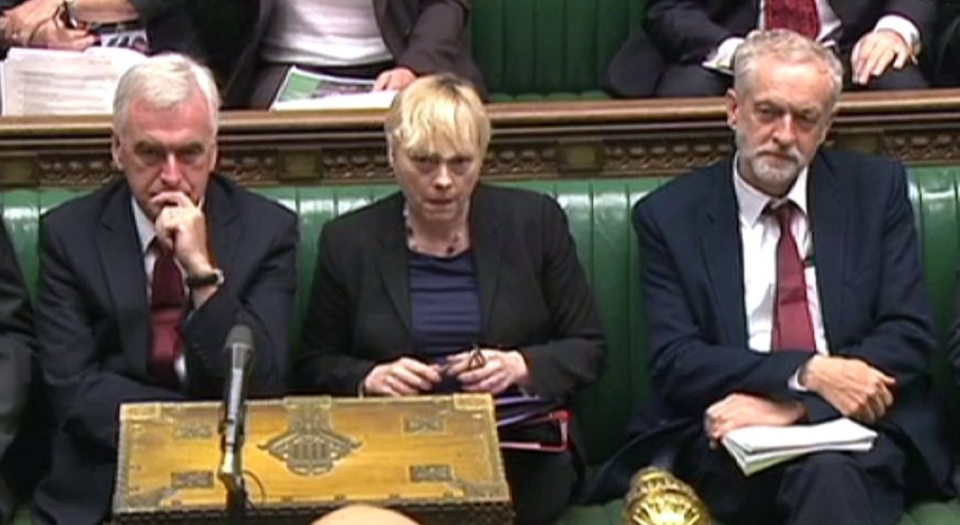 The liberal-outrage sphere erupted last week after UK prime minister David Cameron referred to those gathered in Calais as a 'bunch of migrants' during Prime Minister's Questions. The use of this phrase prompted Labour politicians to fall over themselves to express their disgust. Hilary Benn shook his head violently from the frontbench and repeated the word 'bunch' for the PMQs cameras. On Twitter, Labour backbencher Chuka Umunna called the language 'inflammatory' and 'shameful'. And some, like comedian David Baddiel, went so far as to say that the language was particularly insulting given that it was used on Holocaust Memorial Day.
Meanwhile, anyone with half a brain was left wondering: when did the word 'bunch' become insulting? Who is it inflammatory towards? Grapes? As far as I know, the word 'bunch' is often used to refer to groups of people without being heartless or unthinking. No one in the real world finds the word 'bunch' insulting. What's more, the attempt to draw a connection between the use of the word 'bunch' and the murder of six million Jews just goes to show how enamoured with political point-scoring the modern left has become.
The reason politicians and others are pilloried for using ordinary, everyday language to describe migrants is not because the words used are actually insulting. Rather, the fracas over bunch-gate shows that, in the minds of many on the left, migrants have become a special category of vulnerable person, a group in need of care and linguistic tip-toeing. Where you stand on the migrant question has become a new moral barometer. Ever since the images emerged of Aylan Kurdi, the three-year-old Syrian boy who washed up dead on a beach in Turkey, the migrant issue has been used to separate the virtuous, caring progressives from the backward Little Englanders who still harbour selfish 'concerns' about immigration.
Of course, none of this bickering about language does anything to deal with the complex problems posed by the migrant crisis. I believe that we should welcome as many migrants as possible, as soon as possible. Cameron's decision to accept only small numbers of migrants should be criticised. But I can also accept that the influx of migrants poses serious challenges to national sovereignty, and that people have legitimate concerns about losing control over national borders. The parlous state of debate about migration reflects the lack of serious thinking about how best to solve the social and political problems that this large-scale movement of people poses.
For all its political point-scoring, Labour's plan to deal with the migrants is just as limited as that of the Tories. While Corbyn went to pose for selfies in the Calais 'jungle' last week, putting on his best concerned face, his own plan for tackling the crisis involves limiting those allowed to enter to those with a 'connection to the UK'. 'I'm not saying all 9,000 [at Calais and Dunkirk] should come in, I'm saying start with those that have a British connection and a British passport, that's an obvious one', he said in an interview last week, sounding every bit like a judge at an immigration tribunal. He added that he wanted immigration applications to be processed quicker. So his plan effectively amounts to business as usual, but done a bit faster.
Quite why we can't let all 9,000 in remains unclear, given that far poorer countries are settling far more migrants than we are. Hungary alone received 174,000 asylum applications by October 2015. The UK is processing the lowest number of asylum applications in Europe at the moment. The fact that Corbyn is so readily accepting of the premise of the Tory argument, disagreeing only in the minor technical details of how to execute it, shows that Labour's reaction to the Tories' use of language is just a means of hiding its own lack of ideas when it comes to tackling the migrant crisis.
And it's not just Corbyn. The Labour Party has a shameful record on immigration. It is not the caring, open-borders party it tries to present itself as. In the lead-up to the 2015 General Election, Labour rallied behind then leader Ed Miliband in his calls for stronger immigration controls, citing the Tories' failure to lower the number of migrants coming to the UK. It even sold souvenir mugs boasting of its election pledge to bring down migrant numbers. Labour's attempt to take the moral highground on this issue is a bit rich.
That the debate on this issue is so poor is all the more concerning given that the situation for migrants in Europe is likely to become a lot worse very quickly. On the continent, the European Union's quota system is continuing apace, which is likely to lead to mass deportations from countries that have fulfilled their quota. Scandinavian countries have announced new laws permitting the confiscation of migrants' assets in order to pay for their accommodation, along with new restrictions on when and how migrants can bring over their family members.
So while the situation for migrants in Calais and elsewhere goes from bad to worse, the debate in the UK amounts to little more than professional offence-taking. Yes, the Tories' plan for the Calais migrants, which effectively amounts to doing nothing, is bad. But the amoral political point-scoring of Labour merely reveals its own dearth of ideas about how to deal with the migrant crisis.
Luke Gittos is law editor at spiked, a solicitor practising criminal law and convenor of the London Legal Salon. He is the author of Why Rape Culture is a Dangerous Myth: From Steubenville to Ched Evans. (Buy this book from Amazon(UK).)
Picture by: Carl Court / Getty Images.
To enquire about republishing spiked's content, a right to reply or to request a correction, please contact the managing editor, Viv Regan.