We need to talk about terrorism
The Prevent agenda is chilling classroom discussion.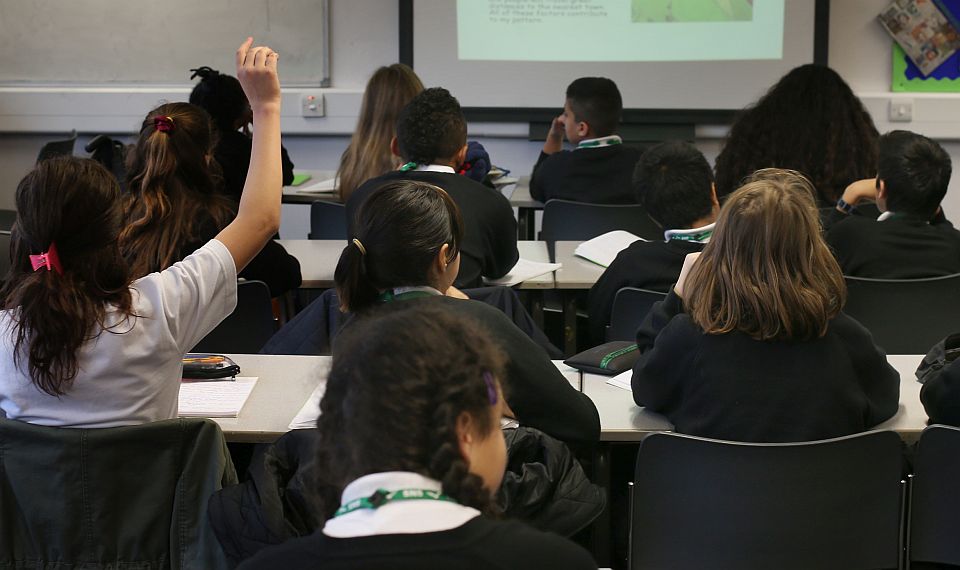 Understandably, most adults react with unease and concern when they read that nearly 2,000 children in England and Wales have been referred to the government's anti-radicalisation scheme, Channel. Some of the children participating in the programme have been obliged to watch beheading videos with their relatives in attendance. That more than a quarter of these children were under the age of 10 brings home how disturbing this development is.
Since last July, the government's anti-radicalisation policy, Prevent, has placed schools under a legal obligation to report suspicions of extremist behaviour to the police. It is therefore likely that the numbers of children referred to de-radicalisation schemes like Channel will expand, and that the 'war on terror' will become an inescapable presence in educational institutions.
There are, of course, some very compelling arguments against the government's Prevent strategy in schools. The policy is likely to politicise the classroom, making Muslim students feel apprehensive and inciting a backlash against the values that the programme purports to promote. However, criticism of Prevent is often motivated by the ambivalence and reluctance that adults feel towards discussing terrorism with children. Yet regardless of where one stands in relation to Prevent, society has got to face up to the fact that terrorism has become a regular topic of discussion among children and teenagers.
As I write these lines, I receive reports that pupils at 14 schools in Britain and six in Paris have been evacuated after a series of bomb scares. Terrorism, it seems, has become a fact of life for schoolchildren.
When children tell me that they sometimes feel scared that the terrorists will 'get them', I react with scepticism. But when the mother of 11-year-old Tom from Faversham, where I live, needs to have a 20-minute conversation with her son to reassure him that everyone is safe in this small Kentish town, it is difficult to avoid the conclusion that many children have become sensitive to a new threat facing them.
While canvassing a group of parents for their stories of their children's reactions to terrorist incidents, I got a mixed response. Some claimed that their children are happily oblivious to this issue. Others were not sure how to interpret the reactions of their children. One mother indicated that her daughter was worried about her dad, who works in London, thinking he may get caught up in a terrorist attack. 'Maybe she is just missing her dad', she told me. Other parents had no doubt that their kids were worried about travelling to London because they were worried about bomb attacks.
Some of the stories I was told were quite specific, reflecting the way that terrorism – particularly after the Paris attacks – has affected children. One mother said:
'My 13-year-old is at an all-girls school [in London] and is really worried about it, not wanting to get the Tube or go to shopping centres. Flying over Christmas seemed to really worry her, too. It seems a lot of the girls got very upset about the Paris attacks, and there was all sorts of stuff on Instagram about how London was going to be the next to be attacked.'
Several parents who I talked to confirmed that their children were also worried about travelling on the Tube. Other parents indicated that for a period of time their kids were reluctant to go to the Westfield shopping mall in case they became 'sitting ducks' for a random shooter. One father reported that his teenage son and his girlfriend abandoned a planned trip to the city centre on New Year's Eve, on the grounds that it was better to be safe than sorry.
After listening to these children and their parents I drew the conclusion that the issue facing school pupils is not one of physical safety, but rather a new feeling of insecurity which they are nervous of discussing. Several children indicated to me that they often have problems talking about terrorism, for fear that their views may 'offend' someone. They had all heard of Islamophobia and consequently assumed that they had little choice but to watch their words. It is likely that many Muslim children face an opposite but similar predicament. One Muslim girl confided that she keeps her thoughts to herself in order to avoid being misunderstood. After the Paris shooting, a Muslim boy told the son of a friend that he felt ashamed of being a Muslim, but felt unable to talk about his reaction in case it was misinterpreted.
The fact that there is so little public discussion about how children and young people in general react to and deal with the issue of terrorism is testimony to the failure of adult society to take seriously its responsibility for socialising the young. There are some serious problems with the Prevent strategy, but probably its greatest defect is that it promotes technical and security-related solutions rather than facing up to the challenge of educating and socialising young people.
The one place where children have an opportunity to discuss their concerns and reactions to terrorism is in their classroom. Unfortunately, many schools have not risen to this challenge. Many teachers feel confused about how to engage their pupils on the subject of terrorism. In many cases, teachers avoid having these discussions altogether. In other instances, they just go through the motions. Instead of being open spaces allowing for the conduct of free discussion, classrooms are often characterised by silence and evasion on this subject. This is why so many children feel that they have to watch their words and keep their views and feelings to themselves.
This all leads back to Prevent. It is having a chilling effect on classroom discussion, and that is something of a national tragedy. The real problem at stake is not the so-called radicalisation of small groups of teenagers, but the failure to provide millions of young people with the understanding and clarity they need to engage with the current conflict in a confident manner. Schools need to provide their pupils with a positive vision of what their society is all about. Education and debate is the means through which we can achieve this objective. We owe it to young people to provide them with a forum for informed and open discussion on this very difficult topic.
Frank Furedi is a sociologist and commentator. His latest book, Power of Reading: Socrates to Twitter, is published by Bloomsbury Continuum. (Order this book from Amazon (UK).)
To enquire about republishing spiked's content, a right to reply or to request a correction, please contact the managing editor, Viv Regan.