Sorry, Cameron, but parents don't want parenting classes
We reject your pseudoscience and your meddling in family life.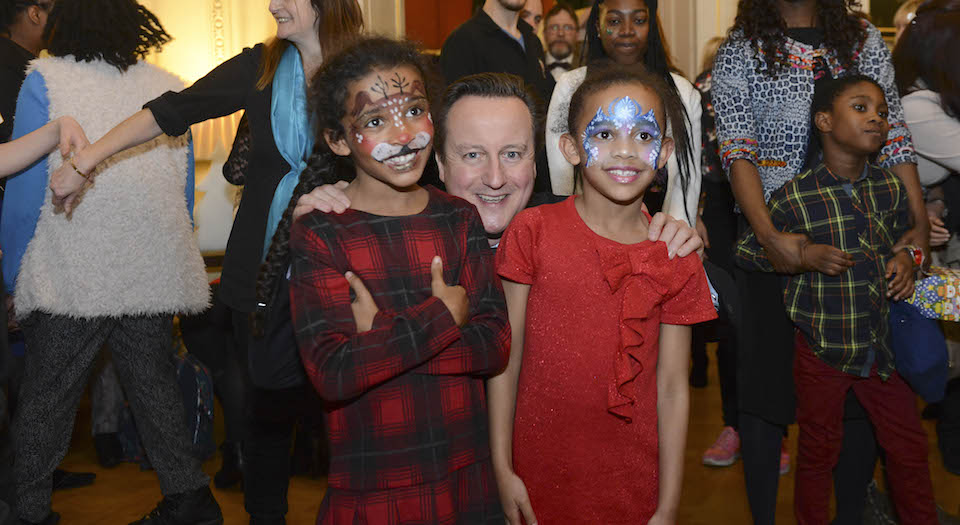 Parenting and familial relationships were once again the centre of political attention last week. As part of a speech setting out UK government spending priorities, prime minister David Cameron announced that £70million is to be spent in the next five years on 'relationship counselling'. This is in addition to the announcement of a voucher scheme to fund parents to go to parenting classes. Cameron said he wanted parenting classes to become the normal 'and even aspirational' thing for parents to do.
It was under the previous Tory-led coalition government that 'parenting classes for all' were first proposed. In 2011, the then children's minister, Sarah Teather, announced that the government would be 'offering free parenting classes to over 50,000 mothers and fathers' as part of a new Department of Education scheme, CANparent. Parents were to be offered vouchers to attend classes run by various charities which, in line with the precepts of 'positive parenting' and assorted other schemes, would teach parents communication skills, boundaries and routines, discipline and positive relationships.
The arguments made for CANparent in 2011, what happened to this scheme over the next two years and the government's response today are all very telling when it comes to what private life on the one hand and politics on the other have come to mean in 2016.
In support of CANparent in 2011, Teather emphasised the idea of 'parental determinism' — that is, the belief that our adult selves are largely determined by how our parents treated us in our early years. 'The overwhelming evidence, from all the experts', said Teather, 'is that a child's development in the first five years of their life is the single biggest factor influencing their future life chances, health and educational attainment'. And because parental actions are so important to the development of a child, argued Teather, the state must get more involved in what goes on 'behind closed doors'. 'It is the government's moral and social duty', Teather continued, 'to make sure we support all parents at this critical time'. And just in case anyone thought that parenting classes were being aimed at a particular section of society, Teather added: 'Parenting classes aren't just for struggling families with complex problems'; rather, they are a universal need.
When the CANparent scheme was announced, the government was at pains to suggest that it was doing what parents wanted. 'Around three-quarters of parents say they want information and support to help their parenting', it claimed.
But what happened to CANparent tells a very different story. As was widely reported, the scheme was a total flop. Far from rushing to open up to 'parenting professionals', parents stayed away. By March 2013, when the first evaluation of CANparent was published, it emerged that only two per cent of eligible parents had used the vouchers to go to classes.
As Frank Furedi argued at the time on spiked, the reason why no one turned up is that parenting classes are a con. As parents well know, it is one thing to seek out genuine expertise and help when a child has specific problems (for example, parents of a sick or disabled child will do everything they can to get help from doctors and find all the advice possible to make their child's life better). But it is quite another to imagine that parents want to be taught the supposedly general skill of parenting. Rather, being a parent means taking on the responsibility for trying, experimenting, failing and learning from experience over and over again. And parents find that the best people to support them in their childraising are those in their family and local community.
But rather than recognising that parents neither want nor need parenting classes, Cameron this week continued to big-up CANparent. He said that those (few dozen) parents who went to the classes said they benefitted from them. Cameron's speech revealed just how deeply entrenched in policymaking circles the idea of parental determinism has become, and how far policymakers are prepared to go to make the case that parenting is politicians' business.
The main development since 2011 has been the extent to which policymakers now use neurospeak, such as 'synapses' and 'critical periods', to justify opening up family life to outside influence. 'Thanks to the advent of functional MRI scanners', said Cameron, 'neuroscientists and biologists say they have learnt more about how the brain works in the past 10 years than in the rest of human history put together. And one critical finding is that the vast majority of the synapses, the billions of connections that carry information through our brains, develop in the first two years. Destinies can be altered for good or ill in this window of opportunity.'
So, intervention into family life is now being justified on the basis that the first two years of life constitute a 'use it or lose it' opportunity to 'alter destiny'. This goes beyond parenting classes, said Cameron:
'It's time to begin talking properly about parenting and babies and reinforcing what a huge choice having a child is in the first place, as well as what a big responsibility parents face in getting these early years right. Of course, that must begin by helping those most in need. That's why I've made it such a priority to speed up the adoption process and improve child protection and social services.'
'Helping those most in need' now means taking babies away from their mothers, it seems.
The CANparent episode shows how a belief in parental determinism, justified through neuro-nonsense, generates a policy programme based on the idea that raising children is just too important and difficult to be left to mere parents, their families and their communities. Those who hold an a priori belief in the need for parenting education simply cannot accept that parents may neither need nor want expert advice. The only conclusion they draw is that more must be done to find ways to train parents, and to increase parents' 'demand' for their own training. Furthermore, they openly support the idea that taking babies away from their mothers is a way to 'alter destinies' and 'improve life chances'.
Policymakers and a parasitical layer of third-sector organisations, whose claim to expertise and professional status lies in knowing how to improve others' 'relationships', are telling us nothing about parents and the family. And it's not just parents who lose through the relentless politicisation of parenting, and, by association, the private sphere; it's all of us. So, more power to any parent who ignores parenting classes and takes responsibility for raising their kids how they see fit.
Dr Ellie Lee is a reader in social policy at the University of Kent, director of the Centre for Parenting Culture Studies (CPCS), and co-author of Parenting Culture Studies. (Order this book from Amazon(UK).)
To enquire about republishing spiked's content, a right to reply or to request a correction, please contact the managing editor, Viv Regan.