Bowie and the shrinking sense of possibility
Bowie's rise and demise speak to a crisis of cultural freedom.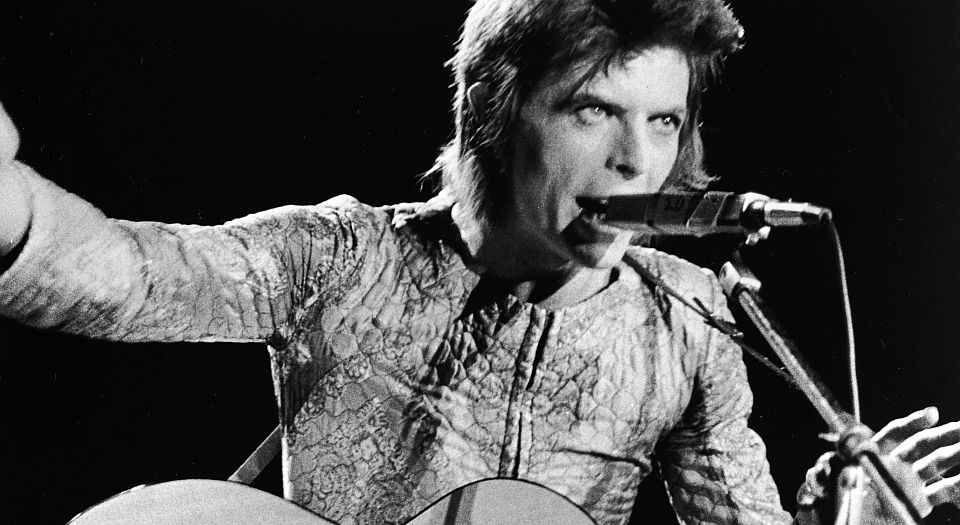 Despite the bricks that Bowie tended to drop in the Eighties and Nineties – the Tonight album, Tin Machine, the Jez-styled 'Little Wonder' – his star power never really dimmed. His extraordinary purple patch in the 1970s, when his music proved utterly life-changing for so many people, was enough to ensure that the goggle-eyed adoration would continue.
So not surprisingly, his death has induced a response that is only really comparable to the demise of Elvis Presley in 1977. Not even John Lennon's premature death in 1980 struck as strong a chord as Bowie's has. Largely, this reaction is a recognition and celebration of Bowie's creative, shape-shifting music when he was at the height of his power. That his passing yesterday coincided with the release of his bold and elegiac album Blackstar has further rekindled people's love affair with all things Bowie.
But Bowie's death also speaks to something more profound than simply the death of a gifted individual. His creative peak in the 1970s and his death in 2016 is emblematic of the rise and then disappearance of a different kind of Britain. Bowie's life speaks to how Britain has lost its cultural edge, its cool, its sense of creative daring, all of which helped produce mavericks like Bowie.
The postwar period, particularly from the 1960s to the early 1980s, was an unprecedented time in which ordinary people felt they could reinvent themselves and in the process help to shape wider society. Yesterday, Guardian columnist Suzanne Moore rightly argued that Bowie gave comprehensive-school kids a sense of possibility; gave them ideas above their station. That liberalising moment gave many people a sense that, even without a private-school education or a place at Oxford, anything was possible, great things could be done.
Bowie left school with one O-Level, in art. Today, social services, or at least some eduction authority, would probably get involved, to investigate what went wrong and whether his parents were to blame. But 50 years ago, ambition didn't start and stop with attending the right school and getting the right exam results; rather, many had a sharp eye for seizing the opportunities that were available to them and carving out a cultural niche for themselves.
It's worth remembering that Bowie slogged on the margins for ages, in two-bit bands, recording very minor songs, before finally finding his voice. Back then, British society created a kind of free space in which young people who were willing to take the unpredictable route of cultural experimentation could do so. That space has been closed down in recent decades. Today, in obsessively trying to 'support' and mollycoddle young people, society unwittingly robs them of the independence, resilience and drive that Bowie showed in his graft and in his shift from being a nobody to a zeitgeist-changing genius.
Where Bowie encapsulated a genuine sense of freedom and possibility, of total and frequent reinvention, today's young people find themselves living in an era that discourages risk-taking, puts off adulthood, and erects official scaffolding around their lives. Young people have internalised a culture of anti-freedom.
We can see this in its most extreme form in the desire of some Western-born youths to join the death cult of ISIS, who seem to think that a repressive Caliphate which does all their thinking for them is a really great idea. We see it on university campuses, where student leaders make hectoring demands for Safe Spaces and ban controversial speakers, songs, newspapers or comedians. We see it with the daily emergence of yet another moronic petition calling for someone or something to be banned or punished for daring to 'offend' others. For all the celebrations of Bowie's achievements, what he represented is actually in very short supply today. His death should serve as a reminder, or rather a wake-up call, of some of the backward social changes of the past 20 years.
I know exactly how this sounds: a middle-aged bore droning on about the good old days. As a child of the punk and post-punk generation, that is exactly what I felt about boring hippies and mods who were constantly reliving the 1960s. But I felt that way about the 1960s set precisely because, for my generation, there were still many exciting things happening, which were, in many ways, a continuation of the spirit of adventure and boldness that Bowie represented. Today is very different. Bowie no longer speaks to us about new possibilities, but rather serves as a reminder of the passing era of possibility.
As the 1960s and 1970s fade further from popular memory, it is important to uphold what was truly great about that era. It is important to remind ourselves of what a liberal society looks like, and of what emboldened individuals, like Bowie, are capable of achieving. This isn't blind nostalgia; it's my attempt to shed some light on the retrograde and repressive cultural changes that society has undergone in recent decades. Those changes are frankly as heartbreaking as the death of one of pop's true mavericks.
Neil Davenport is a writer based in London.
To enquire about republishing spiked's content, a right to reply or to request a correction, please contact the managing editor, Viv Regan.