Lemmy: the nice man of rock' n' roll
The harder the sound, the softer the performers.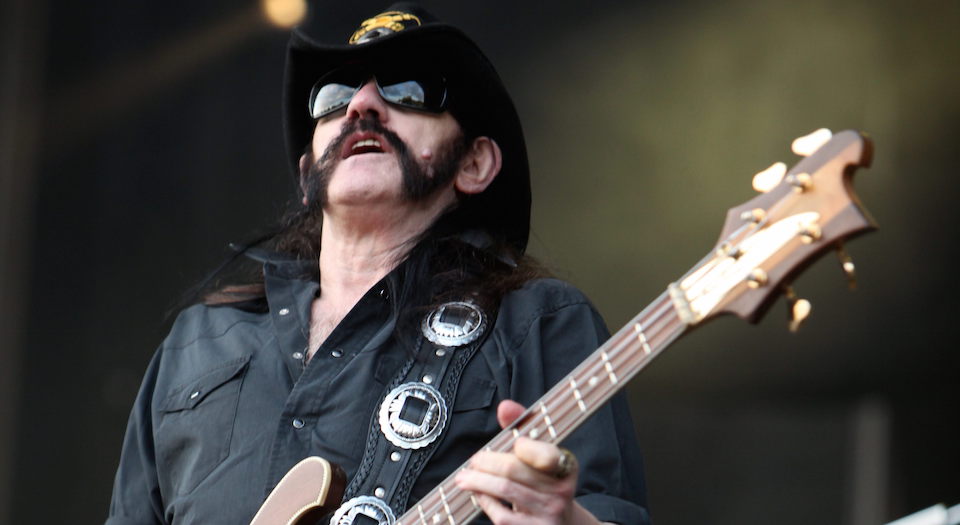 One rule of commentary journalism is that the more belligerent and vitriolic is the prose of a writer, the more agreeable and amusing he or she tends to be in person. The late Auberon Waugh, a vituperative columnist for the Telegraph, was in person sweetness personified. Peter Hitchens in person is a far cry from his stiff print persona. I understand the same rule applies to left-winger, Owen Jones, and the feminist writer, Julie Bindel. Conversely, the more compassionate, solemn and reasonable is a journalist's writing, the more likely you are to find in person an aloof, imperious real-life writer.
A similar rule could apply to pop music. Just as more mainstream musicians will sing sweetly about love and dreams, behind the scenes they will be making outrageous dressing-room demands or throwing tiara tantrums. On the other hand, it's those on the periphery, those who sing about such grim matter as war and death and exploitation, who are amusing, often delicate types who normally inspire the most affection.
The 'wild axe-man' Jimi Hendrix enjoyed a reputation as a true gentlemen. The man who sought a 'white riot', the Clash's Joe Strummer, was regarded with great fondness. My brother interviewed Iron Maiden's founder, Steve Harris, who came across as an agreeable bloke. I met Napalm Death on the way to London's Brixton Academy in 1992, and their shyness and politeness was directly inverse to their stage personas. Rappers may likewise appear confrontational and vulgar in videos, yet one of the greatest viral highlights of this year has already been former NWA member Ice Cube helping to teach someone to drive – while taking off his own 'gangsta rapper' persona in the process.
And then there was Ian 'Lemmy' Kilmister, Motorhead's founder and frontman who died over Christmas. Most people will have been familiar with Lemmy the character: he would wear cowboy boots and dress in black denim; he had a weakness for Nazi regalia; he drank a bottle of Jack Daniel's a day; he had an insatiable appetite for amphetamines; and he slept with more than 4,000 women. On stage, with his legs spread, his head raised towards the microphone, he chugged away at the bass growling to 'The Ace of Spades', 'Overkill' and the like. I saw Motorhead live at Hammersmith in 1990 and 2003. The effect was usually exhilarating and always deafening.
Yet it would be wrong to equate this public image with the private man. To many he was not a 'wild man' but a good friend. 'I knew Lemmy for 36 years. If you were his friend, you were his friend for life', said Saxon's Biff Byford. 'He was a good guy, a very good friend of mine', said Ozzy Osbourne. Captain Sensible of The Damned was another to reminisce fondly about a lost friendship in recent days. Lemmy was once deemed the dangerous wild man of rock, but who would have thought on his death he would have ended up a national treasure?
From 1990 Lemmy lived in a modest Los Angeles apartment. He enjoyed reading history books and PG Wodehouse novels. He came to most of our attention with a guest appearance on alternative comedy show, The Young Ones. Despite his promiscuity, he believed in the institution of marriage. He once called himself Thatcherite, and then a libertarian anarchist, because 'government causes more problems than it solves'. It goes to show how you shouldn't judge people on how they look, or how you want them to be.
But a final point: he never described Motorhead as a 'heavy metal' band, let alone a 'thrash metal' one. As he would pronounce before gigs, 'we are Motorhead and we play rock and roll!'.
---
Is transgenderism a joke?
Last year 'transgender rights' became one of the biggest news stories. It proved divisive in many ways, not least among feminists themselves, or among competing minority groups. But as a new year begins I can't help but think that the whole thing is some ghastly, Swiftian joke or act of revenge on feminism inflicted by men.
The House of Commons' Women and Equalities Select Committee would like to make gender in the public sphere entirely a matter of personal choice (or affectation), rather than it being based on any biological evidence or official records at having lived in their adopted gender for two years. In other words, gender in the UK looks likely to be based on Humpty Dumpty thinking: things are what I say them to be.
We have heard about 'the crisis of masculinity' and 'emasculation of men' for some time now. So, too, 'glass ceilings' and 'patriarchy'. At a stroke, all of the above will come tumbling down. All a man, perceiving himself to be put at a disadvantage, has to do now is simply pronounce himself a woman – as a priest pronounces marriages. Executive boards will henceforth be brimful with glass-ceiling-breaking women – burly women with willies. Women's football games will become interesting, as will boxing bouts. Anyone want to see a woman beat up a man in public for entertainment? Will we call that progress or equality?
One day in the future people will look on the transgender movement, with its mixture of intolerance and open flight from reality, much as we look on the Puritans who dunked witches: with a mixture of amusement, horror and relief.
---
Love your enemies
This year, spiked asserted the right to offend. But let us also remember the right to be offended. That is to say, to consider the validity of someone's opinion before recoiling in censorious horror or questioning one's opponent's motives. This is what unites Islamists and the Stepford Students: the inability to consider, let alone tolerate, doubt. We could start by teaching children the old saying about sticks and stones.
There is today too much value placed on people's 'sincerely held beliefs', secular or sacred. All beliefs should be challenged, including one's own. My messages for 2016: to love your enemies and hate your friends.
Patrick West is a spiked columnist. Follow him on Twitter: @patrickxwest
To enquire about republishing spiked's content, a right to reply or to request a correction, please contact the managing editor, Viv Regan.