Our cultural highs and lows of 2015
spiked writers on the best and the worst of this year's art and culture.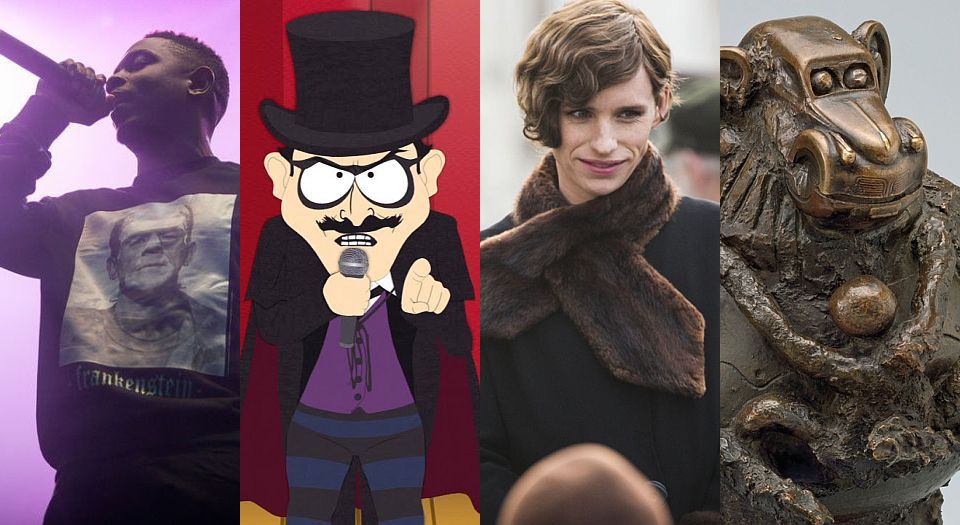 Brendan O'Neill chooses…
High: Humans of New York: Stories, by Brandon Stanton
Normally, choosing a coffee-table book as a cultural high would be considered gauche. But Brandon Stanton's glossy compilation of his photo-blogs about the people of New York City is so much more than a tome to plonk your mug on. It's a heart-scan of the world's greatest city, a glimpse into the lives and minds of the individuals who make up what Walt Whitman called 'this mettlesome, mad, extravagant city'. 'All races are here / All the lands of the earth make contributions here', said Whitman; Stanton shows us those contributors, in all their complexity, reminding us that NYC remains a raised middle finger to those who think people from different backgrounds can't live together or that cities rob us off our humanity. They don't – they enhance it.
Low: The Danish Girl, directed by Tom Hooper
If Eddie Redmayne gets Best Actor for this snorefest, it will be the Academy's worst crime since it decorated the mincing Sean Penn in Milk above the heart-crushing Mickey Rourke in The Wrestler. Playing the first person to receive a sex-change op – Danish artist Lili Elbe – Redmayne cries, puts on a dress, cries again. Never mind moaning about Roland Emmerich's Stonewall – self-respecting trannies should be fuming about this.
Brendan O'Neill is editor of spiked.
---
Mick Hume chooses…
High: Television
Not any show in particular, but the medium has overcome all the cynicism and snobbery and mashed new technology and talent to re-establish its place at the peak of modern culture. In the age of the boxset and internet-streaming channels, there is never 'nothing on the telly'. American TV still sets the gold standard, but even the BBC (when not asking us to watch paint dry or cakes bake) managed to produce memorable moments, from Wolf Hall to Detectorists. Whether any were as compelling as the 1982 series of John le Carre's Smiley's People, reshown on the Beeb in January 2015, is another matter.
Low: Television
The suffocating illiberal atmosphere of 'liberal' conformism that hangs over British television in general, and the BBC in particular, threatened to smother anything innovative or unorthodox. When the great Noel Gallagher recently lambasted today's UK musicians, complaining that 'everybody's out to please the Guardian', he could have been talking about TV, too. The BBC seems determined to make not just Newsnight but Have I Got News for You? sound like an editorial from that newspaper. Meanwhile, Channel 4 almost ruined its best homemade show, Gogglebox, by editing out any views on issues such as refugees or welfare that fail to toe the Jon Snow line (that's the news-reading earache, not the Game of Thrones heartthrob).
Mick Hume is editor-at-large of spiked.
---
Frank Furedi chooses…
High: The Crucible, at The Old Vic
Though I have seen Arthur Miller's The Crucible several times, the power of this play totally blew me away with Yaël Farber's recent production at The Old Vic. Richard Armitage was magnificent as John Proctor, as was Anna Madeley as Elizabeth Proctor. Miller's play about the malevolent culture of intolerance calls out for resistance against the witch-hunters of our times.
Low: Hamlet, at the Barbican
Benedict Cumberbatch is a fine actor, but why did he have to mess up poor old Hamlet? Or was it the over-the-top special effects, which diminished the effect of the language of the play, that really got on my nerves? Director Lyndsey Turner's production shows how gimmicks can turn a great tragedy into worthy melodrama.
Frank Furedi is an author, academic and spiked contributor.
---
Viv Regan chooses…
High: Picasso Sculpture, at MoMA
New York's MoMA is exhibiting over a hundred of Picasso's sculptures, and it's the most exhilarating art exhibition I've seen for years. We're told that Picasso had no formal training in sculpture, and treated his sculptures like his pets, keeping them all over his house and his studios for his own pleasure. This playfulness spills out of the sculptures – they are irresistible, flighty masterpieces. My favourites were his bronze animals and metal work. Take his glorious 'She-Goat' or the 'Baboon and Young', made out of metal from his backyard – the Baboon's face is shaped like a toy car. This exhibition alone is worth a visit to New York. But hurry: it ends February 2016.
Low: Luther, BBC drama
Series Four has started and I still don't get it. The first episode has Luther (Idris Elba), the superhero detective from the streets, still fighting his demons. It's all pretty obvious. There are emotionally stunted coppers, a lot of slow-motion and naff baddies who aren't convincing even when they're waving a gun in Luther's face. To make matters so much worse, Elba has put out an album to accompany the series – which takes over the show, and not in a good way. In an interview Idris said 'ultimately, it really isn't about me'. Yeah, right.
Viv Regan is managing editor of spiked.
---
Tom Slater chooses…
High: To Pimp a Butterfly, by Kendrick Lamar
The Compton rapper's second full-length LP is rap's post-Ferguson state-of-the-nation piece. It's fiery, furious, reflective and beautiful, but with none of the pretentious, 'conscious rap' trappings. Moving from laidback jazzy samples, to clattering rhythms and pitch-shifted vocals, the schizophrenic production offers the perfect backdrop to Lamar's blistering exploration of poverty, violence and self-worth. Incredible.
Low: 'Til It Happens To You', by Lady Gaga
Remember when popstars used to spark moral panics, not join in on them? Nope, me neither. This year's worst offender in the PC-pop stakes is Lady Gaga, who slapped together this morbid, fearmongering music video about the phoney US campus rape epidemic for an upcoming documentary, The Hunting Ground. A self-touting icon of sexual liberation helping to scare young women off sex. What strange times we live in.
Tom Slater is deputy editor at spiked.
---
Ella Whelan chooses…
High: First Love, performed by Conor Lovett
Nobody can do justice to Samuel Beckett like Irish theatre troupe Gare St Lazare, so I jumped at the chance to see troupe member Conor Lovett perform First Love. This short story is Beckett at his most savagely funny, with the scathing narrator telling the story of his first and only romance – with a prostitute he meets on a park bench. We were lucky enough to get frontrow seats, and, due to the stuffiness of the Dalston audience, our raucous laughter meant Lovett was pretty much playing to us alone. An unforgettable night.
Low: The Institute of Sexology, at the Wellcome Collection
The exhibition itself was okay, with some fairly boring artefacts which disappointed the queue of people waiting to see something salacious. But what really made this a cultural low was the questionnaire you were asked to fill in at the end. This consisted of several 'penetrating' questions akin to those you'd find in a spurious NUS sexual-harassment survey. Well done to the Wellcome Collection for making an exhibition about sex a complete turn-off.
Ella Whelan is staff writer at spiked.
---
Luke Gittos chooses…
High: Woolf Works, by Wayne McGregor
I'll admit straight away: I'm not an expert in ballet. Tragically, I don't earn enough money to become one. However, this ballet tribute to Virginia Woolf was something else. Perhaps it was the eight-quid prosecco my girlfriend and I quaffed before and in the interval. Perhaps it was the glorious setting of the Royal Opera House. Maybe it was the feeling that for just three hours I was a truly cultured person. But something about setting the works of dreary modernist Virginia Woolf to music by Max Richter worked brilliantly.
Low: British theatre
I'm calling it: the theatre is now shit. I am a reformed child actor and have always been a fan of the thespians. But the preachy, liberal echo chamber that now passes for the British theatre scene has become a parody. Anyone for another play unquestioningly praising the NHS? Another play about the cruelty of the cuts? And Jesus: the identity politics. So many plays about 'who we are' as gay, Asians or transgendered people, and so little about who we are as human beings. Yes, there were exceptions, none of which I saw. But I would rather save my pennies for the ballet than sit through another three hours of preachy and unashamedly wet theatrical bilge.
Luke Gittos is law editor at spiked.
---
Neil Ross chooses…
High: South Park Season 19
Trey Parker and Matt Stone's exquisite dismantling of political correctness this season has been a joy to watch. Gentrification, microaggressions and LGBT rights are just some of the issues dealt with in a typically crude and disarmingly honest style. One unmissable highlight is the Broadway-style song 'In My Safe Space', featuring bully-proof windows, troll-safe doors and the villain known as Reality.
Low: Trainwreck, directed by Judd Apatow
Amy Schumer, whose comedic star is very much in the ascendancy, delivers some hysterical moments in this role-reversing rom-com. Unfortunately, rather than Schumer taking those moments and turning them into a great, 30-minute stand-up routine, we are subjected to over two hours of increasingly cringe-worthy schmaltz.
Neil Ross is US programme director at spiked.
---
Patrick West chooses…
High: Dave
The television channel has come into its element this year, with original comedy in the form of Crackanory, Dave Gorman's Modern Life is Goodish and Alan Davies: As Yet Untitled, smug-free programmes that don't make lazy jokes about Nigel Farage or the Daily Mail.
Low: The death of Maureen O'Hara
I adored Maureen O'Hara in The Quiet Man, and she epitomised 'feisty', before that word became patronising. The actress also played Gaelic football, rode horses, was a judo fighter, shocked John Wayne with her blue language and took a punch in the jaw from John Ford to prove she was his equal. Wayne called her 'the greatest guy I ever knew'.
Patrick West is a spiked columnist.
---
Wendy Earle chooses…
High: Divided Laing, by Patrick Marmion
Patrick Marmion's play, Divided Laing, at the Arcola Theatre was a triumph. He's a friend and I may be biased, but great performances brought his sharp and complex script – about famed psychotherapist RD Laing – to life in a highly entertaining and thought-provoking way. A genuinely new and satirical look at an influential figure in recent intellectual history.
Low: Zabludowicz Collection: 20 Years
The Zabludowicz Collection was established 20 years ago this year. The works of conceptual art in its celebratory exhibition were dire! Do they represent a desperate search for meaning, narcissistic reveries or self-indulgent moans about 'the state we are in'? Who cares? Conceptual art's brief moment is so over.
Wendy Earle is the convenor of the Institute of Ideas Arts and Society Forum.
---
Neil Davenport chooses…
High: Have You in My Wilderness, by Julia Holter
Holter's breakthrough fourth album hit a very high strike-rate by uniting leftfield sound collages with soaring, heartfelt melodies. Over-fussy arrangements can potentially be distracting and lack warmth, but Holter ensures there is emotional punch. Have You in My Wilderness topped the pile this year. Mixing classical with avant-garde pop, this is a brilliant set of songs.
Low: Lost River, directed by Ryan Gosling
Ryan Gosling's directorial debut was a quintessential vanity project, and an expensive-looking one at that. Cliché-bound shots of urban decay and urban poverty appear merely as props, shots which are there 'to look good' without having anything to say about the subject matter. A pretentious and incoherent mess that should have been kept in the vaults.
Neil Davenport is a writer and educationalist based in London.
---
Patrick Hayes chooses…
High: Nothing But Thieves and Pretty Vicious, live at the Electric Ballroom
In the current musical climate, where being in a rock band and not having a public-school education makes you an oddity, this gig was a torrent of fresh air. Merthyr Tydfil-based Pretty Vicious and Essex boys Nothing But Thieves are the two most exciting, truly rock'n'roll bands to emerge in years. And here they were together, in a packed Electric Ballroom, at their most raw, before the inevitable arena tours begin, with tight songs and howling guitars, bursting with anger, frustration and passion. Many people who weren't there will claim they were in years to come.
Low: 'There are too many of us', by Blur
After decades of sneering at ordinary people and their banal 'park lives', 2015 was the year that Damon Albarn and his band of Guardianistas came out as fully fledged Malthusians. Apparently this song – the second single from comeback album The Magic Whip – was inspired by the band's visit to Asia. 'There are too many of us. That's plain to see', sings Albarn. 'In tiny houses here and there. But you won't care.' Certainly there's one thing we shouldn't care about, and that's the bleak anti-human whining of Britpop has-beens.
Patrick Hayes is a spiked contributor.
---
David Bowden chooses…
High: Chvrches, live at Alexandra Palace
The Scottish synth-pop trio put on an enjoyable show in support of their sophomore album, Every Open Eye, with frontwoman Lauren Mayberry proving a compelling stage presence. But, in truth, any gig has a certain poignancy post-Bataclan, where the simple act of being out, about and having fun became an act of defiance against a crybaby death cult. Honourable mention goes to South Park. Its magnificently irreverent 19th season didn't just kick gleefully against political correctness, but offered a sharper critique than a thousand online thinkpieces.
Low: Orange is the New Black, a Netflix comedy-drama
Orange is the New Black has, up to now, been a refreshing and inventive drama. But, God, the third season was a dark harbinger of the Work of Art in the Age of Mechanical Social Justice. Every scene had seemingly been run through a panel of Tumblr activists to meet a clunking standard of 'teachable moments' on race, gender or whatever else would make it meme-worthy that week. For all its riotous energy, this once-bold show now feels more nervous of upsetting its own sensitive fanbase than the supposed moral majority.
David Bowden is a spiked contributor.
---
Patrick Marmion chooses…
High: The Edinburgh International Festival
The Edinburgh International Festival came up trumps this year with Robert Lepage's 887 and Simon McBurney's The Encounter. 887 was about the French-Canadian's memories of growing up in Quebec against the backdrop of revolutionary political unrest lead by the Quebec Liberation Front (FLQ) around 1970. It was a rousing and moving work that combined history and politics mixed with Lepage's personal and professional life, relayed with his inimitable hi-tech genius – crossing boundaries of time and space. The Encounter, likewise, was a shamanic trip to the Amazon jungle, brought to life entirely with 3D sound, somehow making you hallucinate the journey to meet a lost Amazonian tribe. Both plays transported you beyond the world of your senses and made you doubt the fabric of what we take to be reality.
Low: Hangmen, by Martin McDonagh
By nasty contrast, Martin McDonagh's loathsome comedy Hangmen was another in the cod-Irishman's long line of loveless dramas, this time focusing on the rivalry between England's last two hangmen. It starts with a blood-chilling hanging of an innocent man and moves on to poke fun at other kinds of beings who qualify as losers in McDonagh's snide little universe. An utterly poisonous play that most critics were too scared to revile.
Patrick Marmion is a freelance journalist and playwright.
---
Christian Butler chooses…
High: Gypsy, at the Savoy Theatre
Gypsy is the best musical to come out of the Golden Age of Broadway, and it is just as hilarious and disturbing in Jonathan Kent's superb revival as it was in 1959. Imelda Staunton's astonishing performance as Mama Rose was the greatest I've ever seen in the West End.
Low: Birdman, directed by Alejandro González Iñárritu
Scatological gags sit uneasily alongside the futility of life itself in Alejandro González Iñárritu's incredibly pretentious satire of pretentious actors. This unfunny comedy is technically impressive, but snobbish and soulless.
Christian Butler is a writer and musician.
---
Shingi Mararike chooses…
High: To Pimp a Butterfly, by Kendrick Lamar
Slipping out of the creative straitjacket of modern hip hop's guns, bitches and drugs formula is no easy feat. From the bluesy depths of 'How Much a Dollar Cost' to the sizzling, politically driven 'The Blacker the Berry', this 80-minute, genre-bending musical tour de force solidified Kendrick Lamar's reputation as rap music's premier talent.
Low: Southpaw, directed by Antoine Fuqua
Testosterone-heavy, bone-headed and tiresome. And that's as much a critique on Jake Gyllenhaal's performance as it is of the film as a whole. Director Antoine Fuqua somehow finds a way to make the well-trod boxing blockbuster road to redemption lark seem even more tedious than usual. Eminem chimes in with a shouty-sounding soundtrack to add insult to injury.
Shingi Mararike is a writer and student.
---
Todd Gillespie chooses…
High: Museo Nazionale del Cinema
Italy's National Museum of Cinema in Turin is located in the most impressive building in the city, the Mole Antonelliana. The museum is a homage to the most brilliant Italian and global cinematic minds and masterpieces – from Woody Allen to Giovanni Pastrone, Star Wars to The Godfather. The main exhibit is the gargantuan central room under the spire of the tower – with giant screens playing classic films, small rooms around the edge dedicated to specific works, and a spiral walkway around the inside wall, plastered with hundreds of film posters.
Low: Benedict Cumberbatch's post-Hamlet plea
The only thing worse than his distinctly average portrayal of Hamlet at the Barbican this year was Benedict Cumberbatch's decision to preach to the audience about the plight of Syrian refugees. After each performance of the Shakespearian tragedy, in a display more guilt-tripping than any TV charity advert you've seen, Cumberbatch encouraged the audience to place donations into red buckets at the doors. A sanctimonious sermon I could have done without.
Todd Gillespie is a spiked intern.
To enquire about republishing spiked's content, a right to reply or to request a correction, please contact the managing editor, Viv Regan.