In 2016, let's take the fight to the campus censors
It's time the silent majority made a stand for free speech.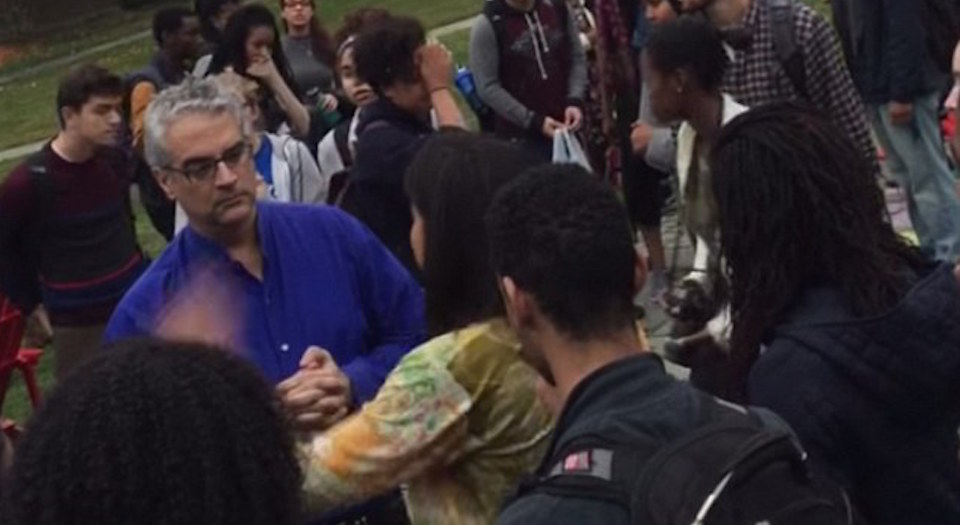 I smiled when I heard Senator Lindsey Graham's response to the recent petition to ban US Presidential hopeful Donald Trump from the UK. 'Don't deny admission to Great Britain to Donald Trump. Invite him to London. Invite him to one of your universities. And let him get up in front of a bunch of young British students and they'll rip the hide off of him.' Has Graham been to a UK university recently? A quick look back over campus life this year, an experience akin to falling down some especially surreal rabbit hole, would quickly disabuse Graham of his optimism; higher education is now dominated by the language of 'safe space', 'microaggression' and 'cultural appropriation', not robust debate.
In February, spiked launched its groundbreaking Free Speech University Rankings. It showed that 80 per cent of institutions have restrictions on free speech, most of which emanate from students' unions. The University of Bristol, for example, aims 'to ensure an accessible environment in which every student feels comfortable, safe and able to get involved in all aspects of the organisation free from intimidation or judgement'. In 2015, this privileging of intellectual and emotional comfort has led to student petitions demanding the No Platforming of comedians, academics, Islamic preachers, feminists, journalists and politicians. If, by some bizarre administrative oversight, Trump were to be invited to a UK university, there would be howls of protest.
In 2015 universities redoubled their efforts to restrict thinking, speaking and dressing up on campus. Students at the University of East Anglia banned a Mexican restaurant from distributing sombreros because of cultural appropriation and stereotyping. Although, in this instance, the real risk was that some students might have had fun. This brings us neatly on to Halloween and the highly problematic issue of choosing a costume. Universities on both sides of the Atlantic went into overdrive producing posters, films and helplines offering advice on how to avoid offence with costume choice.
Throughout this year, many working in universities have looked on, some cheering, some despairing, as students curb debate. Just occasionally, one or two have raised their heads above the parapet and tried to tell students to grow up. At Yale University, lecturer Erika Christakis emailed students saying: 'If you don't like a costume someone is wearing, look away, or tell them you are offended. Talk to each other. Free speech and the ability to tolerate offence are the hallmarks of a free and open society.' The 'Yale snowflakes', as they came to be known, responded to Christakis's suggestion by bawling at her husband, college master Nicholas Christakis. The students argued the university was their home, and that they were not prepared to tolerate existential threats within it. Unfortunately, many academics find this idea of a university difficult to challenge because they perceive students as vulnerable and stressed-out customers whose views must be continually solicited and their feelings respected.
The purpose of higher education has been redefined; it is less about being intellectually challenged than it is about having one's identity as a victim confirmed. Hence students are forced to seek out a continual stream of 'microaggressions' to affirm their victimhood. Anyone who calls this into question threatens this newly established status quo and has to go. Erika Christakis resigned her post at Yale.
Students have sought identity-confirmation through campaigns to 'decolonise the curriculum', have statues removed and buildings renamed. In the recent spate of US campus protests, the most high-profile of which has been at the University of Missouri, student demands have included anonymous reporting of microaggressions, compulsory anti-oppression training and one confession of racism by a faculty member each week. The upshot is a witch-hunt against those who refuse to conform and acknowledge the original sin of their gender and race or bestow the respect students consider to be their birthright. This has led to a series of high-profile resignations from US universities.
There are now rumours of a backlash against student protesters. Barack Obama pointed out the importance of debate to university life; a group of Princeton students stood up to the campus protesters; and brave individuals in the UK have also challenged the orthodoxy of consent classes and Safe Space policies. When the No Platforming of high-profile speakers has been publicly exposed it often gets overturned. Maryam Namazie, Germaine Greer, Julie Bindel and Milo Yiannopoulos all eventually got to speak at UK universities after being initially banned. This is to be welcomed, but it does not mean students are now more likely to engage in the rigours of debate. When Namazie spoke at Goldsmiths, members of the Islamic Society hijacked her presentation with an infantile display of coughing and heckling. Members of the LGBT and feminist societies have since offered their support to the Islamic Society and defended the union's Safe Space policy.
In the US, a survey out this month suggests 51 per cent of college students are in favour of codes to restrict speech on campus and 72 per cent support disciplinary action against students or faculty who use offensive language. The belief that inclusivity and diversity are more important than free speech highlights generational as well as political differences in attitudes.
While students have even their most bizarre demands met, such as dropping the title 'master' from those who run colleges, there will be no end to the tyranny of identity politics on campus and all the restrictions on free speech it supports. A real fightback needs academics and institutional managers to say no to student censorship and ensure debates take place. It also needs students who disagree with protesters to stand up to those who would censor in their name – and make their higher education a less valuable experience as a result. To do this requires more than just defending academic freedom; it calls for the posing of a more direct challenge to the culture of conformity that has come to dominate our universities. We need to make intellectual and political diversity as important to higher education as the prominence currently given to issues of gender, race and sexuality. Inviting Trump to speak at a British university would not be a bad place to start.
To enquire about republishing spiked's content, a right to reply or to request a correction, please contact the managing editor, Viv Regan.