Peep Show: sitcom for a rootless generation
The final episode will no doubt leave Mark and Jez right where we found them.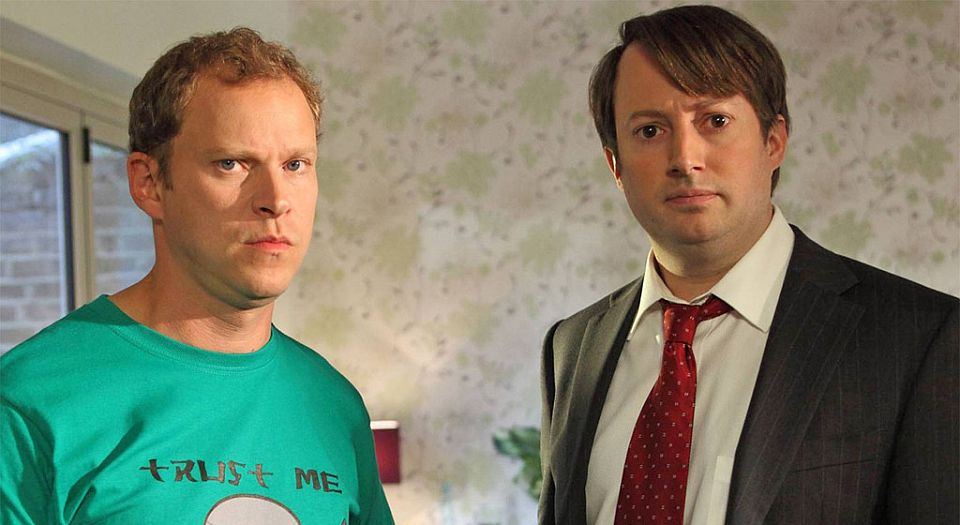 After nine series, 53 episodes and too many jokes about wanking into a flannel, the final episode of the sitcom Peep Show airs tonight.
Birthed by writer-and-creator team Sam Bain and Jesse Armstrong, with David Mitchell and Robert Webb portraying the interminable friendship at the centre of it all, Peep Show is a typically post-2000 sitcom. It never received staggering viewing figures; it was never a show the nation was talking about. Surviving, in its first few series, off Channel 4's patronage and the boom in DVD sales, it helped to define a new breed of sitcom that is content to play to its own loyal niche.
Over the past 12 years, Peep Show has been a consistent critical darling, racking up Baftas, leading Bain and Armstrong to work on The Thick Of It, Fresh Meat and Four Lions, and vaunting Mitchell and Webb to the status of Guardianista national treasures. But it was also more than just a cult hit, an oddball favourite for time-rich, twentysomething stoners to quote to each other into the wee hours of a Wednesday night. There was something about it that resonated.
This final series has summed up that inimitable appeal. After a bust-up at the end of last series, stuff-shirt Mark (Mitchell) gave man-child Jeremy (Webb) his marching orders. But it wasn't long before they were back where they've always been: in their grey Croydon flat, hating their lives and, quite often, one another. Things have changed: Mark is a father, Jeremy has launched into his first (committed) gay relationship, and the mercurial caner Super Hans (the mesmeric Matt King) has cleaned up his act and got married. But it wasn't long before Hans fell off the wagon and Mark and Jeremy went back to finding new and heinous ways to ruin each other's lives.
Bain and Armstrong are known for their rigorous plotting, spending months working out where a series will take them and sketching out each episode before writing a single gag. But there is never any progression. No matter how much things are looking up, no matter how much Mark or Jeremy think they've found the woman – or man or job or sofa – of their dreams, they always end up back where they started. Tonight, Jeremy turns 40 and Mark tries to seal the deal with his perfect woman, but anyone hoping for a bit of resolution, let alone an Only Fools walk into the sunset, should know by now to be disappointed.
What has always saved Peep Show from being an unrelenting cringe-fest is that, even as Mark and Jeremy ruin everything – killing dogs, wrecking homes and trying to steal each other's girlfriends – you still desperately want them to succeed. British sitcom history is replete with loveable losers and malcontents, but Mark and Jeremy feel decidedly familiar and modern. They're 21st-century, middle-class, unattached Londoners; the men who Nineties glossies told us would have it all, but instead have got nothing but each other.
Mark and Jeremy's lives are atomised, rootless and banal. They are painfully neurotic and borderline perverted. They are, as Brendan O'Neill has put it, 'youngish men in an era when youngish men don't know what they're for anymore'. Jeremy – the failed musician turned amateur life coach – is a botched bohemian, lacking the ambition to be anything more than a poseur. Meanwhile, Mark wants desperately to settle down into a life of staid companionship, Morse and weekends in the Quantocks, yet is too terrified of intimacy to follow through with it. They're two extremes of the same modern, male confusion – robbed of any of the old certainties and held back by their own immaturity and cowardliness.
When Peep Show first arrived on our screens in 2003, it put off some who thought it too 'zeitgeisty' – too Channel 4. First developed as a kind of live-action Beavis and Butt-Head, where two graduates would trade sarky observations about TV shows, its inner monologues and POV perspective struck many as a gimmick cooked up by TV execs. But, as Father Ted co-creator Graham Linehan later said, he hated Peep Show 'right up until the moment I actually watched it'.
After nine series you barely notice the camera angles or the neurotic voiceovers. What has emerged is a traditional British sitcom – with all the recurring gags, wacky characters and lingering melancholy that comes with it. But Peep Show is also something much rarer than that. It has captured the imagination of a rootless, urban generation – and let it laugh at itself.
Tom Slater is deputy editor at spiked. Follow him on Twitter: @Tom_Slater_
To enquire about republishing spiked's content, a right to reply or to request a correction, please contact the managing editor, Viv Regan.