Grandma: when feminists fought back
This off-beat drama shows how feeble feminism has become.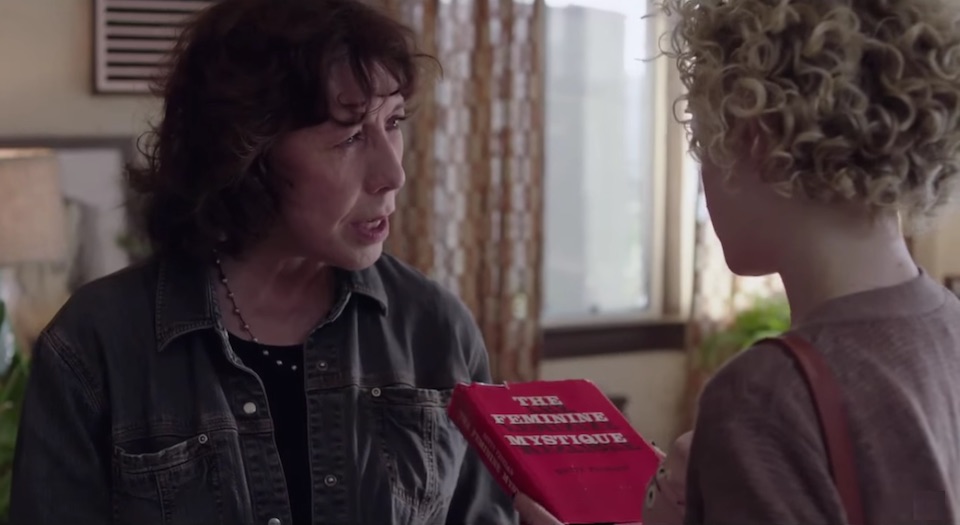 Grandma, a new film by director Paul Weitz, is a kickass reminder of what feminism looked like for previous generations. Lily Tomlin plays outspoken writer and academic Elle Reid, whose granddaughter, Sage, turns up needing $630 for an abortion. The film follows the pair over the course of a day, driving around town and calling on the ghosts of Elle's past to borrow the money needed for Sage's abortion.
Elle is everything contemporary feminism is not. She is a vibrant reminder of the tough feminism of the Sixties, the type of feminism that grabbed freedom by the balls. After confronting Sage's horrible boyfriend, who she duly beats up with a hockey stick, Elle teaches her granddaughter 'to be able to say "screw you" sometimes'. This is a lesson many contemporary feminists have forgotten – that is, being able to stand up for yourself and argue with anyone who gets in your way.
Contemporary feminism encourages women to hide from confrontation, choosing instead to tweet or blog about their experiences long after the incident has happened. One of the characters Elle tries to get money from an old lover played by the handsome Sam Elliott. He agrees to give Elle the money if she'll sleep with him for old times' sake, a proposition that would send many contemporary feminists crying to their safe spaces. But Elle doesn't begin a public crusade against Elliott; instead she tells him there and then what a creepy bastard he is. Grandma is essential watching for all contemporary feminists, it is a reminder that women must prove their strength – that nothing ever changes without argument and confrontation, including the attitudes of letchy men.
We must remind contemporary feminists that women won their freedom by fighting for it, not by playing the victim in order to get special privileges. While politically conscious art can often feel superficial, Grandma's treatment of the issue of abortion is important. After all, this is a discussion that has been neglected of late, especially in the UK. Distracted by fantasy oppression in the form of rape culture, patriarchy and body-shaming, feminists today have ignored abortion law, which is a very real infringement on women's freedom. Yes, abortion is quasi-legal in the UK, but it is still not available on demand.
In fact, when abortion is publicly discussed, it is often framed as a traumatic procedure, with the woman depicted as the victim of a harrowing process. What this misses is that, while women do deal with having an abortion differently, many treat it with the same amount of emotion as having a tooth out – they see unwanted pregnancy as nothing more than a medical problem. This is reflected in Grandma. Sage books her appointment with no trauma or fuss, and both Elle and Sage's mother support her decision. In the film, the whole process is shown to be pretty straightforward – apart from the fact that it costs over half a grand. What's more, the pro-life side is represented as well, with a protester socking Elle in the eye for objecting to Sage being called a murderer.
Grandma is first and foremost a love story, but it is also a stirring reminder of what feminism sprang from – that is, the belief that women are just as capable, strong and independent as men. Now, feminism never had a monopoly on these ideas. While young women who don't identify as feminists today are often deemed ignorant of all that they owe to their feminist ancestors, the women's liberation movement was not simply a feminist movement; many people who fought those battles didn't consider themselves feminists at all. Nevertheless, Elle's forceful, old-fashioned brand of feminism still stands in stark contrast to the feminism of today.
Everything contemporary feminism stands for – weakness, dependence, special treatment – flies in the face of the fight for women's freedom. Women fought for the pill so that they could have sex with whoever they wanted; today, feminists teach women to be afraid of unregulated sexual contact. Women fought for our right to escape the confines of the home; today, feminists want to sanitise the public sphere in order to protect women. Women fought for abortion rights; today, feminists seem too preoccupied with nonsense to keep up the fight. Elle Reid has nothing in common with the feminists of today.
I didn't think it was possible to watch a feminist film without feeling like you were being hit over the head with a women's studies reading list, but Grandma is a brilliant, subtle film. Yes, it ticks all the boxes on the right-on filmgoers' list – the lead character is a lesbian, it has an almost all-female cast, there's a trans actor and references to Simone de Beauvoir – but it does not feel forced or dogmatic. The 'issues' don't always take centre stage – Elle's heartbreak over her lost love is explored in more depth than her granddaughter's predicament. And the scenes between the two leads and Sage's mother are more gripping and emotional than those in the abortion clinic. Grandma is one of those rare films that is situated in the contemporary political climate and yet is able to transcend its context.
Weitz has made the perfect indie film, balancing quirky characters with thoughtful monologues. But Grandma is ultimately a melancholy film; the three generations of women are disconnected. Indeed, Elle feels particularly out of step with the current climate of safe spaces, censorship and sexual regulation. Grandma, though a sentimental film, serves as a reminder of what women can be if they refuse to be portrayed as weak, helpless girls and step up to the plate as strong, independent women. Contemporary feminists, take note.
Ella Whelan is staff writer at spiked. Follow her on Twitter: @Ella_M_Whelan
Watch the trailer for Grandma:
To enquire about republishing spiked's content, a right to reply or to request a correction, please contact the managing editor, Viv Regan.