The crumbling of the French elite
Le Pen's Front National is building on the ruins of the political establishment.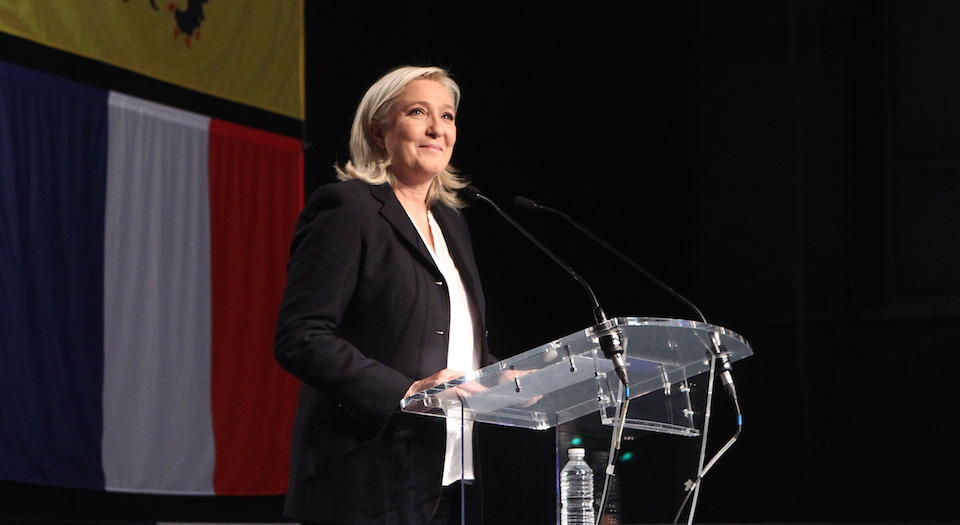 Front National's leader, Marine Le Pen, was in a triumphant mood following her party's poll victory in the first round of France's regional elections. The people have 'rejected the old political class'; its hitherto dominant representatives, president Francois Hollande's Socialist Party and former president Nicolas Sarkozy's Republican Party, are 'crumbling', she said.
She wasn't far wrong. FN took 28 per cent of the national vote, while the Republicans took 27 per cent and the Socialists took 23 per cent. If the deciding round of elections on Sunday goes FN's way, then it is likely to win four regional councils out of 13. To put that into perspective, FN has never won a single regional council before. Predictably, there is increasingly desperate talk of possible deals being struck ahead of Sunday's election between Socialist and Republican candidates so as to unite the 'old political class' vote – this has happened before, most famously in the second round of the 2002 presidential elections, when Socialist voters rallied behind Republican candidate Jacques Chirac to see off the challenge of Marine's father Jean-Marie. But such political games are no solution to the traditional parties' travails. While tactical votes might clean up a bit of the mould, they won't reverse the French establishment's deep-seated political decay.
Indeed, it's the long-term political decomposition of the French political class, and its turning away from the electorate, that has enriched the soil in which FN has now taken root. In common with many Western democracies, the French political class now appears aloof, distant, disconnected. The Republican and Socialist parties have long since ceased to speak for large swathes of French society. Instead, they speak the language of the elite, of technocracy, of economic and social management. They don't seek support, or increasingly legitimacy, from the populace; rather, they seek refuge in the European Union.
It doesn't help their cause that the French economy has shifted from stagnant to struggling, with France's unemployment rate now, for the first time, above the Eurozone average. But economic problems have merely exacerbated the existing social split between France's governing class and the governed. And it's this split that has been the source of FN's rise – it is listening to those long ignored by the French political elite. Not for nothing has Le Pen herself set out to win the northern region of Nord-Pas-de-Calais-Picardie, an area, predominantly composed of blue-collar workers, small farmers and low-level employees, which is surviving rather than thriving. As Le Pen puts it, this is the 'France of the Forgotten'.
Le Pen, it seems, is successfully channeling the sentiments of the forgotten. While Hollande and Sarkozy, like their governing counterparts across the West, seem incapable of asserting, let alone defending, the founding values of their nation, FN, by contrast, appears like a beacon of political principle. There is no jargonese, no pulled punches. Le Pen talks of 'nation', of 'sovereignty', of making France proud of 'its founding values' – as well as talking of 'authentic Frenchness'. Where, after the terrorist attacks on Paris this year, Sarkozy or Hollande appeared weak, appeasing and fearful of the mob-like response of the demos, Le Pen appeared strong, and willing to assert a French national identity, willing to say what France stands for. As one Socialist-turned-FN supporter told a reporter, 'Marine Le Pen is the only one defending the Republic today'.
It is true that FN is only able to pose as the defender of the Republic, invoking the grand Enlightenment principles that lie at its foundation, by wilfully misinterpreting the crisis of Western ideals. So, what is an internal hollowing out of ruling ideas, an internal collapse of faith in reason and autonomy, not to mention liberty, fraternity and equality, is presented by Le Pen and Co as the fault of an external agent, in this case Islam. But, still, besides politicians mincing their words so as not to spark off the supposed Islamophobia in society's midst, FN really does appear to be saying what France is, what it stands for. And it does so in the name of the French people, not in fear of them. In the words of Marine's niece and rising star Marion Maréchal-Le Pen, 'We must defend our identity, our chateaux and our cathedrals. Racine and Molière. Islam continues to advance, constantly expanding, and all we do is retreat.' This is identity politics, but identity politics for the forgotten.
The political and media elite backlash to FN's electoral success has been predictably cliché ridden. Mainstream French broadsheets talked darkly of the 'Front National at the gates'. Liberal commentators have invoked the spectre of fascism, which they believe FN is concealing beneath the clever PR-cosmetics of Marine Le Pen's leadership. Elsewhere, EU leaders were quick to moan, with Italian prime minister Matteo Renzi warning that this marked a further advance in right-wing populism, and Sigmar Gabriel, the German vice-chancellor, calling FN's success a 'wake-up call for all democrats in Europe'.
But those moaning about FN's rise don't seem to get it. It is their own hollow politics, their anti-demos prejudices, their preference for the rules and regulations of EU governance, that paved the FN's way to the brink of an electoral breakthrough. Having ignored vast swathes of the electorate, having governed in spite of the people rather than for them, the political class is now reaping the growing whirlwind of discontent. Those who have long been denied a voice have found one in FN.
What's more, France is far from unique. Yes, FN has its own specific history, and its own particular roots in French society, but across Europe (and North America, too), we're seeing the rise of a general anti-political-establishment force, a populism that entwines the leftish impulses of Podemos in Spain with the rightish impulses of the Dutch Freedom Party. Which just goes to show that this isn't about left or right, despite the hand-wrung attacks on 'right-wing populism'. No, it's about something rooted in the political psyche: a desire to have a voice, a desire to exert at least a degree of control over one's life. FN may well be a party of the far-right, but its broader, popular appeal goes much, much deeper.
Tim Black is books and essays editor at spiked.
Picture by: Michel Spingler / PA Images.
To enquire about republishing spiked's content, a right to reply or to request a correction, please contact the managing editor, Viv Regan.