'You ain't no Muslim, bruv' is not enough
The official response to the Leytonstone attack shows just how divided we are.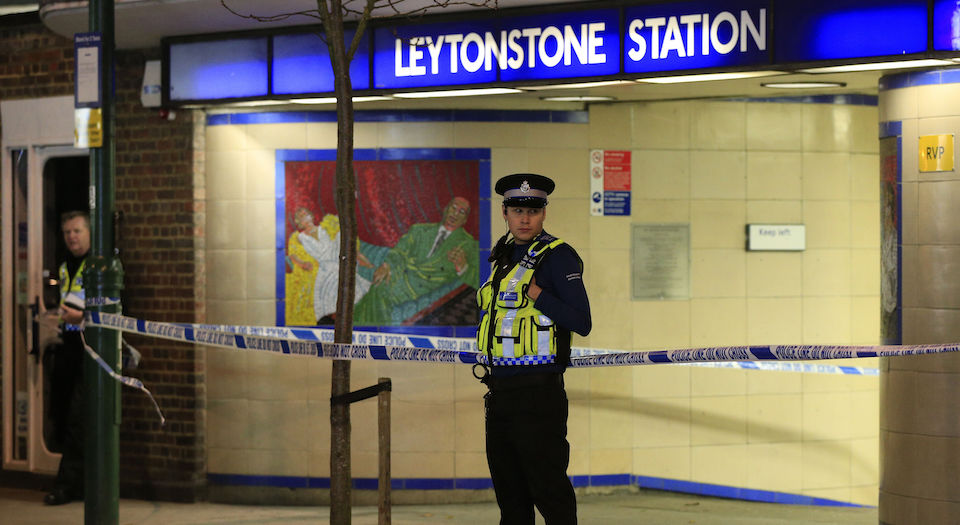 There was something so achingly, defiantly London about the response to the knife attack at Leytonstone Tube station on Saturday night.
After wannabe jihadi Muhaydin Mire beat a commuter to the ground and slashed at him with a hobby knife, he was set upon by lift engineer David Pethers who, along with 'another fella', started landing punches and hitting Mire with a shopping bag. Even after Pethers was slashed at, he ran back for another go. Then, as Mire was being carted away by police, one onlooker shouted 'You ain't no Muslim, bruv'.
Those words, quickly refashioned as a hashtag, set the Twittersphere alight – sparking over 100,000 tweets of support and solidarity. And with good reason. Not because it was the theological reassurance we all needed, but because it was cocky and resilient. It reflected the brash, assertive, slang-filled verve that anyone who's ever rode a bus in this town will know and love; and it was the sort of stuff-you response that we all feel compelled to summon in the face of Islamist chancers, but so often fail to.
For all the tweets about the 'true Islam', Twitter was filled with people's pride about just being Londoners: 'Just one reason to love London', tweeted one; 'The most (East) London response to the horrific #Leytonstone attack', remarked another. Granted, the Twitterlove all-but eclipsed the praise for Pethers, who actually took action as other commuters stood filming the attack on their smartphones. But the sentiment was still a positive one. London was refusing – albeit just on social media – to be cowed.
Inevitably, it wasn't long before the politicians got a hold of it – and rode it till the wheels fell off. And that's when it all began to look quite different. Prime minister David Cameron praised the hashtag's as-yet-unknown author in a speech in Staffordshire: 'Some of us have dedicated speeches and media appearances and soundbites and everything to this subject, but "you ain't no Muslim, bruv" said it all much better than I could have done. Thank you, because that will be applauded around the country.'
Cameron's praise was met with much sniping on Twitter. But the real issue was not the indignity of hearing 'bruv' recited in Received Pronunciation. Or the whiff of condescension. Or the sheer political opportunism. It was that it felt like he meant it. This was the most powerful man in the country riding on the coattails of a hashtag, admitting that five words had stirred the people in a way he never could. And, most crucially, he was saying that a hashtag had talked about Islam in a way he feels incapable of doing.
Cameron's deference not only speaks to his aloof inability to make his own PR-primed soundbites land with the public, but also to the interminable idea that the solution to homegrown Islamist terrorism is to sharpen up moderate Islam's branding. Only by getting enough Muslims to condemn theocracy and violence, to insist that 'Islam is a religion of peace', goes the reasoning, can you win over young, would-be radicals. Cameron's not the only one who thinks this.
From George W Bush to Tony Abbott to Francois Hollande, world leaders, in the wake of Islamist atrocities on their doorstep, have routinely appealed to the peaceful teachings of the Prophet. For much of his premiership, Tony Blair seemed to pose as an amateur Islamic scholar. 'The doctrine and teachings of Islam are those of peace and harmony. I read the Koran – the God of the Koran is merciful and forgiving. It is a whole teaching dedicated to building peace in the world', he said, in the wake of 9/11.
Cameron has, of late, tried to strike a tougher stance on the issue – saying, in the wake of the Paris attacks last month, that it is 'not good enough to say simply that Islam is a religion of peace'. Yet, as well as proving, once again, that he's as slippery as a Tube platform after inclement weather, his deference to the Leytonstone hashtag, and the Londoner who uttered it, shows just how confused and feeble the elite's response to homegrown terror really is.
This is not to say that what we really need is to get tough on Islam. Yes, jihadists consider themselves Muslims, and making theological distinctions as to why they're not gets you nowhere. But, whether it's committed in the name of Muhammad, Jesus or Richard Dawkins, blame for barbaric violence still lies solely with those who commit it. And the fact that some homegrown terrorists have snapped up Islam for Dummies on their way to Syria shows that what drives young men to jihad is something far closer to home.
Instead, Cameron's cloying embrace of #YouAintNoMuslimBruv speaks to the withering of the West's confidence in itself. Rather than arguing why, according to the liberal, democratic principles we are all supposed to live by, Islamist atrocities should be condemned, politicians turn to the authority of Koran or the 'community leader'. This is the heritage of the multicultural project – the divisive idea that universal values are discriminatory or 'othering', and that the diverse masses can only be reasoned with, or related to, on 'their level', by means of their scriptures, their beliefs, and through their self-appointed representatives.
This official relativism is not only feeble – it's dangerous. It plays into the sense of tribalism, difference and grievance that the Islamist narrative so deftly taps into, and it undermines the universalism that could draw us all together. It poses the values of freedom, tolerance and democracy not as universal, human principles, but as values among values. It turns the Western, Enlightenment project into little more than a promise among diverse and irreconcilable communities not to kill or be nasty to each other.
The problem with homegrown jihadis is not that they're too Islamic, or not Islamic enough. It's that they've detached themselves from the values we should all share. And, for all the solidarity expressed under that hashtag, being a 'real Muslim', or even just a Londoner, is nowhere near enough to bring us all together.
Tom Slater is deputy editor at spiked. Follow him on Twitter: @Tom_Slater_
Picture by: Jonathan Brady / PA Images.
To enquire about republishing spiked's content, a right to reply or to request a correction, please contact the managing editor, Viv Regan.