Obama's 'biggest fear'? The American people
From guns to speech, terrorism has become an excuse to limit liberty.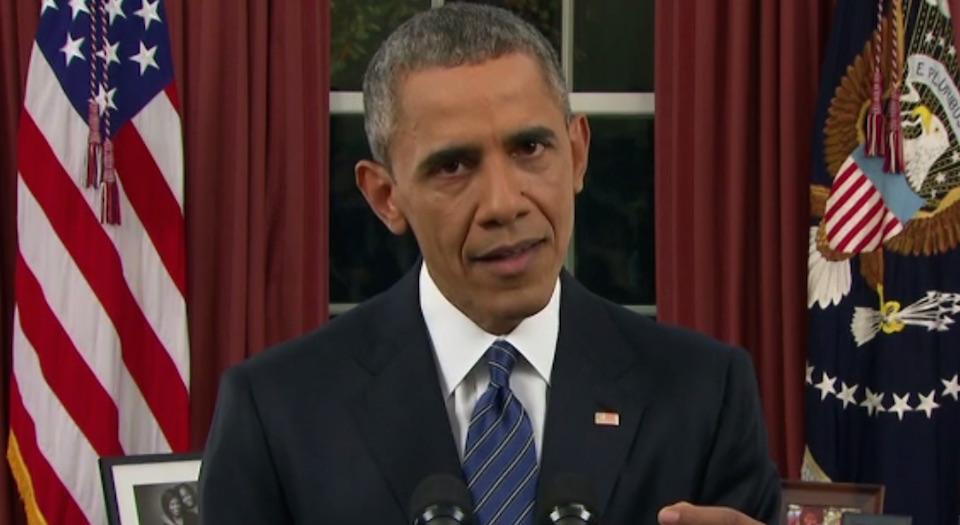 In the eyes of many, President Obama has continually underestimated the Islamic State (ISIS). He dismissed the group as the 'JV [junior varsity] team' not long before it went on to establish control over large parts of the Middle East. Just hours before the attacks in Paris, Obama declared ISIS 'contained'. As Americans were celebrating Thanksgiving 10 days ago, Obama told them not to worry about Paris-style attacks coming to the US, as there was 'no specific and credible intelligence indicating a plot on the homeland'. And yet, last week an ISIS-inspired husband-and-wife team shot and killed 14 people during an employee holiday party at a social-services centre for the disabled in San Bernardino, California.
Obama has also not displayed much emotion when discussing ISIS, which has added to the impression of complacency. Shortly after the Paris attacks, he gave a press conference at the G20 summit in Turkey. At a time when people across the globe were expressing anger and sadness, Obama was monotone and listless, referring to the attacks as a 'setback'. His response was nothing like that of French president Francois Hollande, who vowed France would be 'merciless towards the barbarians'.
It is perhaps not surprising, then, that most Americans do not think highly of Obama's attempts to deal with Islamist terrorism. According to a CNN/ORC poll, 64 per cent disapprove of Obama's handling of ISIS. And that poll was taken before the San Bernardino massacre.
Against this backdrop, and seeking to reassure the public that he is serious about the terrorist threat, Obama decided to give a nationally televised speech from the White House last night. In the event, he did not announce a new strategy, or much else new in how the US would oppose ISIS. With regard to the military arena in the Middle East, he presented the same approach – airstrikes and special operations, along with alliances with other nations – that his administration has pursued since last year. It was more of a reminder of the efforts to date, and a call to stay the course.
Nonetheless, the speech was revealing, especially when it came to the domestic front. Here, Obama showed that, when it comes to fighting terrorism, he views the mass of American people as a far more immediate problem.
In response to San Bernardino, Obama injected his longstanding calls for greater regulation of guns into the debate on terrorism. Some thought his initial pronouncement, which was to blame the California murders on the lack of 'commonsense gun-safety laws', was due to a rushed conclusion that this was a Newtown-style mass shooting by a deranged individual, rather than an act of terrorism. But Obama's inclusion of gun-control measures in his Oval Office speech indicated that he was not backing off. Specifically, Obama called on Congress to prevent people suspected of links to terrorism (those on the 'no-fly' list) from buying weapons, and to ban so-called assault weapons.
Obama is certainly not alone: many other Democrats also see San Bernardino as an opportunity to raise the gun-control issue. The New York Times took the rare (not since 1920) step of putting an editorial on its front page, with a plea to outlaw certain weapons and ammunition.
But no matter what the president, the New York Times and others say, placing limits on gun rights (enshrined in the US Constitution's Second Amendment) is not a serious response to the threat of terrorism. None of the proposed gun controls would have stopped the San Bernardino murderers, Syed Farook and Tashfeen Malik. The pair were not on any terrorist-suspect or no-fly lists. California has among the strictest gun laws in the US, but the guns used in the attack were purchased legally (following a background check). The other weapons the killers stockpiled, such as pipe bombs and explosives, are already illegal.
Of course, very little of this matters to so-called liberals. Gun-control advocates simply know they're right, and don't feel the need to present evidence-based arguments. Instead, they raise the issue following deadly incidents, hoping emotion will win the day. But facts are stubborn. While the New York Times bemoans a 'gun epidemic', it conveniently overlooks the fact that gun violence has been cut in half in the past 25 years, at the same time as gun sales have increased dramatically. According to the FBI, all types of rifles were used to commit 248 murders in 2014 – accounting for just two per cent of the total murders that year. And yet Obama and the New York Times want to ban only a subset of those rifles.
Raising the gun-control issue in response to San Bernardino ignores the motivations and circumstances behind that horrible slaughter, and relativises and diminishes the significance of what was a terrorist act. Here's how the BBC's James Cook described the shootings: 'Just another day in the United States of America, another day of gunfire, panic and fear.' So, no outrage or sorrow like after Paris; instead, to cynics like Cook, it's just gun-crazy Americans doing what they do.
Obama and others' push for gun controls is a distraction from getting to grips with the real issue of Islamist terrorism – including, importantly, how to address homegrown terrorists like Farook, who was born in Illinois and had a well-paid job. Only those living in their own bubble could think gun control is central to dealing with such cases. And rather than deal with the underlying causes of violence, the proposed gun-grab displays an instinctual desire, when faced with a still-limited terror threat, to expand state control and place limits on the mass of law-abiding people's rights and liberties (in this case, to own guns).
In the other noteworthy section of his speech dealing with the homefront, Obama warned Americans not to be bigoted or violent towards Muslims in the wake of the San Bernardino attack. 'If we're to succeed in defeating terrorism, we must enlist Muslim communities as some of our strongest allies, rather than push them away through suspicion and hate', he said.
In giving a brief lecture on the dangers of an anti-Muslim backlash, Obama was pursuing what has become a typical accusation from liberals: that rampant Islamophobia takes off following terrorist attacks. True to form, the New York Times reported that, after San Bernardino, American Muslims 'fear anew for their lives', as they face 'a wave of death threats, assaults and vandalism'.
Of course, any such attacks are terrible and should be denounced. But, when you look more closely, the threats are often anonymous and the attacks unconfirmed, reported by self-interested Muslim groups. Moreover, even if we accepted all of the claims of discrimination as legit, they hardly add up to a 'wave', and certainly do not rise to the level where they can be equated with the terrorist attacks themselves. By all means, we should not blame all Muslims for the acts of a tiny, violent minority, but there is no evidence that most Americans do. And such appeals would have more credibility if they did not emanate from the same people who think all whites in the South are to blame for the killings in Charleston, and all pro-lifers are to blame for the shootings at Planned Parenthood.
But in the eyes of the Obama administration, Islamophobia is just as bad as terrorism, and as much of a priority when it comes to taking action. One day after the events in San Bernardino, the attorney general, Loretta Lynch, said the 'incredibly disturbing rise of anti-Muslim rhetoric' is her 'greatest fear', and that the Justice Department was prepared to take 'aggressive action' against such rhetoric. Oddly, actual violence like that of Paris or San Bernardino did not make Lynch's list of 'greatest fears', and she is more than ready to curb people's free-speech rights in order to clamp down on anti-Muslim views.
The common denominator in both calls to control guns and to fight an imaginary anti-Muslim backlash is a deep distrust of the American people. Instead of focusing on the small number of terrorists, the mass of Americans are viewed as the problem, and must be restrained. Gun controls express a fear of ordinary folk having guns; Islamophobia theory says the real problem is the bigoted masses. And, in both cases, Obama and others pushing these claims believe that it is quite all right to restrict ordinary Americans' rights – whether to own guns or to express their opinions.
Obama concluded his speech by saying that the terrorists will be defeated: 'Let's not forget that freedom is more powerful than fear. That we have always met challenges, whether war or depression, natural disasters or terrorist attacks, by coming together around our common ideals as one nation and one people. So long as we stay true to that tradition, I have no doubt that America will prevail.' It is a fine sentiment. But even then, Obama did not spell out what was at stake, or exactly what those ideals or values are.
He avoided acknowledging that ISIS is one violent enemy in what is a broader struggle confronting us: a fight for the Enlightenment and freedom. Victory will require winning the battle of ideas in the West, not just a battle of armies in the Middle East. And in that battle of ideas, the case for Enlightenment values is undermined if people's rights and liberties — to speak freely and to bear arms, among others — are circumscribed, as those are the very values we should be upholding when we claim our civilisation is superior to the Islamic State.
Sean Collins is a writer based in New York. Visit his blog, The American Situation.
To enquire about republishing spiked's content, a right to reply or to request a correction, please contact the managing editor, Viv Regan.