Bombing Raqqa: the politics of personality by other means
The shallowness of the Commons debate on Syria was alarming.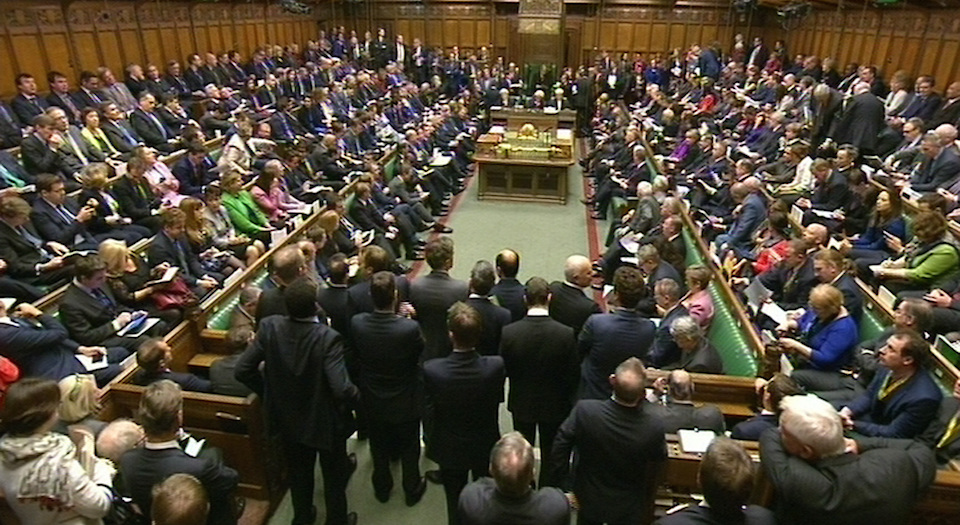 Any glutton for verbal punishment who sat through yesterday's 10-hour debate about Syria in the House of Commons will have learnt precious little about Syria. Or about terrorism, apart from what we all already know: that the Islamic State is vile and frequently kills gays, apostates and other 'sinners'.
But they may have learnt something about party politics in Britain today, about its disarray, its dearth of substance and coherence, and its creeping replacement by small personality sects or just individual careerists. For that is what yesterday's debate was fundamentally about, or at least what it ultimately revealed: that in the absence of ideological vision, self-interest becomes the motor of the vast majority of our leaders.
The extent to which the question of Syria, and of what might be done about IS, was bent to serve the needs of certain wings of the political parties, or just the ambitions of individuals, was extraordinary. The scene was set early on, by the hours devoted by Labour and SNP politicians to trying to extract an apology from David Cameron for having hinted that those who oppose the bombing of Syria are 'terrorist sympathisers'. His words were offensive, hurtful, revealing the Tory Party's nasty streak, droned his critics. That the very serious idea of launching airstrikes could be consumed by petty concerns about language-use confirmed that this debate was going to be all about them, these individuals, these cliques, not Syria, or IS, or global affairs.
The whole discussion was filtered through the fractious reality of 21st-century party politics, or post-party politics. In an earlier era, with clearer divides and parties glued together by political values and social constituencies, and when discussion, especially on global affairs, was anchored by the question of the national interest and how best to pursue it, we could expect a debate about something like this to be fuelled by facts, information, the question of local allies, considerations about consequences. In contrast, yesterday's debate was strikingly bereft of analysis or thoughtfulness, as demonstrated by the weird spats over Cameron's much-hyped 70,000 friendly Arab forces on the ground, which even Cameron eventually admitted might not actually number 70,000 and might not be all that friendly. Such a dearth of simple info is genuinely alarming in a discussion of war.
Instead of meat we got narcissism. Almost everyone talked as much about themselves as they did about Syria. As the Spectator's Freddy Gray put it, '[E]verybody had to say how they felt personally — as if personal feelings are more important than right or wrong'. Worse, when there was heat and tension it was more about Labour's internecine battles than it was about Syria's. If a war is being fought over Syria, it isn't between Britain and IS; it's between Jeremy Corbyn and his various doubters in his party. The hailing of Hilary Benn's speech as the greatest oration ever, which it wasn't, confirmed that Syria has been turned by Labourites and others into a weapon not even in political spats here at home, but in the interminable personality shifts and clique-making of our hollowed-out parties.
This is how far the unravelling of party politics has gone: it doesn't only now mean that policymaking takes a long second place to point-scoring between internal party sects, or that the politics of ideas has been elbowed aside by bitching, backstabbing and other behaviours better suited to old royal courts than democratic chambers; it means that even foreign intervention, even war, can become infected with the post-ideological squabbling and one-upmanship that now defines our frayed, anchorless political sphere. Our politicians' career-protecting or sect-promoting PR stunts in relation to, say, how much to spend on the NHS or whether to hold a judicial inquiry into the press are bad enough; but to apply such flimsy, narcissistic concerns to war, over and above any concrete, seriously discussed idea of national or political interests, crosses the line from scandal to outrage.
British missiles are currently hitting Syria, not as an expression of a well-discussed moral or national outlook, but as a spin-off from the frenzied falling-apart of our parties and our politics. War is no longer 'the continuation of politics by other means'; it is the extension of the collapse of our politics into foreign lands. Even if you support the airstrikes on Raqqa, which spiked doesn't, because we think they are strategically moronic, you should be deeply concerned about what has just happened: missiles are being fired into a foreign country following virtually no serious debate but just a self-serving, mawkish, fact-lite game of thrones between politicians who don't know what they stand for but do know they want to protect their seats and their reputations.
Brendan O'Neill is editor of spiked.
To enquire about republishing spiked's content, a right to reply or to request a correction, please contact the managing editor, Viv Regan.