The Mizzou protesters are muzzling us
A student at Missouri reports on the stifling campus conformism.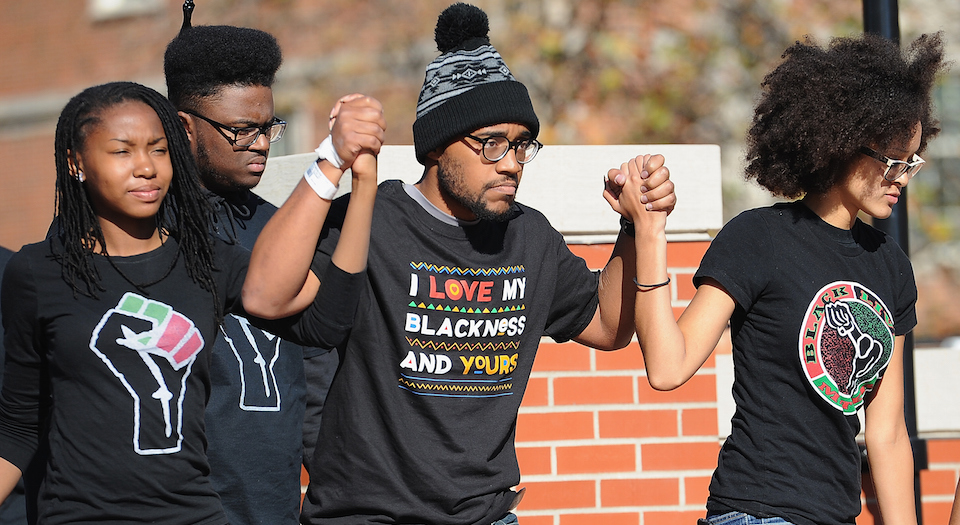 'Privileged', 'racist' and 'bigot' – these are the words protesters at the University of Missouri are using to discredit their critics. Apparently only those who agree with the protests – which were sparked over allegations that administrators were not doing enough to combat racism on campus – are worthy of the 'love' and 'support' that they claim is central to their movement.
The protesters believe they have the moral highground; they are attempting to silence anyone they disagree with – and it seems to be working. There is now a climate of fear at the University of Missouri, as students who disagree with the protesters, their demands or the methods they use are afraid to speak out lest they be labelled 'racist' and reported to the authorities. Critics are being told that it is better for them to bite their tongues than to have their say, since anything less than total agreement is presented as the equivalent of spouting racial slurs. When students do decide to share their views, they are met with personal attacks and social-media harassment. Some have even been told that they ought to kill themselves – which is more than a mere 'microaggression'.
Perhaps the most disappointing thing about the recent protests has been the administration's response. Aside from bending over backwards to have a dialogue with the protesters (actions deemed 'too little, too late'), the administration has taken steps to quell free speech on campus. The day after videos surfaced of protesters blocking student journalists, and a professor calling for 'muscle' to remove a student photographer from the 'media-free Safe Space', the fears of suppression were fully realised. Policies have been enacted that literally mandate speech-policing. The Missouri University Police Department sent out a chilling email earlier this month, urging students who witness hurtful speech to report such incidents to the police.
The chilling effect this policy has had on campus is real, and has heavily skewed the dialogue in favour of the protests. This is because the students aligning themselves with the protesters are most likely to claim to be offended by the speech of others. Unfortunately, this detracts from the legitimate claims some of the protesters have made, and eclipses them with exaggerated claims about 'microaggressions' and 'marginalising' speech.
Students are no longer just afraid of being called 'racist', but of being expelled, simply for disagreeing with the narrative that the protesters are trying to create. At least one student has been called before a student-conduct hearing for criticising aspects of the protests, including Jonathan Butler's hunger strike. Students who refuse to accept the protesters' narrative are also facing re-education in the form of impending 'diversity training' (Orwellian doublespeak at its finest). In coming years, students will be forced to pay for mandatory classes designed to increase a students' so-called 'cultural competency'.
Fortunately, those of us who do disagree will not be deterred from speaking out. Students and faculty at the University of Missouri, and across the nation, are beginning to understand the consequences of establishing Safe Spaces on campus, and are starting to wake up to the hypocrisy of these anti-free-speech movements. The protesters have proven that they do not want diversity. As Harvard professor Alan Dershowitz told USA Radio News, 'They don't want diversity… They don't want different points of view expressed on campus. They only want to hear their point of view.'
The hypocrisy of the protesters, their calls for ethnic diversity at the expense of ideological diversity, should incense those students who are being told to stay silent. It is important that those who oppose the Missouri protests realise that a right that goes unexercised is a right forfeited, and that it is their duty to speak up not only for themselves, but for all students' right to express themselves without fear of punishment.
The protesters themselves must realise that diversity does not only refer to ethnicity, and that diversity of opinion and thought are both the benefit and the burden of living in a free society. And they must be shown that the best way to combat what they perceive to be 'bad speech' is with more speech, ensuring that both sides of the debate are subjected to scrutiny.
Racism on campus can only be addressed through respectful dialogue by students and faculty. Attempting to silence those you disagree with will only create more anger and resentment.
Ian Paris is a Young Voices advocate, president of the University of Missouri chapter of Young Americans for Liberty, and a student at the University of Missouri.
To enquire about republishing spiked's content, a right to reply or to request a correction, please contact the managing editor, Viv Regan.