The DWP doesn't kill
Using suicide to argue against welfare cuts is sick and wrong.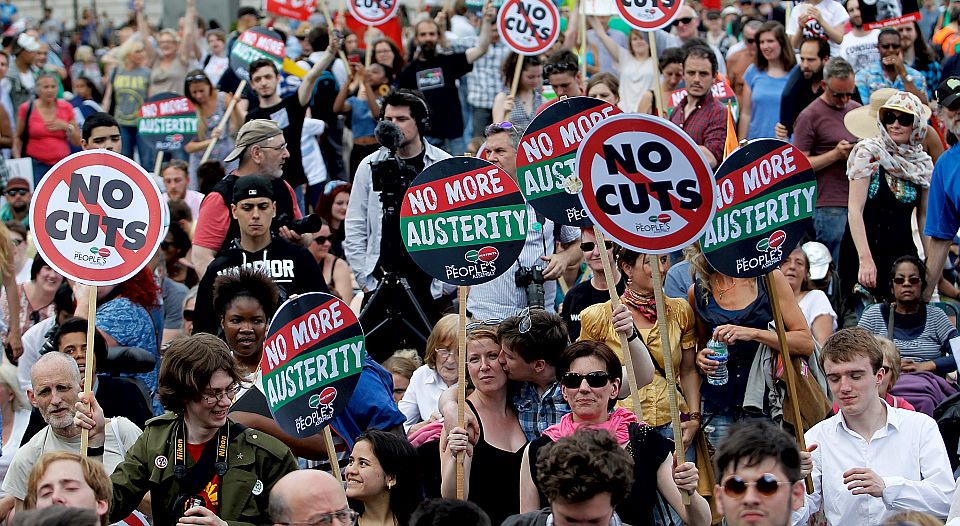 Our relationship to mental illness has changed. Where depression, anxiety and suicide used to be taboo, there are now concerted efforts to discuss and treat mental-health problems openly and properly. But while attempts to 'normalise' mental-health issues and frame specific mental-health conditions as part of an individual's identity are now commonplace, our attitudes to mental health haven't become any healthier.
Last week, a young man studying at the University of York committed suicide. On the same day, the university decided to cancel International Men's Day, an event aimed at raising awareness of men's issues, including the high rate of male suicide. As Joanna Williams pointed out on spiked last week, the young man's death was used as political fodder by men's rights campaigners who criticised the university's decision. But this was only one example of political campaigners exploiting suicide for their own political ends.
The issue of suicide is often raised in the UK in discussions about government spending cuts. In August, the Department for Work and Pensions (DWP) released statistics showing that 2,380 people died between 2011 and 2014 following the cancellation of their employment and support allowance (ESA). A month later, Michael O'Sullivan, a 60-year-old man with agoraphobia and depression, took his own life after being declared 'fit to work' by a doctor working for Atos, the body which assesses individuals on behalf of the DWP. Following the outrage over the statistics released by the DWP, O'Sullivan was held up as a victim of government austerity. Anti-austerity and disabled-rights campaigners were spurred on by the coroner of the inquest into O'Sullivan's death, Mary Hassell, who ruled that he killed himself as a direct result of being found fit to work.
Suicide is extremely complicated and subjective, but one thing we can be sure of is that it is rarely a direct result of one problem. In February, after the Daily Telegraph was criticised over its reporting of two suicides at News UK, suicide charity The Samaritans warned:
'Over-simplification of the causes or perceived "triggers" for a suicide can be misleading and is unlikely to reflect accurately the complexity of suicide. For example, avoid the suggestion that a single incident, such as loss of a job, relationship breakdown or bereavement, was the cause.'
The fact that O'Sullivan had previously attempted to commit suicide and that he had suffered from severe depression for over 14 years suggests there were more longstanding issues at play. As for those that argue that the cancellation of his ESA gave him no option but to end his life, it is also worth noting that the removal of ESA is not equivalent to being booted out on to the street. Most benefit applicants are transferred to job-seekers' allowance (JSA) if they are declared 'fit to work', meaning that their welfare is decreased rather than cut off completely. But such details are ignored by welfare campaigners. 'Death has become a part of Britain's benefits system. That is not hyperbole but the reality that the stress caused by austerity has led us to', wrote Frances Ryan after the DWP statistics came out.
There is something sickening about using suicide as a means to win a political argument. In the run up to the 2015 General Election, the Daily Mirror published a collage of photos of people who had died after their benefits were removed, telling its readers, 'When you vote on Thursday, do so remembering the names of austerity's dead'. Following the election, the anti-austerity march against the new Conservative government was littered with placards declaring the Tories murderers.
Though suicide is an extremely sensitive issue, it is important to remember that those who commit suicide do so of their own will. It does not just happen to people, even if, as in most cases, the individual is not necessarily thinking rationally. Therefore, we must argue that those who decide to commit suicide are making a choice – even if they are struggling with mental-health issues or joblessness. The alternative, proposed by mental-health and anti-austerity campaigners, is to position them as devoid of agency, dependent on the DWP and unable to cope without the interference of the state.
Admittedly, being on JSA or ESA is no easy ride. What's more, the extremely depressing process of applying for benefits often cultivates a sense of helplessness. When I lived in Brighton, I worked in a brilliant volunteer-run centre that gave free legal aid and advice to people who had been sanctioned. Working with people on benefits, especially those who were claiming ESA, showed me how the process of claiming benefits took over people's lives. I was working with middle-aged men who, through having to convince Atos inspectors they were were too depressed to work, had convinced themselves that they would never be capable of living a decent life.
But instead of challenging and changing a system that drains people's sense of self, the welfare state is hailed as the saviour of working-class people by many lefties and Labour supporters. Why should anyone be satisfied with settling for life on the Job Centre couch? According to those who call the DWP murderers, working-class men like Michael O'Sullivan are so devoid of individual autonomy, and so lacking in ambition, they'll commit suicide at the drop of the DWP's hat.
Suicide is not a political issue, and those who commit suicide should not be made into martyrs. Suicide is tragic, complicated and extremely personal, but, ultimately, it is an individual's decision. Depicting it as a natural response to hardship only devalues human life. There are many things wrong with our welfare system and the power that the DWP holds over many individuals' lives. But you shouldn't glorify the loss of a life in order to make a political point.
Ella Whelan is staff writer at spiked. Follow her on Twitter: @Ella_M_Whelan
To enquire about republishing spiked's content, a right to reply or to request a correction, please contact the managing editor, Viv Regan.