Brussels: a city terrorising itself
The shutdown in Belgium is doing the jihadists' work for them.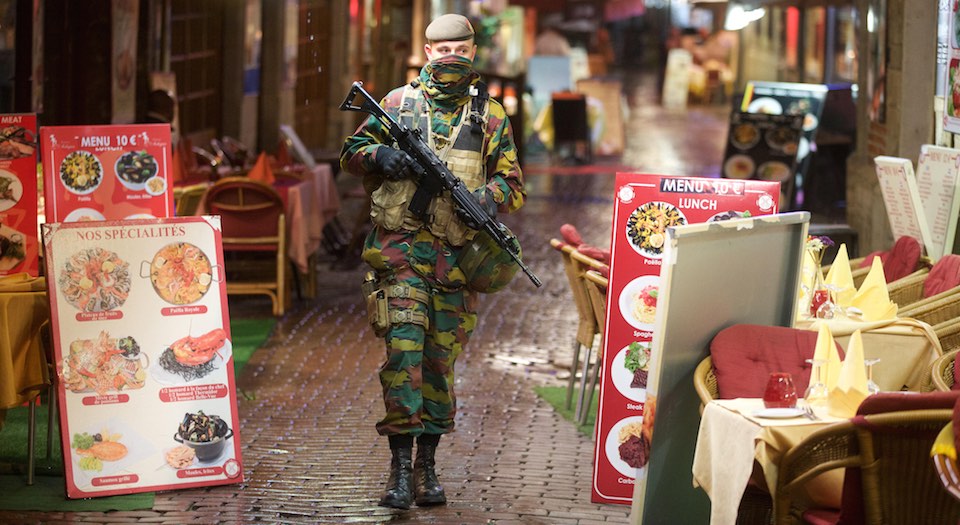 Today in Brussels, schools and metro stations have reopened after four days of a city-wide shutdown. In the wake of the Paris attacks, in which three of the eight jihadists had strong links to Brussels, the Belgian government enforced the most stringent security measures the city has seen in generations. Soldiers have been deployed across the city, cordoning off main squares and tourist hotspots, restaurants and bars have been closed, and, since Sunday, 24 homes have been raided, leading to the arrest of 21 people on suspicion of terrorist activities.
Salah Abdeslam, the most wanted man in the world and one of two suspected Paris attackers still at large, was one of the primary targets, while Belgian prime minister Charles Michel also talked up the possibility of a Paris-style attack in Brussels itself. As Abdeslam still eludes the authorities, and the details of this 'imminent' attack remain unclear, it looks as though the air of paranoia and suspicion won't lift anytime soon. Brussels remains on a 'level four' threat level – the highest on the Belgian scale – and, though some services have reopened, the city will remain in lockdown for at least another week. Meanwhile, Michel hopes to pass new, draconian powers to raid homes, dispel 'hate preachers' and electronically tag would-be jihadists.
For some, this was a long time coming. Belgium's reputation as a terrorist hotbed long predates the Paris attacks, and its government has come under increasing scrutiny for failing to root-out jihadist networks in Brussels, in particular. Per capita, Belgian citizens make up the highest proportion of Europeans who have gone off to fight in Syria and Iraq. And the run-down Brussels suburb of Molenbeek – which Abdesalam, his brother Brahim and suspected Paris ringleader Abdelhamid Abaaoud all hailed from – has been linked to most of the defining European terror attacks in recent memory: Cherif and Said Kouachi, the Charlie Hebdo attackers, had links with Molenbeek extremists; Amedy Coulibaly, who attacked a kosher supermarket in Paris a few days after the Charlie Hebdo massacre, bought his guns from an arms dealer there; and Ayoub el-Khazani, the jihadist who tried to shoot up the Thalys high-speed train in August, did the same.
The crackdown is being presented by the government as a corrective to the failure of Belgium's notoriously understaffed security services to keep citizens safe, and the corruption of Islamist-appeasing public officials in Brussels. It is an opportunity, in the words of interior minister Jan Jambon, to 'clean up Molenbeek' and all the bubbling jihadist fervour therein. But while the Belgian political elite may appear to have more cause than most to lash out in the wake of the Paris attacks, this response is deeply irrational.
The necessity of shutting down the entire city in order to carry out targeted raids is far from clear. And the details of the alleged 'imminent' attack are thin on the ground. Indeed, though the goings-on in Molenbeek are well-known, the fear being spread by the government has bemused citizens. As one Brussels shop assistant told the Guardian, 'We've never had this kind of terrorist threat before. It's very unexpected, almost surreal.' Meanwhile, hundreds of Belgians have responded to calls from police to stay inside and keep off Twitter – so that they don't inadvertently give away information on police operations – by posting pictures of cats dressed as jihadists or caped crusaders. Though some citizens are no doubt taking some comfort from the heightened security, few seem as terrorised as the Belgian government itself.
As Frank Furedi has argued, the unique potency of modern terrorism lies not in its military might, but the uncertainty and fear it provokes in politicians and state institutions. While terrorist groups have, throughout history, been a threat to the life and limb of individual citizens, they are now interpreted as an existential threat to Western civilisation itself. The fight against Islamist extremism, said UK prime minister David Cameron in July, is the 'struggle of our generation'. Yet this is a struggle that is inflamed by our political elite's sense of uncertainty. Suicide vests alone cannot destroy a nation, or a 'way of life'. The power of terrorism is always defined by the reaction of its targets. The willingness of governments – from Britain to Belgium – to clampdown and to fearmonger in the wake of bloody atrocities is what has given the Islamic State and its fanboys their power.
Worse still, homegrown extremism – the root of most major post-9/11 European terror attacks – feeds off the inability of Western leaders to articulate their values and convey a meaningful and inspiring vision of the future. That Cameron hopes to defend British values by insisting we be 'intolerant of intolerance', that Francois Hollande has thought nothing of spying on his subjects and smashing civil liberties, shows that European, Enlightenment principles have withered from within. It is this confusion that invites nihilists and chancers to have a pop – to bomb and shoot and scare us into disarray. And it is this confusion that alienates some Western youth, and sends them looking for meaning down some very dark alleys.
Belgium is in many ways a special case. It's a fractious and complicated state, divided by Flemish and French-speaking factionalism and blighted by a complex and atomised political structure, meaning it often fails to provide effective governance – let alone a sense of community, solidarity and mission. But the Belgian situation is only an amplification of the internal disarray that blights nations across Europe. While there has been much talk about the inability of the understaffed Belgian authorities to offer security to Belgian citizens, and the alienation fuelled by unemployment in Molenbeek and elsewhere, Belgium's problem with jihadism runs much deeper. It is the hollowed-out nature of societal life in Belgium that has led so many of its citizens to terrorise their own – and led the Belgian state to terrorise itself.
Tom Slater is deputy editor at spiked. Follow him on Twitter: @Tom_Slater_
Picture by: Nicolas Maeterlinck / Belga / PA Images.
To enquire about republishing spiked's content, a right to reply or to request a correction, please contact the managing editor, Viv Regan.