The University of Racial Indoctrination
The rise of the race therapy complex on campus.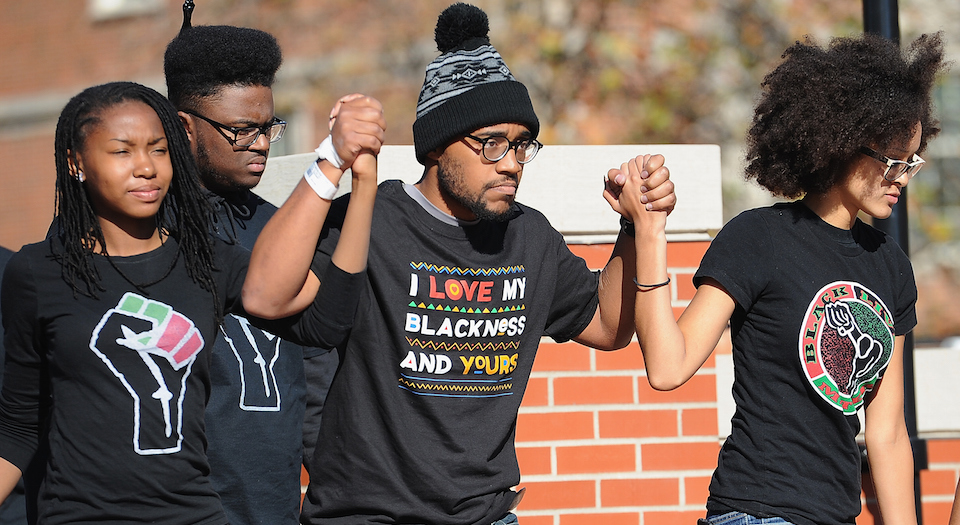 What do the students want? That was the question many asked as they watched American college students across the country go on protests, sit-ins and hunger-strikes over claims that administrators were not doing enough to combat racism on campus.
The movement took off last week when protests at the University of Missouri ('Mizzou') led to the resignation of its president, Tim Wolfe. Copycat protests then spread to many others, including Yale, Ithaca College, Claremont McKenna College and Amherst College. Reading through the lists of demands from these student groups, it is clear that they have much in common.
For a start, the student activists demand apologies, usually for inherited sins of the past. At Mizzou, Concerned Student 1950 hoped to orchestrate a Maoist-style shaming session. The group demanded the president present a 'handwritten' apology to be read aloud at a press conference, and plead guilty to his 'white male privilege'. In a self-parody of political correctness, Amherst Uprising called on the president and board of trustees chairman to apologise for an 'institutional legacy of white supremacy, colonialism, anti-black racism, anti-Latinx racism, anti-Native American racism, anti-Native / indigenous racism, anti-Asian racism, anti-Middle Eastern racism, heterosexism, cis-sexism, xenophobia, anti-Semitism, ableism, mental-health stigma, and classism'.
The students are also quick to demand 'Off with his head!', and with about as much reason as the Queen of Hearts. Shortly after Mizzou's Wolfe fell, the dean at Claremont, Mary Spellman, acceded to demands for her to resign. Her crime? A poorly worded email. The student group Next Yale is now demanding that Nicholas and Erika Christakis — professors and student advisers at one of Yale's colleges — lose their jobs. Erika had the temerity to send an email that effectively said that students don't need administrators telling them which Halloween costume to wear, and Nicholas the gall to agree with his wife and defend free expression.
But beyond extracting a confession from a college official before their execution, what exactly do these students want the universities to do? In a word, all want to expand what might be called the race therapy complex in higher education. This complex encompasses a variety of administrative bodies, student clubs, training and course curricula, all with the aim of propagating a particular view about race – one that sees the problem of racism, and its management, in therapeutic terms.
The demands of today's activists hit upon the key components of the race therapy complex, including:
• Appointing senior administrators in charge of diversity;
• Mandatory racial-awareness and sensitivity training for students and faculty;
• Required courses in ethnic studies;
• Increased funding for multicultural centres and 'social justice' clubs;
• Increased funding for mental-health counselling.
To a college president at risk from a mob-organised career guillotine, accepting these demands will be almost a no-brainer — especially since these measures would represent a continuation of the race policies that administrators themselves have promoted for the past two decades. As a tour of Mizzou's website highlights, the university has operated a panoply of race-related programmes for over a decade: the 'MU Equity Office', the 'Chancellor's Diversity Initiative', 11 diversity-related training and development programmes, the 'Show Me Respect' campaign, the 'One Mizzou' initiative, a guide to promoting an inclusive classroom, a 'Difficult Dialogues' theatre group, to name only some.
So when Mizzou's board last week introduced measures demanded by the protesters – including hiring a new diversity officer; requiring all incoming freshman to complete racial training; adding a new component on racial studies within the academic curriculum; and reviewing mental-health services – it was following down their own well-established trail.
A good question might be: why should we expect new diversity initiatives to bring about racial harmony on campus, if they haven't already? But it would be more accurate to understand today's battles over race as the product of the inherently divisive race therapy complex, and that doubling down on it, as the protesters now demand, will only exacerbate tensions.
The stated goals of the race therapy complex — which include raising 'racial awareness' and being more 'sensitive' about race — sound pretty innocuous, but they are actually problematic for overcoming racial divisions and realising civil rights for black Americans. As Elisabeth Lasch-Quinn diagnosed in her essential book, Race Experts, the demise of the civil-rights movement in the 1960s led to the rise of self-appointed social engineers wielding the new tools of racial etiquette, sensitivity training and new-age therapy. While influenced by the black-identity movement that had replaced Martin Luther King's universalism, the primary factor behind the creation of the diversity profession was the boom in psychotherapy, which swallowed the civil-rights movement, and many other social movements.
Despite surveys documenting a sea change in attitudes regarding race, these race experts refused to believe that the US had become more egalitarian. Convinced of the entrenched bigotry of Middle America, they sought to tackle racism in a new frontier: the mind. The race professionals shifted the focus of anti-racism to stereotypes, language and feelings, and constructed codes of conduct to police personal behaviour. In other words, they positioned race as an issue of therapy and etiquette, rather than justice or equality in employment, education and society-at-large. In commenting on events at Mizzou, the writer Jason Whitlock (who is black) put it this way: 'Liberal elites define racism as "code words" and "dog whistles" and the utterance of the n-word by white people. They reduce racism to a language. Martin Luther King Jr, Rosa Parks, Thurgood Marshall and our Greatest Generation defined racism as laws and policy.'
As the complaints of the student activists show (about everything from the revving of a car engine near protesters to the phrasing of emails), this outlook continues to situate racism in relatively minor, interpersonal incidents. The race therapists encourage hyper-sensitivity, expand into new areas where offence can be taken, and urge apparent victims to not hold back their emotions – all of which have been witnessed in the current protests. In doing so, they create new sources of anxiety and coarsen social interactions. Diversity engineers stoke the fires of division. As Lasch-Quinn wrote, they promote 'a world in perpetual recovery, a world of endless slights', in which 'racist crimes and social faux pas are one and the same'. That pretty much sums up students who have a meltdown over Halloween costumes.
The latest proposals to extend the reach of the race therapy complex on campus can only make relations among different groups worse. For a start, they will give more power to diversity officials, whose bureaucracy within the university is already something of a regime unto itself. Everyone at Yale knew that when its diversity office published its 'guidance' on Halloween costumes, it would have a chilling effect, given its capacity to ostracise and discipline students. And, as Erika and Nicholas Christakis learned, this office can count on a section of students to rise to its defence.
Diversity offices are essentially arms of the federal government on campus, backed by the authority of Title VI of the Civil Rights Act (which protects people from discrimination on the basis of race in programmes that receive federal funding, like most universities) and its enforcement agency, the Office of Civil Rights. Expect more appeals to the OCR, which has expanded its remit over time, to intervene. That's what Missouri Student Association vice-president Brenda Smith-Lezama seemed to be doing when she said, 'I am personally tired of hearing that the First Amendment rights protect students when they are creating a hostile and unsafe learning environment for myself and other students here' — the term 'hostile environment' being something that the OCR is meant to protect students from.
The new proposals will also corrupt the curriculum and inhibit the exchange of ideas. When student activists at Claremont complain that the Crime and Public Policy course 'does not offer readings with perspectives of people of colour,' and that the Civil War history course is 'extremely insensitive' and 'hurtful', they are arguing that all course content must meet with a censor's approval. It is a move that places limits on the exploration of knowledge.
Understanding the impact of race on society should be an area of academic inquiry and debate. But, as first-year students will learn from the 'race sensitivity' indoctrination, the race-therapy model will be one that students question at their own risk. This is how the race therapists supposedly 'win' the intellectual argument: by claiming that any other view is against the school's code of conduct.
As it is discussed in terms of encouraging greater 'awareness' and 'respect,' a newly enhanced diversity agenda may appear soft, but it increasingly reveals a hard authoritarian dimension. Thanks to the race-therapy professors and bureaucrats, students are taught that words in themselves cause real harm, create an 'unsafe space' and violate a moral code. No wonder that, to many students of this generation, calls to defend free speech sound formal and beside the point.
Moreover, today's student protesters seem quite happy to seek to clamp down on expressions of speech, and egg on the campus authorities to take action. Activists welcomed the Mizzou campus police department's email asking students to report 'cases of hateful and hurtful speech', so that they could direct them for criminal or disciplinary action. This gives the offence-taker the ability to get the police involved, and thus potentially criminalise speech.
At Amherst, protesters demanded that the president not tolerate the students who put up posters that read 'All Lives Matter' and 'Free Speech'. The president must 'alert them that Student Affairs may require them to go through the Disciplinary Process if a formal complaint is filed, and that they will be required to attend extensive training for racial and cultural competency'. Here, racial training is revealed for what it truly is: a form of re-education and punishment.
Giving new powers to the race therapy complex on campus must be opposed. Despite what they claim, these ideologues are encouraging, not overcoming, racial divisions. Their narrow, victim-based and therapeutic agenda is directly opposed to the optimistic humanism of the civil-rights movement. Accepting their terms would mean not being able to speak of the universalistic ideas of Martin Luther King, which would be a travesty.
Thankfully, some students are seeing through the protesters' attempts to seize moral authority via claims of victimhood. The editorial team at the Claremont Independent published a strong dissent: 'We are not racist for having different opinions. We are not immoral because we don't buy the flawed rhetoric of a spiteful movement. We are not evil because we don't want this movement to tear across our campuses completely unchecked.' Yes, now is the time to speak out against those who would divide us by race.
Sean Collins is a writer based in New York. Visit his blog, The American Situation.
Picture by: Michael B. Thomas / Stringer / Getty Images.
To enquire about republishing spiked's content, a right to reply or to request a correction, please contact the managing editor, Viv Regan.