Blind altruists shall not inherit the Earth
Teaching children to be discriminating is an important life lesson.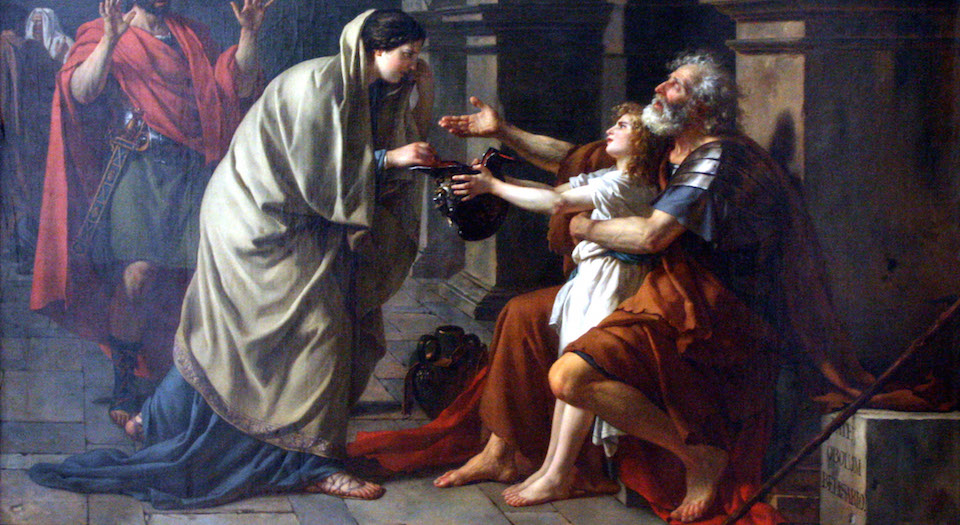 We atheists should welcome the report that reveals children raised by non-religious parents tend to be more altruistic than those hailing from a religious background. Christian and Muslim children, it seems, are more judgemental and inclined to share only with people they deem deserving. The report, said Keith Porteous Wood of the UK National Secular Society, was 'a welcome antidote to the presumption that religion is a prerequisite of morality'.
It's true that you don't need god to be moral, and that religion can legitimate immoral behaviour (the pious Tony Blair often rationalised his actions because they were 'the right thing to do'). But I'm not sure blind altruism is wise. It's not a good survival technique. If you share with anyone, how do you know your actions will be reciprocated? I only scratch your back in the hope or expectation that you will ultimately scratch mine.
In other words, blind altruism facilitates parasitism. A child who shares with a selfish, badly behaved peer in her class shouldn't be applauded for being 'altruistic'. She is being unwise. A child raised with such 'non-judgemental' thinking will make bad decisions as an adult. He will certainly be left out of pocket on a big Saturday night out, having bought more drinks for his companions than he got in return. This is why, if we are going to have a welfare state, we also need to talk about the 'deserving' and 'undeserving' poor.
Much of Christianity's and Islam's expansion and success owe to having adopted evolutionary survival techniques. Damnation and apostasy are employed to cajole and threaten non-believers, while the pro-natal exhortation to 'go forth and multiply' and associated stances against contraception, abortion, homosexuality and masturbation ensure that their members out-breed others. Being 'judgemental' is but another.
Successful tribes have a sense of 'in group', with whom you share customs and resources, and 'out group', with whom you don't. You only help people who are like you and behave like you. (That was the point of the tale of the Good Samaritan. The Jews hated the Samaritans, hence their surprise that one could act benevolently.) This is the main reason for Christianity's decline in the West: it has become feeble, 'non-judgemental' and too compassionate towards non-believers.
Blind altruists shall not inherit the Earth.
---
Bring on the robots
A persistent theme among the doomsayers of today is that technology will eventually render humanity redundant. The robots, they say, are gradually taking all our jobs, and will ultimately enslave us. Only a tiny minority of humans – those who own the technology – will remain in charge, as a kind of biological aristocracy. But then even they will perish.
There's one glaring error in this scenario. If humanity has never managed to answer the question 'what is consciousness?', how can we build a machine that replicates the human mind? You can't make a replica without an original. Machines can do menial work, but they will never replace creative professionals because we don't know how to replicate their work either. Could you design a computer that could write a new Shakespeare play or paint afresh the Mona Lisa?
There is reason to believe that this digital revolution is increasing inequality, in that it's those with lower wages who are currently losing their jobs. Ultimately, however, the doomsayers might have got it the wrong way round. The Industrial Revolution didn't lead to mass unemployment, but to more leisure time. For instance, we run and and exercise for recreation, something unthinkable to our forefathers.
Machines might not become our masters, but rather our slaves. This is how Ancient Athens achieved its greatness. It had a slave class to do all the menial work, facilitating a leisured aristocracy for its citizens. Today's technology could eventually allow us to do likewise. Washing machines, microwave ovens and online shopping have already begun this process. In the end, there may be no division between rich and poor, and no class division among living, breathing people, because the new 'working class' won't even be human beings.
---
Bow down to Banksy
I was in Folkestone at the weekend, the Kent town that has improved much in recent years. It may have lost its ferry services, but the Channel Tunnel terminal on its outskirts has made up for this, as has investment by the Saga Group. The town recently re-opened the old train terminal on the pier as a place for recreation and entertainment, while the Old High Street has become an eclectic delight. It's no longer a port to go through, but a place to go to.
The downside to this, and having a 'creative quarter', as it does, is that Folkestone now attracts artists of dubious quality. Yoko Ono's work can be seen in the library and another visitor is that darling of the liberal-left, Banksy. This hasn't been to everyone's liking. A piece of graffiti purporting to be a Banksy was defaced the other week by an unknown man just 72 hours after it had been put up.
It's curious how people who might otherwise call themselves 'daring' and 'radical' in their tastes revere Banksy so supinely. On the provenance of the graffiti, a spokesman from the local Creative Foundation told the Folkestone Herald: 'If it's a Banksy, it's brilliant. And if it's not, it's humorous and good to see.' Banksy is deemed to possess the Hand of the Master. If he paints something, it's deemed 'brilliant'; if not, the same artwork is merely 'good'.
The motives of the counter-graffitist are unknown, but I like to think, this being East Kent, the spiritual home of UKIP, he was cocking a snook at what Nigel Farage forever calls 'the out-of-touch liberal metropolitan elite', the types that literally and figuratively patronise places like Folkestone and its people. Banksy is their indulged darling and a bit of iconoclasm is no bad thing.
Patrick West is a spiked columnist. Follow him on Twitter: @patrickxwest
Picture by: Wikimedia Commons.
To enquire about republishing spiked's content, a right to reply or to request a correction, please contact the managing editor, Viv Regan.