Divestment: an illiberal, anti-academic movement
A new report exposes the campaign to turn students against fossil fuels.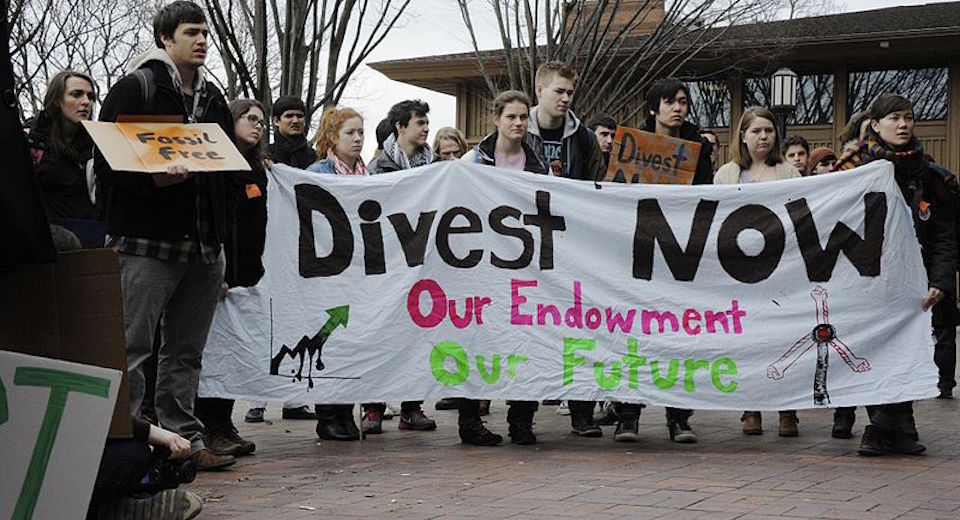 The University of Oxford hit the headlines earlier this year when it ruled out investing in coal and tar sands. Oxford's own press releases paraded this 'divestment' as a victory for environmental campaigners. Less trumpeted was the fact that Oxford had no investments in coal or tar sands from which to divest. Nothing had changed. The announcements were simply intended to send a message to the world that 'Oxford University is a world leader in the battle against climate change'.
That Oxford's declaration rang hollow has not stopped it becoming a much vaunted success story in a campaign to get universities to divest from fossil fuels. The divestment movement, seemingly student-led and hugely popular, has rapidly become a growing force on campuses around the world. Now, the origins and practices of this campaign have been uncovered and meticulously detailed by the National Association of Scholars (NAS). Its latest report, Inside Divestment: The Illiberal Movement to Turn a Generation Against Fossil Fuels, sets out the reality behind the virtue-signalling headlines.
Inside Divestment explains how 'the fossil-fuel-divestment movement emerged from a single campaign at Swarthmore College in fall 2010, and has grown into an international movement'. But, as the NAS report shows, such apparent global influence is not the whole story. The divestment movement, a collection of local campaigning groups, might be fronted by students, but 'many are run by small numbers of full-time organisers' who are 'orchestrated by Bill McKibben's activist group 350.org'. With relatively few student activists, the divestment movement 'makes up in boasts what it may lack in grassroots support'.
Despite much publicity, then, only 44 higher-education institutions have actually divested from fossil fuels. This figure represents just 0.24 per cent of colleges and universities in the world and 0.62 per cent of those in the US. Few of the 'divested' institutions are large or prestigious and, as at Oxford, some 'have sold no investments at all since their divestment decisions'. However, as Inside Divestment explains, such figures mean little to a movement whose own advocates acknowledge that, even if successful, it 'will not decrease the share price of fossil-fuel companies or appreciably shrink their profits or access to capital'. The movement's claims that divestment can stop global warming and improve the environment are also exposed as bogus: 'It can do neither.'
This practical impotency does not matter to the divestment movement, which, as the NAS report repeatedly demonstrates, is not a political campaign aimed at winning people over to particular arguments, but a moral crusade. Oxford is not alone in its grandstanding. By self-consciously eschewing debate in favour of moral declarations and emotional demonstrations, the divestment campaigners betray the principles of free inquiry that higher education should be defending.
The divestment movement has been able to garner such widespread but passive support in higher education because values have already trumped the pursuit of truth. As Inside Divestment notes, 'the divestment movement is itself a spin-off from the larger campus-sustainability movement'. Universities have legitimised a blurring of the boundaries between scholarship and political activism. Two campaigns took root when 'professors gave college credit to students who worked on a fossil-fuel-divestment campaign', while another started at a university that 'assigned every freshman a summer reading – Eaarth, by Bill McKibben'.
Faculty involvement lends weight to the unashamed moral crusading of the divestment movement. The NAS report notes that 'small numbers of students run vociferous campaigns focused on publicly shaming those who disagree'. The aim is not to give students access to facts for them to make up their own minds; rather, it's to present them with moral certainties and polarise opposition. It gives students a cause that channels feelings of both anger and moral superiority. Those questioning divestment are presented as uncaring oppressors: 'Anything besides full agreement counts as immorality.' The divestment movement's strategy is 'to intimidate the uncommitted into joining, or at least not opposing, divestment'.
The moral certainty of the divestment campaigners sits particularly uncomfortably within universities, whose whole reason for existence should be underpinned by critical thinking and the questioning of absolutes. The divestment movement's conviction that when it comes to climate change, 'the time for rational debate is over', makes it a campaign that cannot permit dissent. The desire to bypass the public, or students, comes from McKibben, who 'argued that 350.org needed a new strategy that was not reliant on going "through the political system"'. It is not surprising, then, that, 'only a handful of colleges have held actual debates about fossil-fuel divestment'. But the argument that the science is now settled is undercut by the facts: '[D]ata show us to be in the midst of more than 18 years during which there has been no appreciable global warming.'
The moral imperative of the campus climate crusaders to ignore facts, bypass arguments and prevent debate places the divestment campaign in opposition to academic freedom. Inside Divestment reveals the extent to which the movement 'scorns discourse as needless delay'. Campaigners decry debate as 'a hopeless waste of time' and 'unproductive'. Fearmongering means 'divestment activists commonly argue that the time for civil discourse is over. Talk is only a means of delay that the earth cannot afford.' Such arguments are made most crudely by activist students. One Swarthmore student published an article on her campus blog with the subheading, 'Fuck your constructive dialogue'. In it she argued that 'those who stood for "constructive dialogue" about "facts and reason" rather than "hyperbole and emotion" were just putting up smokescreens to block their "elitist" intentions.' Such students only echo the views of the movement's leaders, who favour conflict over dialogue, arguing: '"Open conflict" could "correct a bias", such as Swarthmore's "bias toward cognitive linearity", that is, logic-driven debate.'
With its disregard for truth, logic, debate and academic freedom, the divestment movement represents an assault on the principles that have underpinned higher education for over a century. Universities are transformed from places of intellectual inquiry into sites for political campaigning. Divestment campaigners further exacerbate the trend for higher education to be more concerned with the promotion of particular predetermined values than with the pursuit of knowledge. The New School in New York announced its divestment from fossil fuels, along with the creation of a climate-change curriculum intended to form students into 'climate citizens'. In contrast, the NAS's Inside Divestment is a clarion call to debate. It provides the badly needed, dispassionate, detailed and rational account of the divestment movement that, to its shame, has failed to emerge from within academia.
Read Inside Divestment: The Illiberal Movement to Turn a Generation Against Fossil Fuels here.
To enquire about republishing spiked's content, a right to reply or to request a correction, please contact the managing editor, Viv Regan.