Randy Newman: still biting, still brilliant
Newman's parade of weirdos and losers is as compelling as ever.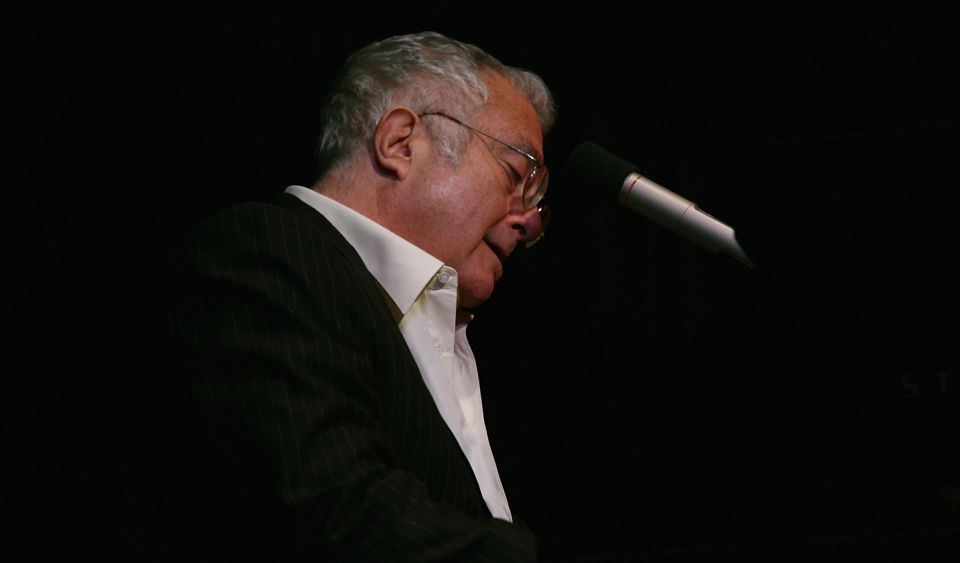 Without a Top 40 album or single in the UK to his name, Randy Newman played an epic 34-song set to an adoring capacity crowd at the Royal Festival Hall last Monday. The diverse material ranged from classic album tracks to new songs to his soundtrack numbers films such as Toy Story and Monsters Inc.
Most people who don't like Randy Newman know him as no more than 'the Pixar guy', a writer of overly simple songs like 'You've Got a Friend In Me' that all sound the same and which he can't even sing properly. Family Guy famously depicted Newman as someone who just sings about whatever's happening in front of him. His detractors probably don't even know that Newman has released critically acclaimed solo albums.
Others might remember him as the one-hit wonder, whose novelty song, 'Short People', climbed to No2 in the US charts back in 1977, and offended the vertically challenged everywhere. But few realise this was one of many askew, satirical songs Newman has written about prejudice in society.
Perhaps the reason for Newman's lack of commercial success, other than his raw drawl of a singing voice, is the very thing his cult following adore: his refusal to be autobiographical. To the US mainstream audience of the Seventies and Eighties, which demanded a Bruce Springsteen-style 'authenticity', Newman's art of writing ironic songs in character seemed strange. To the converted, however, his songs are full of sincere emotion, managing to be hilarious, heartbreaking and cuttingly satirical all at the same time.
Coming from a family in which three of his uncles were successful Hollywood composers, Newman found his first success in the music industry as a Tin Pan Alley-style songwriter, penning hits for Cilla Black and Gene Pitney, and even writing two songs for Dusty Springfield's classic Dusty in Memphis.
The turning point in Newman's career came while writing a yet another love song on demand. Frustrated with his efforts, Newman turned it into a ridiculous story about a young man named Simon Smith who wows audiences with a dancing bear. Still more incredible than 'Simon Smith and the Amazing Dancing Bear' itself was the fact it became a No4 UK hit for the Alan Price Set in 1967. As Newman later put it, 'It was the first song I wrote that sounds like me'.
It was also during this period that Newman developed his idiosyncratic use of language. His eponymous 1968 debut album features several lyrics from his pre-'Simon Smith' period, replete in flowery adjectives and poetic imagery, best exemplified by the widely covered 'I Think it's Going to Rain Today'. Other tracks on the album, however, portend Newman's future style – direct, conversational lyrics featuring almost idiotic themes. While Newman developed an unflattering reputation for being overly simplistic, his use of basic English is essential to his depth as a writer; he uses it to encourage the audience to grasp the deeper meanings that are beyond the simple-minded characters who sing his songs.
After using an orchestra on his debut album to create a baroque-pop sound, Newman opted for a roots-rock sound on the follow up, 12 Songs. The album develops the themes that Newman would pursue for the rest of his career: the depths to which prejudice infiltrates society; criticism of how America perceives itself; and the dark truths underlying all relationships.
Newman's third album, Sail Away, is a hybrid of the orchestral baroque of his debut and the swampy rock of the follow-up – a sound he would maintain for the rest of his career. Sail Away is Newman's masterpiece, featuring such classics as 'Sail Away', in which an American slave driver encourages potential slaves to come to America, and 'You Can Leave Your Hat On', a perverted come-on that would later be covered by Joe Cocker and Tom Jones.
Newman's fourth album, Good Old Boys, is a concept album about the idea of the American South. It features his most controversial song, 'Rednecks', which takes aim at liberals' patronising view of the South. 'Rednecks' recounts a real-life event in which the segregationist governor of Georgia, Lester Maddox, appeared on The Dick Cavett Show. The audience screamed and jeered and refused to let Maddox talk. Newman not only points out that, if they had let him speak, he would have made a fool of himself, he also notes that if he himself was from Georgia, he'd be insulted that his elected official was refused a platform. The song then takes the perspective of a Southern man parodying Southern stereotypes (Newman doesn't shy away from repeated use of the n-word).
Newman's losers and weirdos are allowed to state exactly what's on their mind, and indeed, make fools of themselves. But Newman always approaches his subjects with respect, trying to understand them and matching their heinous views with beautiful music. Some of his most gorgeous ballads are, beneath the surface, deeply disconcerting: 'Marie' is a love song sang by a drunk wife-beater; 'Same Girl' is about a pimp comforting a prostitute; and 'In Germany Before the War' focuses on the yearnings of a child killer.
In recent decades, Newman's decision to concentrate on movie scores has meant his output has slowed to the point of almost non-existence. He has released just three studio albums since 1983, compared to the five he released during the 1960s and 1970s. However, rumours abound of a new album, and fans are being treated to new material at his concerts. As Newman performed a new song about Vladimir Putin last Monday, and the London audience broke into hysterical laughter, the 71-year-old proved he has plenty more bite in him yet.
Christian Butler is a writer and musician based in London.
To enquire about republishing spiked's content, a right to reply or to request a correction, please contact the managing editor, Viv Regan.