Refugee crisis: lighting candles is not enough
Adopt-a-Syrian? How patronising can you get.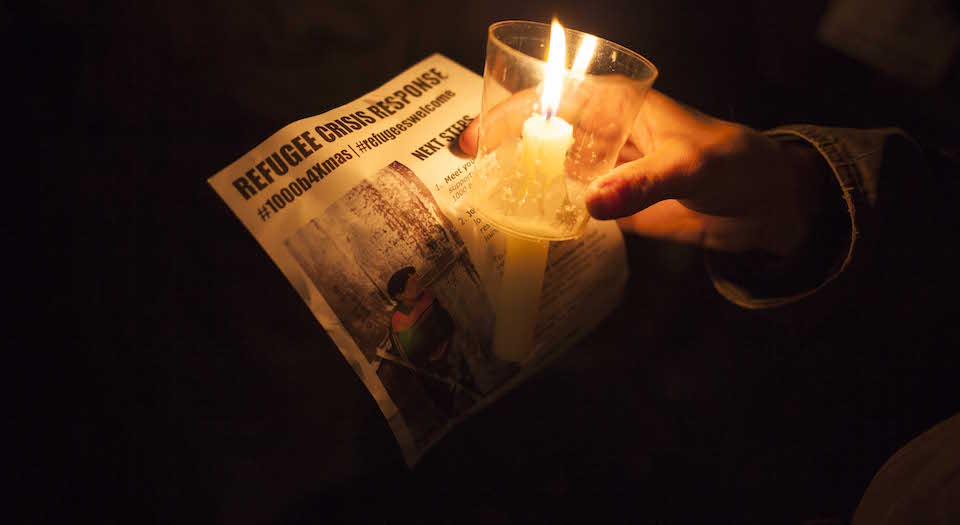 On Tuesday night, a demonstration outside the Houses of Parliament called for 1,000 Syrian refugees to be housed in the UK before Christmas. Organised by the charity Citizens UK under the banner #RefugeesWelcome, the demonstration intended to 'show that the country stands ready and willing to support government in rising to the challenge posed by the largest refugee crisis in generations'. There were choirs of schoolchildren and speeches, and, in honour of the memory of six Syrian children who died last winter, the protesters carried candles and placed wreaths outside parliament.
Feeling concerned and upset is a natural human reaction to the horrible situation many refugees and migrants are in at the moment. But this can never be the basis for political change – and political change is what is necessary to improve the lives of migrants and refugees. The main aim of the #RefugeesWelcome campaign is to present the current situation as a humanitarian crisis, not a political one.
The general consensus among the marchers was that their protest was not politically motivated – it was simply a call for the British government to be nicer to refugees. Indeed, few people on the march seemed to take the idea of open borders all that seriously. Sultana, who works for a government community programme, said: 'I'm calling for open borders in the case of a humanitarian crisis, not for general political issues.' Irene, who works for the EU, thought that the government's current plan to take 20,000 refugees over the next five years was 'just disgraceful', but was similarly against open borders for all migrants.
Tim Farron addressing the demonstration
In many ways, the issue of open borders was simply not up for discussion at the demonstration. Two of the wettest members of parliament, leader of the Liberal Democrats Tim Farron and Labour's Yvette Cooper, made speeches to the crowd on the importance of 'doing more' to help refugees. When Farron was asked about open borders, he said: 'There is nothing we can do that would solve the crisis overnight, but there is lots we can do to [alleviate] individuals' problems.' He then waxed lyrical about the power of the famous picture of Aylan Kurdi, the Syrian toddler who drowned off the coast of Turkey. It became clear that this was not a demonstration addressing the migrant crisis, or even the plight of refugees – it was simply a candle-lit photo opportunity for self-avowed do-gooders.
The #RefugeesWelcome website says it hopes to help house refugees by pressuring individuals and landlords to offer up their properties or spare rooms as part of a resettlement programme. It also calls for volunteers to sign up for 'mentoring and befriending' schemes, and encourages people to foster and adopt 'unaccompanied asylum-seeking children'.
The #RefugeesWelcome literature warns that 'coming to a new place can also be disorientating and confusing', and therefore refugees need help with dealing with their serious trauma and stress. This patronising, infantilising treatment of Syrians reveals the real driving force behind campaigns such as this – the narcissistic desire of Us, the helpers, to help Them, the needy. Not only does this entail making ugly distinctions between deserving refugees and undeserving migrants — it also assumes that refugees are incapable of living independently of kindly British strangers. The pro-refugee lobby disregards the resilience and agency it takes to sail in flimsy boats across seas, duck under fences and run across railway lines in order to carve out a better life. It's as if refugees should only be allowed into the country if they arrive on their knees, begging for help.
The likes of #RefugeesWelcome are only willing to consider short-term solutions to the current crisis. But there is no point in individuals housing refugees or landlords letting them stay in their property for a few months. Migrants should have their own homes with their own space; they shouldn't have to sleep in spare rooms or on sofas and they shouldn't be beholden to charitable landlords or community organisations. We don't need to share less space, we need to create more space for everyone. Those who are trying to get into this country want to be in control of their own lives, and this can only be achieved by making a political case for open borders and full legal rights for all.
A demonstrator outside parliament
The call for 1,000 refugees to be settled in the UK by Christmas is peanuts, and the government's promise to house 20,000 Syrian refugees in five years is no better than throwing a few pennies into a charity bucket. From the government to the protesters, the refugee crisis is being treated as an exercise in charity and public empathy, rather than a political issue about freedom of movement and human autonomy. It is not enough to feel sorry for refugees. We must have a democratic debate about open borders and campaign for real change – not token gestures. If you stand in solidarity with those who want to enter this country – not just refugees, but all migrants – then you must stand in solidarity with their political desire to live as legal and free citizens. Otherwise, we empty solidarity of all meaning and offer solutions that are only designed to make us feel better.
Ella Whelan is staff writer at spiked.
Ella is chairing the discussion 'Campus Wars: safe or sanitised?' and speaking on the panel 'Time to tame advertising?'at the Battle of Ideas festival in London on 17-18 October. Get your tickets here.
Pictures and additional reporting by Henry Kenyon
To enquire about republishing spiked's content, a right to reply or to request a correction, please contact the managing editor, Viv Regan.