The slave trade was not my fault
We can't apologise for crimes we didn't commit – or celebrate victories we didn't achieve.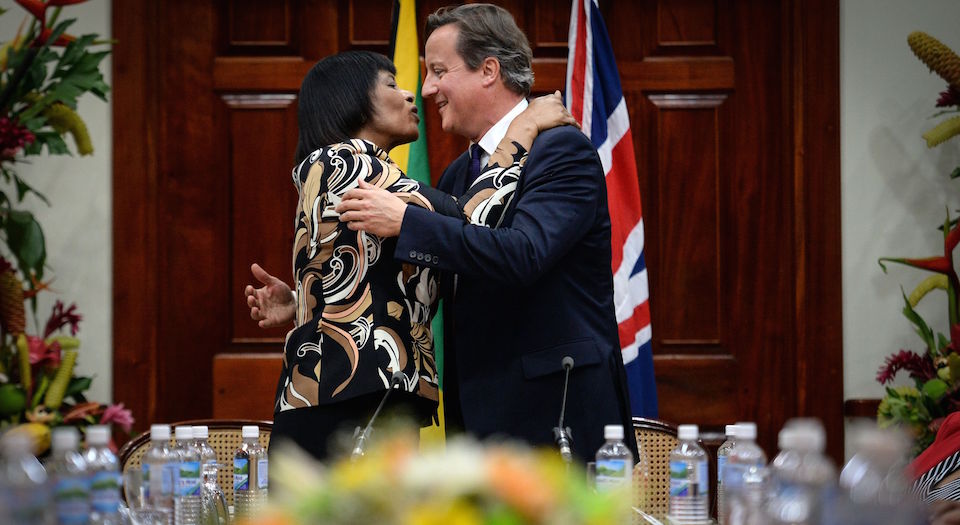 Should you apologise for the crimes of your ancestors? And should the state make financial reparations to atone for such crimes?
These two questions have arisen after Jamaica's National Reparations Commission called upon the British prime minister, David Cameron, to 'apologise personally' because 'his forefathers were slave owners'. Jamaica's president, Portia Simpson Miller, has also raised the issue of Britain paying financial reparations to Jamaica, as recompense for Britain's role in the slave trade.
The two answers here are – obviously – no, and no. First of all, you can't apologise for something you didn't do. It's an effortless and insincere gesture, serving only to make any ersatz penitent appear virtuous – saying sorry for a bad thing you have actually done takes real courage.
On the second matter: what of the material wealth accrued by Britain through the slave trade, passed down through the generations, in the form of our cities, infrastructure and state apparatus? Don't we still feel the benefits of the slave trade?
Yet recourse to reparations is a step riddled with practical difficulties and contradictions. What of the descendants of those who fought to abolish the slave trade? What of British people today whose grandparents came to Britain from Jamaica in the 1950s and 1960s? Should they foot the bill for reparations? And what of the descendants of those African kings who sold their own people into slavery?
Children should never have to apologise for the sins of their fathers. But we do need consistency here. Just as you cannot be ashamed of historical crimes you didn't commit, neither can you take pride in past glories not of your making. What with the current bicentenary of the Battle of Waterloo, and the ongoing commemorations of the First World War, there has recently been much revelling in Britain's past achievements. Yet neither you nor I played any part whatsoever in beating Napoleon or the outcome of the Great War. Still, Irish republicans will no doubt use such vicarious, first-person language for the centenary of the 1916 Easter Rising next year, and I imagine the Corbynities are stirring themselves likewise for the centenary of the Russian Revolution the year after.
We may allow ourselves to be grateful to our ancestors for their various struggles, but you can't take pride in something you did not do. 'We' didn't 'win the war', any more than 'we' won the World Cup in 1966. It's like your Arsenal-supporting colleague coming into the office on a Monday morning, cretinously lording it over his workmate with the silly boast, 'We beat you 3-0!'.
No you didn't. Vicarious, second-hand pride is as vacuous as hand-me-down, ersatz shame.
---
Office gender politics
The Times reported last week that women are failing to advance in the workplace because senior male executives who could help them most are terrified of interacting with them. They fear that offers of assistance will be misconstrued as sexual harassment.
In her new book, Sex and the Office, Kim Elsesser argues that a new 'sex partition' has sprung up, which impedes women from building vital networks of contacts inside and outside the office. People in senior positions, who are still mostly men, will happily give help, or ask male colleagues out for post-work drinks or a weekend round of golf, but will not do so with women, for fear of legal action.
This is what is called the law of unintended consequences. Just as our hyper-concern for children and fear of paedophiles now means that most single men will avoid contact with children in public, so that deadening ideology, 'feminism', has led to division and has entrenched gender inequality. As it used to be said more often: the road to hell is paved with good intentions.
---
Plastic bags are nothing to get upset about
I've always thought that people who wear designer clothes or fashionable sportswear should receive a small fee from the manufacturers. After all, if you parade down London's Oxford Street emblazoned with 'Gucci' or 'Nike', you are saving the aforementioned corporations a great deal in advertising expenditure on billboards, magazines and TV.
What with the commotion in England this week over the introduction of a 5p charge on plastic bags, I've come to a similar conclusion about supermarkets. Shouldn't they pay us, the consumer, to walk down the high street with plastic carriers openly bearing the legends, 'Tesco', 'Iceland' and 'Marks and Spencer'? For too long these retail giants have been taking us for a ride. And now they have the irksome chutzpah to charge us 'because it's for charity'. They should be paying us, as a form of 'reparations', for all those years of exploitation.
On the whole, however, I can't get excited about the bag furore. I'm not persuaded by the libertarian argument. We can't all behave as rational, autonomous agents every single minute of the day, and it's too easy unthinkingly to pick up a plastic bag at a supermarket counter rather than prepare yourself beforehand. And they do cause marine, urban and rural pollution at the behest of the equally unthinking.
An extra five pence is hardly the stuff of revolutions. The state does far worse things that we wouldn't accept from individuals: imprisonment is legalised kidnapping, income tax is extortion by another name, execution is murder. And we are already 'nudged' in mundane, everyday ways, from signs telling us to keep our feet off seats to those in toilets telling us to wash our hands. The state imposing 5p on a plastic bag won't have me rushing to re-read Nineteen Eighty-Four.
Unlike the far more onerous levies the state imposes by force, the piffling plastic-bag charge is voluntary. You don't have to pay it. Sanctimonious, Boring Brother this may be; Big Brother it is not.
Patrick West is a spiked columnist. Follow him on Twitter: @patrickxwest
Picture by: Stefan Rousseau / PA Wire / PA Images
To enquire about republishing spiked's content, a right to reply or to request a correction, please contact the managing editor, Viv Regan.